So what exactly could I say that would entice you to spend all those dollars and travel all those miles to come here? Hmmm.
Why I'm asking is that I've been challenged to do this very thing, come up with a list of reasons.
Ok, I'm up for it, I'll have a go on the proviso that you let me know if I've done enough. Deal? Ok, let's go.


The Top Ten Reasons to Visit Rotorua

1. It's the cultural stronghold in New Zealand

Yes, and we can back this up with stats too. Māori culture, along with the thermal activity, oozes out of every pore in this city. Look for it in the architecture - even as far back as the early 1900s - and in the colours and shapes of our buildings. (Clue: Look for the earth tones) Sometimes we get it wrong but on the whole the buildings look good.

See Rotorua's Māori culture everywhere like these Tiki painted on the side of a building
It's in the people too. Māori people in Rotorua celebrate their culture, it's who we are so it's very natural but I do have to add, it's not limited to Māori. A lot of people in Rotorua rely on Tourism to make a living so Māori culture has become a way of life for numerous ethnicities. Actually, we're quite the little melting pot.

2. The core for all things geothermal

Oh yes, we can't leave this baby out. We've got a heap of thermal delights in and around Rotorua and they're all unique (I know because I visited every single one).

For us it's normal to be living in amongst this seething cauldron of volcanic activity but it blows visitors away - figuratively speaking of course.

Thermal activity is all around the city. Definitely a top 10 reason to visit Rotorua.
3. A Lakes District? That we are.
We've got lakes aplenty around Rotorua, about sixteen I think I saw somewhere. Fishermen will think they've died and gone to heaven. Water enthusiasts think so too. Jet-skiing, recreational boating, SUP (Stand Up Paddle Boarding), kayaking, canoeing, picnics, bbqs, oh and swimming of course. The list goes on.
There are warm lakes (Lake Tarawera), freezing lakes (Lake Tikitapu), hot lakes (Frying Pan Lake) and then there are the settings for the lakes. Hmm, the word stunning springs to mind. Lol, do you thing I'm a tad one-eyed?

Lake Rotorua - one of many
4. An adventurer's playground

You can raft the rapids with white water rafting, zip line in the treetop canopies, skydive, hoon to your heart's content in a luge, 4wd, or mountain bike some of the best tracks in the world. And the list goes on.
Yes, it's all about lifestyle in Rotorua. As well as Māori culture we've got an outdoors culture which is why a lot of people end up moving here. Sometimes you see more bikes on the back of cars than people in them... I know, very strange. I've personally counted up to six on one vehicle.

Ok, Waitomo is a 2hr drive away but I think this caving pic perfectly illustrates our adventurous side. We like to scare ourselves silly at times. My daughter Elise and I
5. Compact and cosy

Rotorua is located in a caldera (a sunken volcano). The inner city is relatively flat in the basin on the lake edge. We're surrounded by hills, being the sides of the caldera and I guess that's where the cosy feel comes from. The Central Business District (CBD) is laid out in a grid shape and you could walk from one end to the other in about 15min. Getting to the majority of attractions would take you all of 5 - 20mins.

6. A central location

Rotorua is in the middle of the North Island making it handy to get to all sorts of places.
Now we know that the lakes - which leave you feeling fresh and squeaky clean after a swim - are close, but did you also know that sun, sand and ultra cool surf beaches are only 40min away. Mmm, lake or beach, lake or beach. Decisions, decisions. Sigh.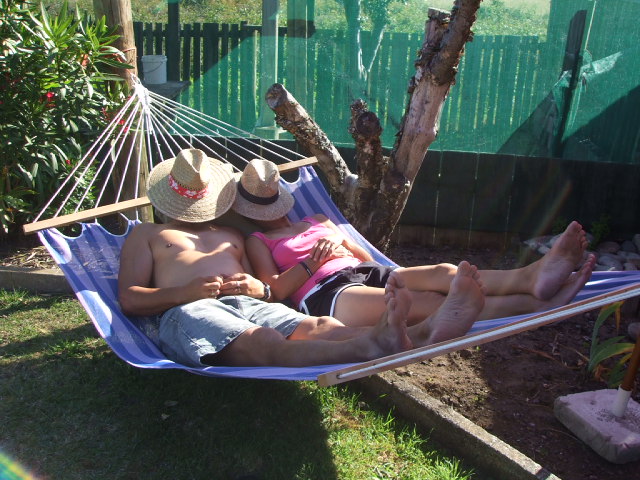 My brother and his wife relaxing at nearby Pukehina Beach one Christmas
A 2½hr drive will having you skiing on the slopes of Mt Ruapehu, or you might like to throw in a hike on Mt Tongariro. There's Waitomo for caving, Taupo for rainbow trout fishing, Whakatane for swimming with dolphins, Napier for wine-making, the Ureweras for lakes and rugged beauty, and they're all within shouting distance of us... or nearly.

We're within 3hrs of Auckland city, a major gateway for overseas visitors and an hour from the Port of Tauranga where the cruise ships stop off. See, we're close to all of this. Incredible really.

7. Renowned for being the most beautiful city in NZ

We've won the award for this competition six times in it's 11yr history at last count.

Cobble-stoned paths and crossings blend in with various colonial buildings and the gardens around the inner city are commented on far and wide. People love coming here for the tulips each year.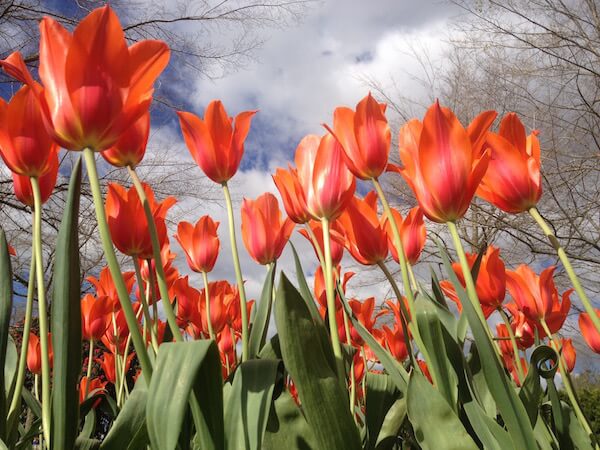 Annual Tulips, one of the top 10 reasons to visit Rotorua
At one time the city looked, I hate to say it - drab. Gobs of ground in chewing gum were a common sight on cracked, tar sealed footpaths, and trees lining the streets would be cut back to ugly knobs for the winter. Apart from the Government Gardens there was nothing to speak of in the way of flowers in the inner city.
Thank goodness we had some forward thinking people who took on the challenge to change this.

Now, people from all over the world enjoy our colourful flowers and native plants. Looking forward to the next seasons plantings is a popular topic for discussion too. If you're stopped at some of the traffic lights you can often get whiffs of strongly perfumed flowers. Wonderful.

8. World renowned for our spa facilities

According to Condē Naast Traveller that is. The Polynesian Spa won an award for being a Top 10 in the World Day Spa Resort.
Heck, never mind the spas, just having a soak  in thermal waters is the best ever experience. Any stress and tension in the body just fades away as you enter the zone of zen.
And, you can always try one of the free back to nature soaks at Kerosene Creek or the Hot 'n' Cold pool. They're the best, smelly, but the best.

9. Great for families
Children love Rotorua. I had my then 8yr old niece Natalia visiting and took her  luging, first time she wasn't too sure about it, squealing and braking all the way down the hill. Next time? Oh yes, she's got it sussed. The look was set and determined and it was no holds barred, all the way. Same again though, she wanted more.
That's the biggest problem parents have. More, more, more. This place is definitely high on any family's top ten reasons to visit Rotorua.

My niece on her second time down the track . Tell you what, it's really hard to take photos and try to steer a luge with one hand at the same time
There are so many things for families to enjoy in Rotorua and they don't all cost, sometimes the simple things are best with children aren't they? Kuirau Park is great for a freebie, and the Lakefront with the Volcanic Playground. The museum quite often has very interesting activities to keep little hands occupied too.

10. Majorly event laden

Phew, I don't think it will be too long before we become the event capital of New Zealand. Just about every week it seems like the city is buzzing with one or more major events taking place. Cultural performing arts, multi-sports, bike festivals, walking festivals and more. I love the colourful names organisers come up with like Giant 2W Gravity Enduro, Exterra, Slam Rock Roller Derby and Glo Festival.
When we get the odd weekends with not too much happening it can feel strange, like the city has nodded off for a bit - recharging the batteries for the next onslaught.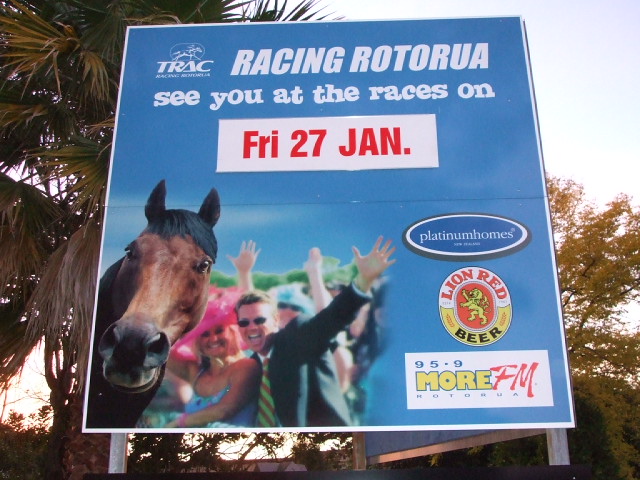 I love the horse on this sign, he looks so nosy
Ok, how did I do? Are you enticed at all, even a tiny bit? Leave a comment down below if you are... and if you aren't. :(
Rotorua IS a great place to visit. Hopefully we'll see you here sometime.

Add some walks to your top ten reasons to visit Rotorua