Getting Around On Foot
There is a lot to see within easy walking distance in the central city. Places like Kuirau Park, the Lakefront,  Government Gardens,  Rotorua Museum and Ohinemutu to name a few.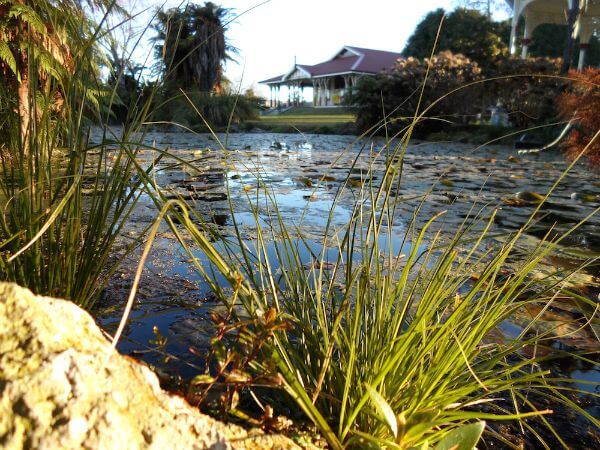 Getting around Rotorua on foot - stroll through the Government Gardens
If you happen to stay on Fenton St, one of the main roads into town, people can often be seen making their way into the city on mobility scooters which illustrates how flat the central area is.

The majority of visitors stay on or near Fenton St, often referred to as the motel strip or mile. It's also common to see visitors walking to the supermarkets, into the city for dinner or returning to their accommodation carting bottles of wine. ;)

Fenton St is about 2km (1.2mi) long and would take about 20-40mins to walk from one end to the other.

Quite a few of the hotels are located in the inner city or just on the fringes and most of the Backpackers are the same so all within easy walking distance too.

If you're looking to walk out to the Redwoods forest, Whakarewarewa or Te Puia from mid-city, it would take about 30-40mins.

Thought About Hiring A Leisure Bike?
No bike? Think about hiring one as it's a great way to cover a lot more ground. First though, if staying in a motel or hotel, ask your hosts if they have bikes for guests. Sometimes they do.
Lady Jane's Ice Cream Parlour, located on the corner of Tutanekai & Whakaue Streets (by the Lakefront's Village Green), hire bikes out at $35 per day. The great thing about this place? When you finish your bike ride and you're all hot and sweaty, voilà, ice cream on tap.


Happy Ewe leisure bicycles
Happy Ewe Cycle Tours also hire out bicycles at $35 per day or $30 for a half day. It's located beside the bike racks outside the i-Site Visitor Centre, on the corner of Fenton & Arawa Sts, towards the lake end of town.
In fact, nowadays many of the bike shops hire out bikes too.
Local Bus Services
One of the easiest ways to get around Rotorua would be using the local CityRide buses. A regular service is provided along with good coverage of the city.
(Just so you know, I've received a few complaints - end 2015, beginning 2016 - about buses driving right on past without stopping or simply not turning up at all. An email to the company has not been replied to as yet.)

Find out how the s-s-service works, the costs and fare types, the routes close to various attractions and download a timetable at Local Bus Services in Rotorua.
Getting Around By Car
If you have your own car this would be the easiest way for getting around Rotorua by far. A lot of the attractions are spread out and not all are close to bus stops.

Parking in the city is plentiful although in the Central Business District parking is mostly paid.
In saying that, a trial of free parking to attract more people into the inner city is currently taking place. If you're unsure, the meters have signs stating whether the parking is free or not and for how long.

There are two types of metering. Some parts of the city have parking meters that take coins. At the moment 1hr costs NZ$2 or $1 depending on where you are.

The other type of metering is Pay and Display where a ticket is issued which is then displayed on the dashboard of vehicles.

Make sure you pay because the parking wardens are very... very... mmm... proactive.
Something else. During busy holiday periods, avoid the Amohau St end of Amohia St. There are a number of roundabouts on this road and traffic tends to get banked up at the lights of Amohau St crossing into the Central Mall area.
If you want to visit the Central Mall, enter via Fenton St or Victoria St (2 entrances). The roads inside the mall area are a pain in the derrière and you will need to keep your wits about you! Whoever dreamed up the layout needs a bullet.
Rental Cars

If you don't own a vehicle, it could be you're in need of a rental car. DriveNow, a car hire comparison search engine can take care of that in the most economical way possible. It compares the likes of Avis, Thrifty, Budget, etc. These companies are well-known brands in New Zealand.
Hiring a New Zealand rental car >>


---
Now that getting around is sorted you might want to check out places to stay and eat and things to do.

Related Pages