Rotorua Top Ten Places To Visit

If you're short on time, how about trying my Top Ten Places To Visit when you come to Rotorua. With so many things to see and do, it can get quite confusing for the visitor trying to make a decision… not to mention it can be costly.
If you're anything like me you'll agonise for hours over your itinerary? This activity or that one.. this one or that one... aaargh. It does my head in because I want to do it all.
Visitors spend, on average, about two nights here. That doesn't give a whole lot of time does it?
In no particular order, these are what I would want to see/do if I was a time-strapped visitor. This way, at least you know you have seen the best of what Rotorua has to offer.
Mind you, I don't know how a person would fit it all in, you would have to be flying.

---
Rotorua Museum of Art & History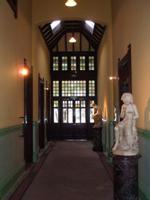 2021 The Museum is closed for the foreseeable future due to earthquake damage. It is still undergoing repairs and strengthening. Activities and tours still take place in different venues.

As a place to start, the museum will give you a good overview of Rotorua, the people and the history.
Utilise the services of the volunteer guides who take tours through the grounds of the Government Gardens, they're a great source of information.

Rotorua Museum of Art & History ≫



---
Polynesian Spa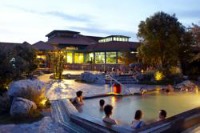 Do you love spas and soaking in mineral pools? Rotorua's Polynesian Spa was voted as a top 10 world day spa resort by Condé Naast Traveller.
The mineral waters and treatments are to die for... cross my heart.

Polynesian Spa ≫


---
Skyline Skyrides - Luge & Gondola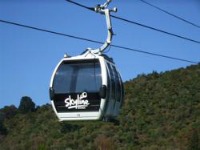 Purely for fun, you can't go past the Skyline Luge and Gondola . From newbies to the more adventuresome, three grades of tracks cater to all levels.
Onsite you'll also find the Sky Swing, zip lining, mountain biking, wine tasting, Stratosphere Restaurant and Food Market Kitchen.
---
Waimangu Volcanic Valley

It is hard to imagine when you're at Waimangu Volcanic Valley, the force it would have taken to create this area consisting of crater lakes, springs and hot pools. Here, nature hasn't been tampered with by man so what you get to see is the real deal.

Waimangu Volcanic Valley ≫


---
Rotorua Agrodome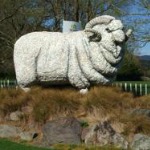 Who would have thought that people would LOVE, absolutely LOVE,… visiting a FARM SHOW… of all things.
But when you think about it, not many people would actually get to milk a real live cow nowadays would they? Or see sheep dogs at work, or feed lambs.
You get all that and more here at one of the best attractions in Rotorua so be prepared to get interactive.

Rotorua Agrodome ≫


---
Rotorua Mountain Biking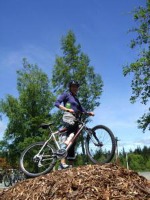 Now it's time for some serious action. The bike trails in the Whakarewarewa Forest are right up there with the best in the world.
In terms of experiences in Rotorua this would have to rate as definitely deserving of being in the Top Ten Places To Visit.
The trails cater to everyone. From leisure riders to hard-core downhill racers... tiny tots to Grandparents... did I leave anyone out? So, what are you waiting for, come on out.

Rotorua Mountain Biking ≫


---
The Redwoods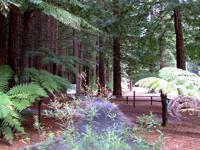 While I'm on the subject of the Whakarewarewa Forest, walkers and runners aren't left out either.
A visit to the Redwoods is not to be missed. It can be as hard or as easy as you like with scenery that can take your breath away. Tracks cater to all levels of fitness.
Treetop walks are also available.

Rotorua Redwoods


---
Tamaki Māori Village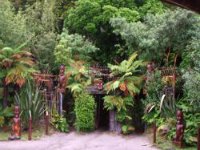 Tamaki Māori Village has won the Golden Backpackers award for Best Indigenous Cultural Experience in Australasia 2 years in a row. That says it all in my view and definitely makes it one of the top ten places to visit here.
For the Tamaki Brothers who created this business it is all about the visitor experience and for the vast majority they don't disappoint.

Tamaki Māori Village ≫


---
Whitewater Rafting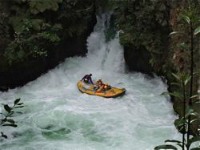 I know white water rafting is probably not everyone's cup of tea but not every trip is about being on the edge.
Some of the rivers meander along lazily without the death-defying rapids and you get to see some gorgeous scenery.
Think what the folks back home would say. White water rafting is white water rafting isn't it? There is something for everybody including children.

Rotorua Rafting ≫


---

Those are my thoughts on the top ten places to visit in Rotorua. Besides these though, I know there are heaps of others.

So have you...

Got A Place That Should Be Here?
Tell Us About It.
Think you can top what I've got? Share your tip or review about even more top ten places to visit in Rotorua. It might turn into a hundred or more.

Shukrullah from Wellington thought Velocity Valley should be on this page.
"Velocity Valley is a fun place where anyone from 3 years old to 80 years can do the activities."
Thanks for that Shukrullah.

Return to Top