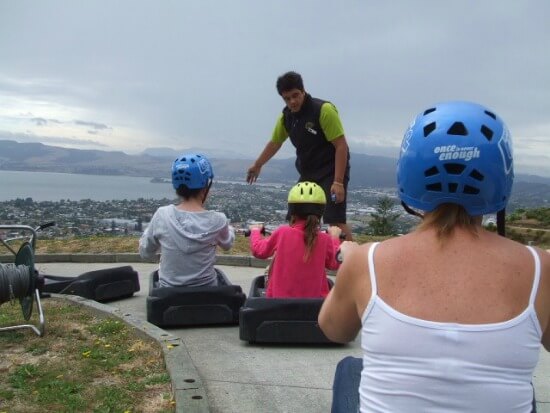 Luge Rotorua - And they're out the gate.
Skyline Rotorua is the name of this fun park that has numerous activities to do nowadays (I won't go into them all here). In addition to luging there's the Sky Swing, Zoom Ziplines and the Gravity Park for mountain biking - all accessed via a gondola ride.
Opportunity abounds for food and beverages too with the Jelly Bean Store, Volcanic Hills Winery (with tasting or a la carte dining), Market Kitchen (cafe) and Stratosphere Restaurant & Bar. See how busy you're going to be?
Rotorua Luge And Luging
If you've never been on a luge before, they're are a bit like a go-kart (plastic tray to sit in) with bicycle handlebars to steer and three wheels. The handlebars are pulled towards you to brake and pushed forward to go.
Tip: Don't let the handlebars go while moving (it takes effort to hold them) because the luge will stop instantly… no matter how fast you're going.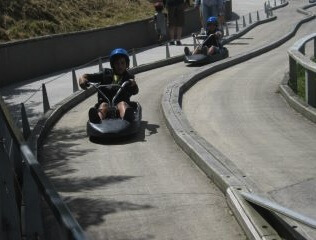 Rotorua Luge in action - Grandson Keyan
Five luge tracks have varying degrees of difficulty. The scenic beginners track is followed by an intermediate level track then the more advanced.
Tiki Tour (previously Scenic Track) - This 1.7km luge track winds leisurely down the hill. It is always recommended by the staff at Skyline to use this one first if you have never tried luging before.
If you think you're a wuss, don't NOT have a luge ride. On the scenic route you can go as sloooowww as you like. The great thing about that is, you get even more value for money because you're out there longer. Plus it's the longest track anyway.

On the scenic track, photos can be taken at various lay-bys (great views of Rotorua) before getting in amongst the forest of Redwoods.
If your children are under 110cm and/or under 6yrs old they will have to ride with an adult in the same cart on this track. The more timid children love it when they are with a parent anyway - until they get their confidence up.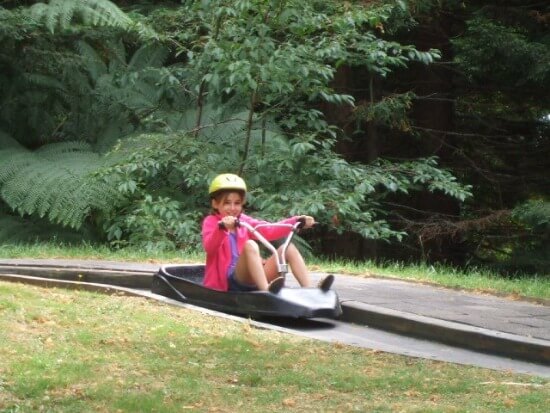 Natalia (niece) luging for the first time
This is one of two tracks that are lit up at night for twilight luging at certain times of the year.
Once you have made your way down hill and through the Redwood trees to the end, I bet you will want to move onto the next stage. You don't have to though. A lot of people are happy to just stay on this track.
Gravity Track (previously Intermediate) - The pace is picked up a bit on this 1.5km luge track. Chicanes (shifts in the course), a tunnel and of course the views. A bit scarier.
This is the second track that is open in the evening at certain times of the year.
Legend Track - Are you ready to fly? No time for taking photos here. The Legend luge track is 1.3km long with twisting bends, corkscrews and flying dips that will have you holding onto those handlebars for dear life - if you're going fast enough that is.
Off of the Legend are two more tracks. The 1.4km Twister and 1.5km Ultra with even more twists, turns and fun.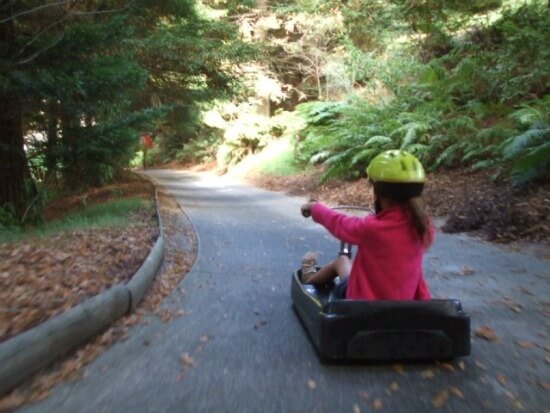 Natalia's got the hang of the Rotorua luge now
Sometimes the term 'flying' is literal if you're not careful. Friends and I have flown off the track a few times. Misjudged our speed on the bends.

Sorry little ones, children have to be over 135cm and 10yrs and older.
The tracks all end up at the same finishing point. From there, catch the chairlift back to the top and start all over again.
Rotorua Skyline Chairlifts - Family members Tracy & Natalia
Sky Swing
The Sky Swing is exactly what the name implies. A giant swing that sends you flying out over Rotorua. The hill drops away and it is screamingly scary. In the pic below the towers are the Sky Swing components.
The swing seats three people who must be over 110cm tall, sorry again little ones.
The worst thing? The swing is winched up high (gulp), and you have to pull the cord - YOURSELF - to release the swing.
It's that moment. You know? That moment where time seems to switch gear and you're suspended. You become acutely aware of the breeze, of sounds seemingly far away, and of your own immortality. Do I? Don't I? Of course, you do.

The best thing? When it stops and you're still alive. Phew!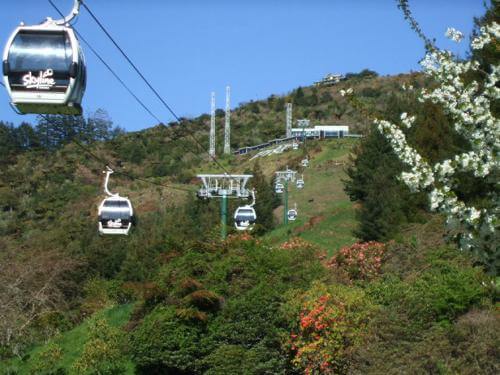 Skyline Rotorua Gondola & Sky Swing up top
Rotorua Luge Prices
Some people say the Rotorua luge is expensive and others say it's good value for money.
When you consider that around NZ$100 will get you the gondola up and down, 7 luge rides plus uphill returns on the chairlift, the price doesn't seem excessive at all.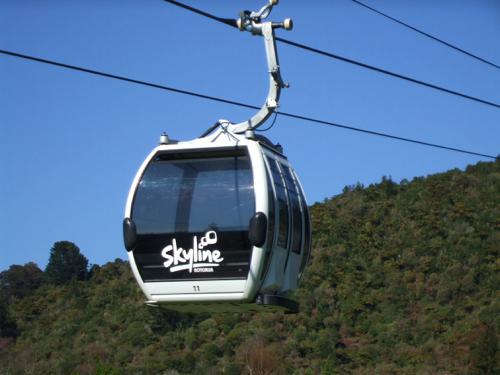 Gondola heading downhill at Skyline Rotorua
Budget accordingly to make best use of the many Rotorua luge packages and combos. View current prices and packages at Skyline Rotorua.

Food & Drink
Skyline has both a cafe and a restaurant.
You can get all sorts of cafe style food and drinks at the upmarket Market Kitchen. Gourmet pies, pizza, fish & chips, deli-style food, etc. You can even buy alcohol. And yes, on the pricy side.

To chill out on your own for a bit (the crowds can be overwhelming at times), make your way to the grass area in front of the restaurant. Take a coffee, glass of wine or whatever you fancy, find yourself a nice patch of grass, relax and enjoy the view.
Skyline Rotorua view from outside the restaurant
The Stratosphere Restaurant and Bar is open for lunch and evening dining. Either way, reserve a table by the large windows because the view can be breathtakingly beautiful. Very romantic too.

Food is served buffet style or cooked to-order. The menu features a lot of seafood and locally sourced meats including New Zealand venison.
Gluten-free, dairy-free and vegan options are available.

Something special. Bookings can be made to dine in one of the Gondola as it travels up and down. Now that's different.
NB: Dress code is smart/casual.
Getting There & Contact Details

Address: 185 Fairy Springs Rd, Rotorua
Phone: +64 7 347 0027
Email: rotorua@skyline.co.nz
Website: www.skyline.co.nz
Hours: Although Skyline opens at 9am check the website as the activity, dining options start and finish at various times.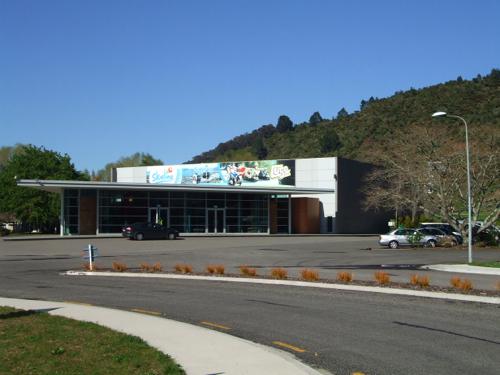 Rotorua Luge - Entry Building at Skyline
Check out my google map directions. 

View Skyline Rotorua - Home of Rotorua Luge in a larger map
Arriving from Auckland? You will actually drive past Skyline on your way into Rotorua. Can't miss it. Look to your right at the first set of traffic lights after coming off the SH5 roundabout onto Ngongotaha Rd - which changes to Fairy Springs Rd.
Bus is a good option for getting there too. Either CityRide Rotorua, the local bus service, or a Rotorua Sights tour stop outside the entrance. The hop on, hop off bus service was discontinued which is such a shame. Not very helpful for visitors.

Parking & Toilets
All parking is down the hill from the luging, at the entry building carpark just off Fairy Springs Rd.
A word of caution, don't leave ANY valuables in your vehicle. Thieves are always attracted to the tourist spots and you don't want items like your passport or travel documents taken (take it from me, this happens from time to time).
Toilet facilities are good both at the bottom and at the top of Skyline Rotorua.

Take With You

Camera
Sunscreen
Sunglasses
A book if not riding
Warm clothing - can get cold
Water

Sneakers if ziplining
Picnic if on a budget
Lots of money
Clean undies - ha, ha

Be prepared to spend a half-day minimum at Skyline. By the time you have rides, look around, eat and watch all the goings-on, a morning or afternoon will have zapped by.

Last piece of advice? Go early to avoid crowds during busy periods.
Apart from that, have a great time at Skyline.

Also in the general vicinity

—