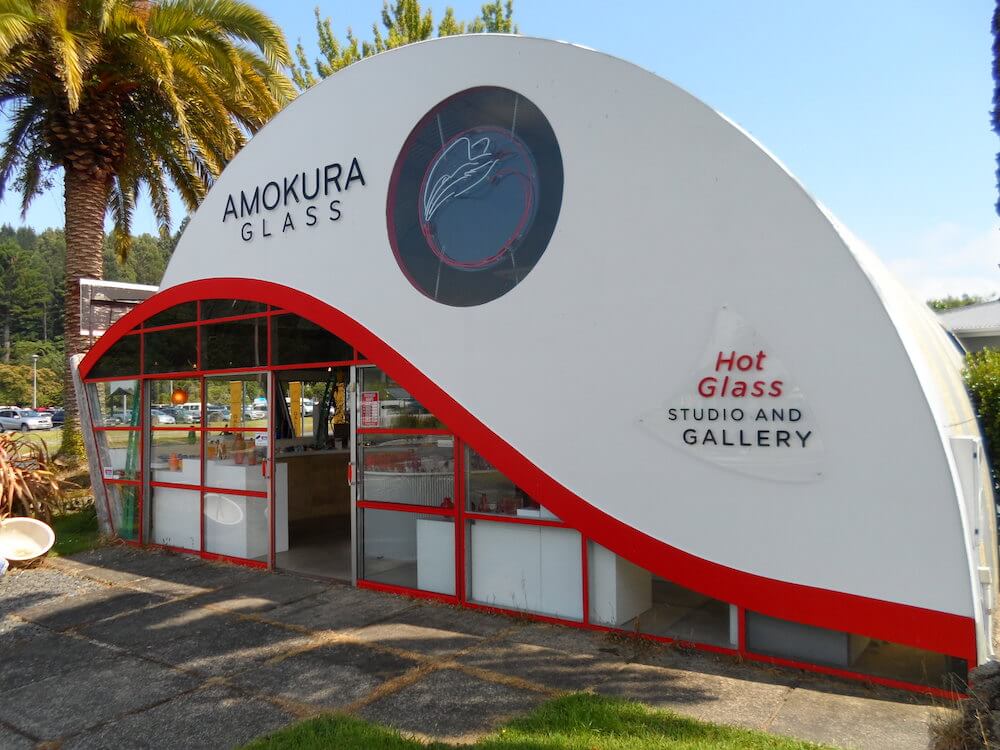 Heather Kremen, the owner of this business, bought de Flute, as it was previously known, off Ron van der Vlught. He owned and operated the business for 18yrs. When repetitive strain injury (RSI) in his turning hand forced him into calling it a day, he reluctantly put the business up for sale.
Glass blowers aren't that thick on the ground so out of the 7 plus billion people in this world, what are the odds of a glass blower wanting to settle in Rotorua. There must have been some divine timing going on because it was so heartening to hear that someone with the same passion for this art form was going to step in to take over.
Born in the USA Heather spent part of her early childhood in Dunedin when her parents moved there for work - she's got some kiwi influences going on then. ;)

An unusual occupation at best, Heather got into glass blowing when her dad signed her up for a course during a school break - not wanting her to waste her time sleeping all day. Don't you love that? Anyway, she fell in love with it and now here she is, living in Rotorua. Highly trained, she has travelled the world to learn the mechanics and to study its history and culture.


Sculptures
Glassware & Figurines
Reading about her journey got me to thinking about glass. How often do we think about the amount of glass in our lives, let alone where it comes from?
Whether we think of it on a conscious level or not, glass is integral to everyday living. Take windows for example, or mirrors. Where would we be without them? What about TV, computer and mobile phone screens? Prescription glasses, sunglasses, light bulbs, glasses and bottles we drink from, dishes we cook in and eat off. It's everywhere.

Those examples mostly focus on the practical uses and mass production.
Heather, as an artisan, creates one of a kind pieces be they functional glassware or pieces of art. 
The following short documentary film Glas (1958), filmed by Director/Producer Bert Haanstra, perfectly illustrates the contrast between the artisan and the mass producer. Artisans in the Netherlands Royal Leerdam Glass Factory are shown creating crystal goods by hand, interspersed with automated bottle making machines in a mass production factory. The film went on to win an Academy Award in 1959. In the film, you can see how physically demanding the blowing can be.


Back to Amokura Glass, something you don't normally get to see in one place is the delicate beauty of finished pieces on display, and the grittiness of the work and work space itself. It can only be described as severe with wicked-looking metal tools like shears and blowpipes, a furnace generating heat up to 1,230℃ (2,246℉) to transform raw materials into glass and another furnace to cool it down.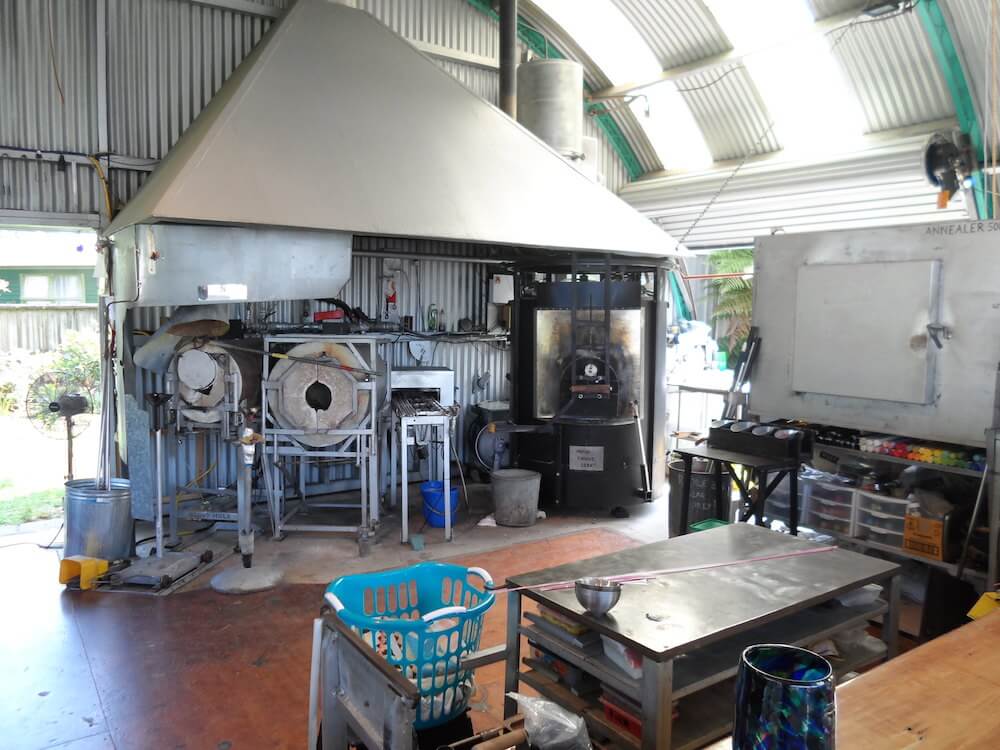 The engine room of Amokura where all the blowing is done.
Heather will happily shed light on this fascinating art form if you want to learn more about it. You'll find her giving live demonstrations Fri - Mon from 12:30pm until closing time. Do check out her Instagram page at the link below because she can be away on occasion.
You might also want to purchase a one of a kind piece for personal use, to keep as a memento, or for that perfect gift to take back home.

Amokura Glassware
Hours & Contact Details

Hours: Fri-Mon 10am-6pm | Other days by arrangement
Free glass blowing demonstrations 12:30pm until closing
Address: 153 Fairy Springs Road (opposite Skyline)
Phone: +64 (0)21 0805 5166
Email: contact@amokuraglass.com
Website: www.amokuraglass.com/
Facebook
Instagram

Getting To Amokura Glass

Amokura is located on the main Ngongotaha Road into Rotorua from Auckland. It would be on the left coming in and on your right if you're leaving. I think it would be easy to miss as most people are looking at the signs for the big operations of Skyline Rotorua on the opposite side of the road.
On foot? Local buses stop not too far along the road.

Also In The Immediate Area
Return to Top