Dancing Mud from SightsForSeeing on Vimeo.

A lot of visitors can't stand the rotten egg smell of the Rotorua thermal sulphur and can even get physically ill. For me, and a lot of other locals, that smell means we're home (truly).
It can have its drawbacks though. The sulphur plays havoc with our electrics by eating into the wiring and components on TVs, stereos, underground cabling etc.
For this reason, we can have trouble getting warranties so it doesn't pay to go too expensive. A lot of it depends on how close to the thermal areas you live as to how much trouble you tend to get.
And don't get me started on screws and nails, outside door knobs, light fittings, outdoor furniture etc.
That aside, each of the thermal areas on this page are marvels of nature and whichever you choose to visit, it will be well worth it. They are all unique in their own way so I've tried to capture the essence of each place in order to help you out with your decision-making. Bonus: Some are free!


---
Whakarewarewa Living Thermal Village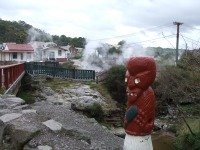 Whakarewarewa or Whaka as we call it, located in the Whakarewarewa Thermal Valley, is very much like a Māori village of old.
Here, the Tuhourangi/Ngati Wahiao people live amidst an area of intense thermal activity, totally at one with it.
---
Te Puia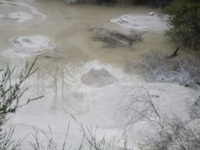 The other half of the Whakarewarewa Thermal Valley is Te Puia, one of the most visited attractions in New Zealand.
Featuring the famous Pohutu geyser, Māori culture and cultural performances, kiwis, our national Māori weaving, wood and stone carving schools (wananga)… there's all sorts to entertain here.

RTS Tip
Something different for golfers to try.  The Arikikapakapa Golf course, across the road from Te Puia, has a number of smaller thermal lakes, pools and mud pool hazards. I bet there are a few golf balls buried in the murky depths.

---
Waimangu Volcanic Valley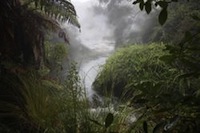 Craters filled with hot thermal water, others with steaming walls have names such as Echo Crater, Inferno Crater, Black Crater, Fairy Crater and Raupo Pond Crater.
Waimangu Valley was born when Mt Tarawera erupted in 1886 and it's the world's youngest geothermal system.