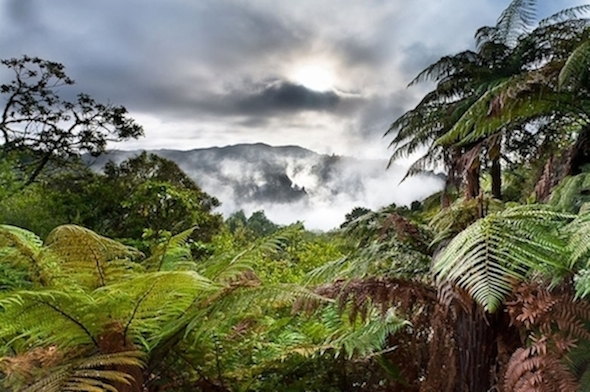 Looking towards a now quiet Mt Tarawera - Image courtesy of © WVV
You can find left over craters filled with hot thermal waters, and mud, of course. These craters are aptly named Echo Crater, Inferno Crater, Black Crater, Fairy Crater and Raupo Pond Crater.

One of the world's largest hot springs can be found here too. Known as Frying Pan Lake, it sizzles and plops and hot water streams out of it to Lake Rotomahana.

All of this came from fiery beginnings that are hard to comprehend without actually experiencing it.


Delving Into The Past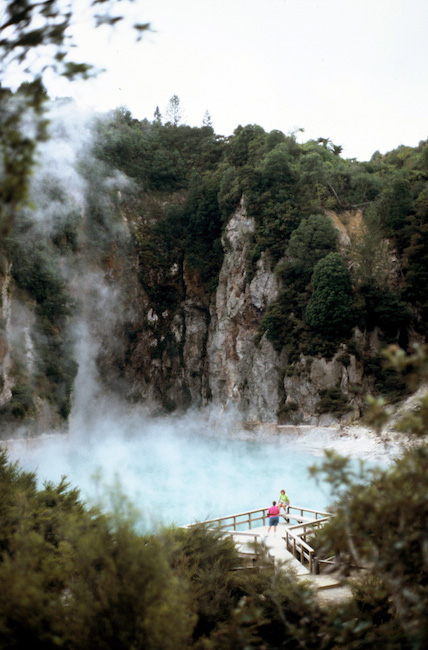 Inferno Crater - Image courtesy of © WVV
When a local volcano, Mt Tarawera, exploded on the night of June 10th 1886, the world's newest geothermal system came into being.

Mt Tarawera opened up like a zip with no less than 13 craters blasting off over an area that snaked for about 17kms (10.5mi), towards what is now known as Waimangu Volcanic Valley… that's huge.

Along that path lay a small lake by the name of Rotomakariri. It was engulfed by what was the shallow Lake Rotomahana which expanded to 20 times it's original size. In gaining an additional 40m (131ft) in depth, the famous Pink and White Terraces, which are what visitors came to see, were forever lost to view.

The volcanic activity hasn't stopped since because Waimangu Geyser - the largest geyser in the world - erupted for the first time in 1900 and carried on at semi-regular intervals for the next four years.

By largest, I mean this geyser spewed out rocks and billowing black steam and boiling water to heights of 450m (1476ft).

Birds Nest Spring - Image courtesy of © WVV
In 1903 four people were killed when they wandered too close… and it blew. The bodies, which had been picked up and tossed effortlessly into the air, were located some distance away.  Their clothing had been ripped to pieces so you can imagine the force that required.

Since then there have been numerous eruptions of varying sizes in different parts of the valley.

A sizable eruption in 1917 killed two people in nearby accommodation. In addition to that eruptions took place again in 1924, 1951, 1973 and 1981.

Living in and around Rotorua, New Zealand, you just never know when an eruption will occur. One day you see solid ground, the next a ngāwhā (boiling spring, mud pool, fumarole etc) appears.


Walk | Hike | Cruise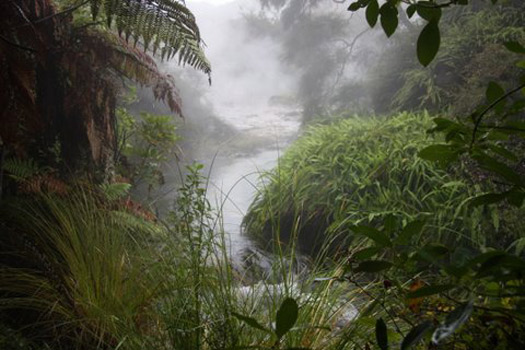 Hot Stream - Image courtesy of © WVV
Waimangu Volcanic Valley Ltd has won numerous well-deserved awards for eco tourism in New Zealand.

What's so special about it is the fact that it hasn't been tampered with by man. In fact it is so special, scientists involved in the fields of geology, volcanology and botany come here to study.

It is raw, it is nature at it's best and as such you can never take it too lightly.

You can walk/hike anything from 45mins to 4+ hours, either self-guided or with an onsite tour guide. The guided tour options range from half to whole day tours with pick-ups at your accommodation included.

There is also a boat cruise on Lake Rotomahana which can be taken on its own or as a combo with the walk.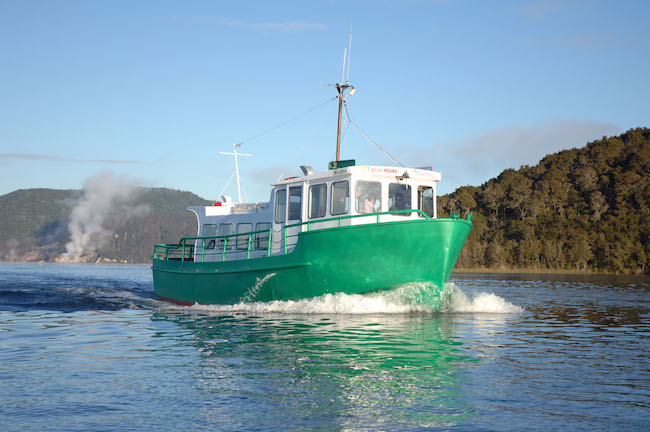 Cruise on Lake Rotomahana past the steaming cliffs - Image courtesy of © WVV
From the entry point the walking is mainly downhill but... you can catch a bus back up... whew, huh?

If you decide to walk all the tracks you would be looking at about 8km (5mi) and would need to allow a good 3-4hrs.

Have a look here at the interactive map on the Waimangu website. Hover your mouse over the dots and different areas to see the walks/hike/cruise and get further information.

Hours & Prices

Waimangu Volcanic Valley opens daily at 8.30am apart from Christmas day.

Closing time is 5pm but in January they close at 6pm.

You will need to look at getting there by 3.45pm (4.45pm in Jan) to go through the Volcanic Valley.

The Lake Rotomahana Boat Cruise on its own will be a 3.15pm (4.15pm in Jan) entry time.

If you want to combine the Walk/Hike and Boat Cruise you will have to onsite by 2pm (3pm in Jan).

To keep current Waimangu Volcanic Valley prices can be found here on their website.

Food & Drink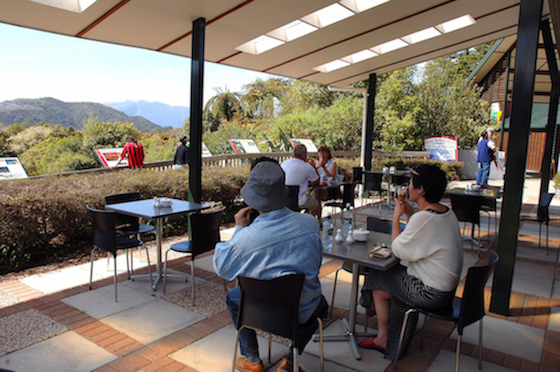 Cáfe Nature - Image courtesy of © WVV
You won't starve at Waimangu with Cáfe Nature. Cafe style food and all day breakfasts are available (these seem to be standard fare nowadays).

A nice little addition if you can afford it. Have a picnic lunch delivered when you're in the valley or on the cruise.

Set hot or cold buffet menu options cater to any groups.


Getting There
Address:
587 Waimangu Rd
Rotorua
New Zealand
Ph: +64 7 366 6137
Fax: +64 7 366 6607

It will take about half an hour to travel the 25km south out of Rotorua heading towards Taupo. If you open the map of google driving directions to the larger page the directions are given on the left-hand side.

A shuttle option is available if you haven't got your own transportation.
Thermal Land Shuttle

A ½ day Get Your Guide morning tour might be more you with pickup from your accommodation.
Volcanic Valley Morning Tour
Now if you're really keen you can even bike to Waimangu Valley from Rotorua. Te Ara Ahi is the name of the trail beginning at the southern end of Te Puia's car park on Hemo Rd. 
View Larger Map
Parking & Toilets
Good parking is available with toilet facilities at both the entrance and Bus Stop 2 in the valley itself. 

Restrictions
Wheelchair access is okay for some portions of the walks.  The bus, jetty and boat have stairs so a companion would have to be available to help in that instance.

Itinerary Idea for Summer - If self-driving, visit Waimangu (or Waiotapu) in the afternoon and follow that with a swim and soak at Kerosene Creek. Finish the day off with a hangi dinner and cultural entertainment at Te Pā Tū (Tamaki Māori Village) (book in advance) before returning to Rotorua.
Enjoy
Sources
Rotorua Museum
GNS Science
Ancestor.com
Also in the area that may be of interest...