Rotorua Travel Secrets

Navigate Rotorua's attractions, eateries and more with inside help — shh!

Rotorua, located in New Zealand, is a remarkable city.  Earth-shaking geysers and refreshing lakes. Porridge-like mud pools and soothing forests. Judging by the reactions, extreme contrasts like these are a constant source of amazement for visitors. Downside? Decisions, decisions. It's tough figuring out what to include when planning a visit.


There's lots of green
Designed with that in mind, Rotorua Travel Secrets (aka Karen Shelford) is here to help make this process easier . Give me your hand (or eyes in this instance) and I'll take you through our attractions... and the hidden gems visitors usually miss. Want to know where to shop, eat, sleep? That's covered too. Sound ok?


Experience the Best of Rotorua

With that said, kia ora (hello) and welcome to your insider's guide to Rotorua, New Zealand's premiere playground - according to me. Let's get started. Click on any link below to begin opening up the site.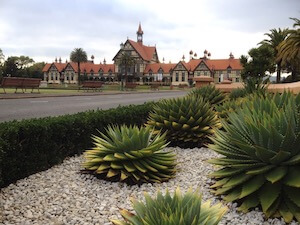 No or low-cost activities include walks, parks & playgrounds, a thermal soak and an event finder.

Popular tours around Rotorua city and fringes, and day trips within a couple of hours drive are fun too.

Our culture  is alive and thriving. Delve into the language, humour, haka and more of Māori.

This city seduces people into wanting to stay and having lived here for most of my life I think I know why. It's not too big (around 75,000 people) or too small. It offers a lifestyle that many people envy.
As a tiny example, you can step out of the front door and within 5-10-15mins be walking in the forests, around beautiful lakes or through thermal steam wafting across walkways. Then again, you can be in the middle of the city in a couple of minutes by car. Just these features alone are priceless without everything else on offer.
There's lots of mud too, this is Cameron's Laughing Gas Pool at Sulphur Bay
Although the photo above doesn't begin to show it, we have been voted the most beautiful city in New Zealand, seven times in the history of the award. That says a lot about the care people are putting into this city. Yay, go us.
If you are contemplating a visit to our city, I am sure you will find something that seduces you into wanting to stay... just that little bit longer… if not permanently.

Learn More

Favourite pastimes? Spine-tingling activities to get the adrenalin going. Check out the mountain biking. Trees rush up pretty fast on some of our tracks - ask me, I know. Don't worry, not everything is hair-raising. There's a lot to see and do where you don't have to put life and limb on the line.
Rotorua is built on a caldera so you will learn a bit about volcanology

and

Mount Tarawera

, the local volcano that last erupted in 1886. Thermal? We've got thermal coming out of our ears.

I could go on and on, and don't worry, I will in the pages to come.


---

There's a wide range of activities and things to see that should cater to all tastes.
In the meantime? Well, I'll be out and about pounding the pavements, eating at the restaurants and cafes, revisiting various  attractions and harassing  my friends for even more great things to share with you.
As an aside, will visiting us be part of your first overseas adventure? Really want to get into the spirit of it? Check out my eBook on Amazon— Make Love With Travel: How To Plan A Dream Holiday You Won't Forget In A Hurry. Use it for planning and to get ideas to make your holiday extra special. Just saying!  ;)

Myself and my daughter Elise
Enjoy the following pages.

Regards
Karen
PS. Make sure to check out what's happening on Facebook below and click the Like buttons if you do like my site. :)
PPS. Curious About Me?