Our Spa has been around for a long time with many changes over the years. This has earned it, amongst a number of awards, an award as a Top 10 World Day Spa Resort from Condē Naast Traveller, and more recently the 2022 World Luxury Spa Award.


I used to go there with my parents as a little girl and in those days men and women were in separate pools and everyone bathed nude.
I would be with my mum in the ladies mineral pool and what I remember most was the steam rising all around me and the sight of large breasts floating on top of the water.
That doesn't happen now of course (unless you're in a private pool) because it's all mixed bathing so swimsuits are worn.
I wouldn't be wearing my best swimsuit though because the minerals in the water tend to rot the material. Hired swimwear is available.
There is a lot of choice to be had when you go to the 'Poly Pools' as we still tend to call it.
Family Pools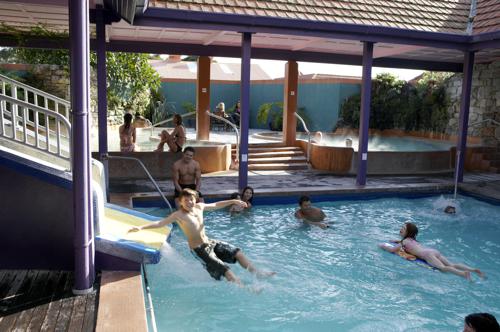 © Family Pools
As the name suggests this is for families with children. There is a large freshwater pool (33°C - 91.4°F) with a toddlers end and a hydro slide. Two mineral pools (37°-40°C or 98.6°F-104°F) overlook the main pool so parents can oversee what the kiddies are up to.
There is a lifeguard on duty at all times but that doesn't mean parents are off the hook. If your child is under 8yrs they have to be actively supervised and if they are under 12yrs there has to be a caregiver with them.
Book your Family Pools Fun Experience!
Pavilion Pools
Included in your Pavilion Pools entry fee is the use of eight hot mineral pools. Yes, eight! Varying temperatures and different mineral waters (acidic or alkaline) can have you spending quite a bit of time there. And you can stay as long as you like!
On walking in to the facility you are greeted by a large deep swimming pool - up to my neck at one end and I'm 177cm, 5' 10" - with gorgeous, silky alkaline water. At 38°C (100.4°F) I don't know how a friend of mine can aqua-jog in it without dying. People actually swim lengths... or just relax in this one.

One of the adult Pavilion Pools with people enjoying a soak. © Polynesian Spa Adult Pools, Rotorua, NZ
Step outside to seven more pools of varying sizes and depths. Three cascading pools - with alkaline Rachel Spring water have temperatures ranging from 38°- 40°C (100.4°-104°F).
Three Priest pools - with acidic mineral water have temperatures varying between 39°-41°C (102.2°F-107.6°F). The acidic water comes from from a nearby radium hot spring. Stay too long in the hot ones and you will end up like a wrung-out dishcloth, oh so relaxed.
One more alkaline Rachel Spring water pool 40°C (104°F) overlooks the lake, and a reflexology walk you can make use of to get the circuits in your body firing.
The change-room facilities are good with showers and storage tubs you take out to the pool area or lockers that you pay an additional charge for.
These pools are not for children.
Book your Pavilion Pools Experience!
Lake View & Sky View Private Pools
If you want to lock yourself away from the world then these are the pools for you.

Four deluxe Lake View Private Pools are overlooking the lake and nine Sky View pools are totally enclosed.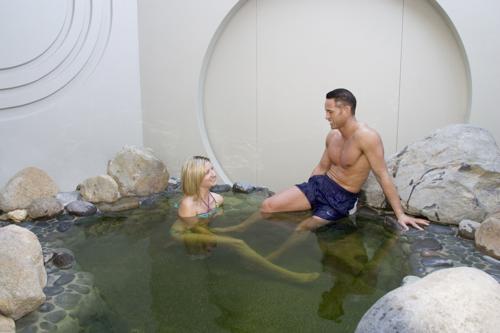 A couple in one of the private pools at Polynesian Spa, Rotorua, NZ ©
The downside is that you hire them for 30 minutes at a time and you MAY have to wait for an empty one. There is a lounge provided if this happens. That's why bookings are essential.
Children can use these pools with an adult.
Each room has their own change room and shower.
Years ago, my then fiancee and I went to the Polynesian Spa one night and got ourselves a private pool. The 30 minutes seemed to go on and on and on. In the end I got out of the water and poked my head out the door to find the place in darkness.
They had missed us (we would get a knock on the door when time was up) and closed up shop. Luckily a cleaner was there and let us out. We left decidedly wrinkly.
Book your LAKE VIEW or SKY VIEW Private Pool Experience!
Deluxe Lake Spa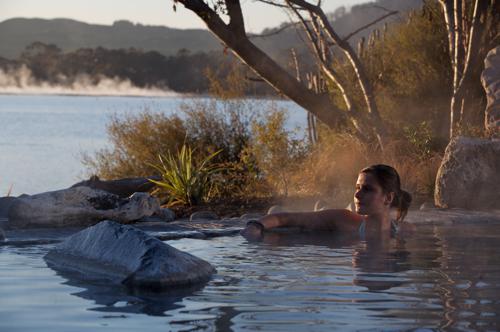 A visitor relaxing in one of the pools at the Lake Spa, Polynesian Spa, Rotorua, NZ. ©
Four shallow rock pools overlook the lake at the Deluxe Lake Spa. The water is alkaline with temperatures between 36°- 42°C (96.8°-107.6°F).
One Priest Spring Pool is located to the far right of the area. The water is acidic with temperatures between 36°- 41°C (96.8°-105.8°F).
Beside this is a cold plunge pool which you are advised to make use of on your visit.
And get this, you even get to use geothermally-heated recliners located beside the pools. 
All the settings for the different areas are pleasant but here there are also two waterfalls and a grotto. Very nice.
The change facilities are stepped up too. You will be provided with towels, secure lockers, hairdryers, and soap and shampoo.
Book your Deluxe Lake Spa Experience!
Lake Spa Retreat & Spa Therapies
This is the serious end of relaxation.
You will be pampered with native flora, robes, relaxation areas, refreshments, towels, lockers, soaps, hairdryers etc.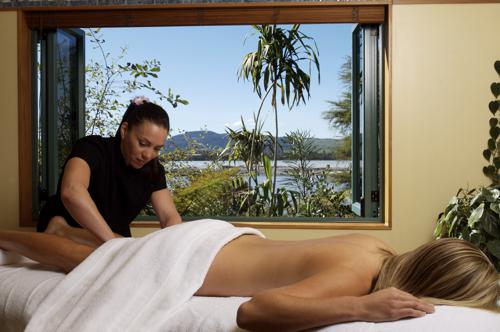 A visitor receiving a massage at the Lake Spa, Polynesian Spa, Rotorua, NZ. ©
And then you have the therapies themselves (which I haven't actually tried).
There are Spa Therapies using mud and NZ Manuka Honey along with other natural compounds.
The Hydro Spa Therapies use jets of warm water and oils to massage your cares away.
Even with ten Spa Thereapy rooms, three Hydro Therapy rooms and two dual Spa Therapy rooms (yourself and a friend), bookings are essential for these services.
There is a huge range of spa therapies, packages and prices so check them out on the Polynesian Spa website.
With any of these therapies you get the use of the deluxe Lake Spa both before and after your therapy sessions.
Book your Spa Retreat Experience!
The Polynesian Spa is one of the best spas in the world. I'm positive you won't be disappointed.
Food & Drink
A well stocked cafe is on site where you can sit and recharge the batteries with a cooling drink after a long soak.
A bonus if you're travelling; they have FREE internet access if you purchase anything.

Shopping Facilities
An onsite store carries a huge range of New Zealand spa therapy products and accessories so if you're into lotions and potions you will be very happy.

Getting There
It's easy getting to the Polynesian Spa. If you have a look at my google map you will see that it is in the Government Gardens with the Rotorua Museum of Art & History in close proximity.
The Polynesian Spa is near to hotels, motels, backpackers, the central business district and conference venues.

View Polynesian Spa in a larger map
Parking & Toilets
There are plenty of toilets in the Polynesian Spa and plenty of parking outside.
Just be careful you don't leave anything of value in your vehicle though because thieves do target these areas, even with CCTV cameras around.
Enjoy your soak!