Rotorua: Explore the Lakes ½ Day Morning Tour

In this 4hr tour beginning 8:30am with meet-up at 1167 Fenton Street, the I-Site Visitor Info Centre, you will visit some quintessential lakes and sites of Rotorua.
A walk through the Redwood trees at Hamurana Springs would be a highlight for me, especially with the crystal clear spring water. It practically begs a person to dive in. See if I'm not wrong. Another site not to be missed is Okere and Tutea Falls on the Kaituna River. It involves steep steps in places so maybe some huffing and puffing will be required. The Blue & Green Lakes, and Lake Tarawera will round off the tour. I hope you've got your camera ready to go.

Book Explore the Lakes ½ Day Morning Tour ≫

Waimangu Volcanic Valley Morning Tour

This 4hr morning tour with pickup from your accommodation begins at 8.30am. Take in rolling farmland on your drive out to Waimangu Volcanic Valley with cool mud pools on the way. As Waiotapu is closed Tuesdays, Wednesdays and Thursdays due to staff shortages, an alternative option of a Lake Rotomahana boat cruise at Waimangu will be included on these days. Your guide/s are extremely knowledgeable as well as entertaining.

Book Waimangu Valley Morning Tour >>

Elite Cultural Small Group Afternoon Tour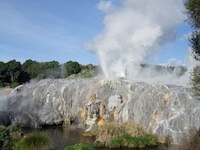 You can always take this tour in addition to either of the two above to make a full day of it. This is a 3hr tour, beginning at 1pm with pick-up from your hotel. Visit Te Puia to view the famous Pohutu Geyser and thermal action in abundance, also the weaving and carving schools. Then it's onto the Government Gardens with lots to learn about the history in that area. To finish you'll be taken out to see some of our best lakes: Okareka, Blue & Green Lakes and Lake Tarawera with views of Mt Tarawera.
Book Elite Cultural Small Group Afternoon Tour >>

Rotorua Eco Thermal Small Group Full Day Tour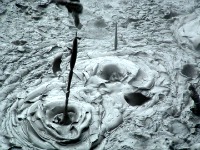 If learning about thermal is at the top of your list, this 8hr day tour, beginning at 8am, is tailor-made for you. Waiotapu and Waimangu Volcanic Valley fascinate with eruptions, mud pools and boiling hot springs. This is followed by a visit to the Blue & Green Lakes and the Buried Village where our famous volcano, Mt Tarawera, can be viewed.

Cultural Experience &  Māori Cuisine at Te Pā Tū

To finish off the day in style, opt for a total immersion evening experience into Māoridom with a hilarious bus ride out to Te Pā Tū (formerly Tamaki Māori Village) where you will challenged, educated, entertained, and fed (with a real Māori hangi) until your belly is bursting. It's a perfect ending to your one day in Rotorua and fits in with all the tours mentioned above. Prepare for a sensory overload.