Rotorua motels list begins with—

Sport of Kings Motel

6 Peace St, Fenton Park
4.5 star
16 ground-floor rooms

Rotorua Motels - Sport of Kings
Sport of Kings Motel is located on a quiet residential side-street (where I lived once upon a time so I know it's quiet) about 2km, 4min from the town center.
If you want locally grown proprietors who go the extra mile, have extensive local knowledge and are perfectly nice people, this is your place. That's the type of experience owners Pete and Tristen offer.

Features
Studio units sleep 2-3, 2 bedroom apartments sleep 6 & 1 bed spa apartment sleeps 4

Kitchen or kitchenette

Swimming pool & 2 public spa pools

BBQ
Kiddies playground
Babysitting - Paid
Thermal heating
Free electric vehicle charging station

Book Sport of Kings Motel >>
Mountain bike wash down facilities, storage, and drying room for the wet gear

Off road parking

Free wifi

Business center

Laundry facilities
Wheelchair access & reduced mobility rooms

Arista of Rotorua

296 Fenton St
4.5 star
16 rooms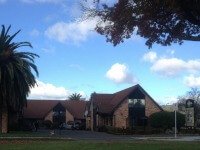 Don't let all the motels awards scare you off the Arista because the prices are still reasonable. TripAdvisor Travellers Choice of Motels 2015, No.10 Family Hot Spot Award... in the South Pacific (including Australia). No.1 in NZ for families. Cool huh?

Your lovely hosts, Mike & Annmarie, have created a home away from home with the largest, extremely family-friendly units in Rotorua. Kids can run wild in a fully-fenced playground, bikers can store their ultra precious cargo, and one's own spa (apart from the house) is hard to beat too. Problem? You've got to get in early.

Features
On-site parking
Free wifi (up to 3Gb)

Babysitting & kiddy activities
Self- service laundry and dry cleaning services

Book Arista of Rotorua ≫
Kitchenettes
Business center & meeting rooms

Free DVD hire
Mountain bike storage & wash down facilities
Cedarwood Lakeside

17 Holdens Ave
4 star
16 rooms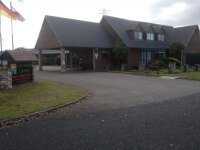 Cedarwood Lakeside is located in the park-like setting of a quiet residential area on the south-east shores of Lake Rotorua, a 3km, 12min drive from the city center. Honestly, you're going to think you're somewhere rural, that's how quiet it is.
The host is another Rotorua gem who looks after her guests like they were her own.

Wanting a largish family get-together? This is the place for it. They've got the accommodation, privacy and spaciousness to play together or chill-out alone. It's a slam dunk.

If you're after fast food to go, nearby, in fact on the turnoff from the main Te Ngae Road, is a McDonald's. Closer still (a few minutes walk) is the Wai Ora Lakeside Spa Resort where you can make use of the restaurant or pampering facilities.

If it's stocking up on groceries you want, the Te Ngae Shopping Center is a short drive towards town with the Redwood Shopping Center a bit further on again. Grab some steak at the Redwoods Butchery and make use of the motels bbq facility. How's that?

Features
Swimming pool - heated Sept school holidays to end of April school holidays
Indoor/outdoor spa

BBQ and picnic area
Playground includes petanque
Mountain bike wash & storage facilities
Book Cedarwood Lakeside ≫
Self-service laundry (coins)
Wheelchair access
Studios sleep 2, two bedroom unit sleeps 6 (with 4 adults), family unit sleeps 7 (max. 5 adults), lakefront 2 bedroom unit sleeps up to 6.
Silver Fern Accommodation & Spa

326 Fenton St
5 star
25 rooms

Yes, a motel and spa in one. And, 5 stars no less. Situated midway between the city centre and the likes of Te Puia, the Silver Fern motel is handy to everything. It would be a 20 minute walk into town, if that.

The Silver Fern motel is another lovely establishment that offers service par excellence. What sets it apart from the other motels would have to be the day spa facilities. Also, (whispering) it's got a bit of a reputation. It's inclined to be romantic. Just so you know.
In handy proximity, around the corner you'll see the Savemart second-hand shop. On the Savemart street is a dairy (also sells hot Charleez chicken & chips).

Features
Continental breakfast

Private spa pool or spa bath

Complimentary slippers

Room service
Free wifi
Free parking
Complimentary retro styled bicycles (way cool)

Wheelchair access
Did I mention the day spa facilities? Yep, got those too

Book Silver Fern Accommodation ≫
Secure storage for bikes & motorbikes
BBQ & garden

Babysitters

Non-smoking rooms

Drycleaning, laundry & self-serve laundry services
Business centre & executive rooms

Studios, suites, one & two bedrooms. Sleep max 6.

NB. Events are held in Rotorua most weekends so it pays to book accommodation early - real early. People still get caught short and have to go all the way to Tauranga or Taupo to find a bed.
Aura Accommodation

1078 Whakaue St
3 star
Sleeps from 3 - 6 in studio units through to 2 bedroom apartments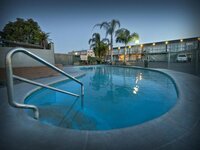 You're in the thick of things staying at Aura Accommodation because the location is superb. One quiet street back from Lake Rotorua, the kiddies playground and Village Green - although they might not want to leave this facility as there is loads to enjoy on-site, and it's a couple of minutes walk to the hum of Eat Street with restaurants, cafes and bars.
It's a hop, step and jump to access the Government Gardens, Polynesian Spa, and the start of the Te Ara Ahi Cycling Trail.

Features
Kitchens or kitchenettes
BBQ & Steambox
Heated swimming pool

2 private thermal pools + hot tub
Thermal heating

Free bikes & scooters
Book Aura Accommodation ≫
Wheelchair accessible (with limitations)

Bike storage + wash area

Drycleaning & laundry
Concierge services
Free wifi

Smokefree



Cleveland Thermal Motel

113 Lake Rd
3 star
Sleeps from 3 - 8 with studio units through to 2 or 3 bedroom apartments

Although the Cleveland Motel is located on a busy road, visitors still can't speak highly enough of it. The fact that owners Brij & Ronette run a very tight ship with no parties, or noise after dark makes for a peaceful visit. Families will love this place too.

Far and away the best feature of this motel is... the swimming pool, and the thermal pools. It's the way families at Ohinemutu and Whakarewarewa villages have bathed since first settling in Rotorua. It becomes quite a social experience actually.
Visitors also comment frequently on the super comfortable beds which are of a chiropractic standard.

Located on Lake Rd, Cleveland is on the way into town (a 1.8km, 4 min drive) if you're heading in from Auckland.
Nearby is Kuirau Park if it's geothermal sights you're wanting. The owners will help you out with advice on other places to visit and how to get there.

Foodwise, on the opposite side of Lake Rd; to the left you'll find a dairy, Wendy's Chinese Takeaway cum Fish & Chip shop plus a Goldstar bakery. To the right is a well-stocked fruit & vege store, and a liquor store by the Gull gas station.

Features
Thermal heating 

Outdoor swimming pool & 2 thermal pools

BBQ area
Trampoline and swings for young ones

Free wifi

Spa & Wellness Facilities

Book Cleveland Motel ≫
Continental & Gluten free breakfast on request

Kitchens or kitchenettes
A cottage sleeps up to 8 - contact owners to book.
On-site parking

Bella Vista Motel

94 - 98 Lake Rd
4 star
18 rooms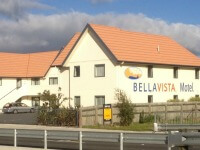 Rotorua Motels - Bella Vista
Bella Vista is one of a chain of motels and it's located on Lake Rd, a 1.8km, 4min drive into town. It's also beside the dairy and fish & chip shop mentioned.
Sue, your host, will help you out with bookings and availability of discounts in addition to great service overall.
Although this Rotorua motel is on a busy main road, there have been no complaints about noise from what I can tell.

Features
Kitchen or kitchenette
Free parking
Free & wifi
BBQ area
Business centre & meeting rooms

Book Bella Vista ≫
Non-smoking motel

Laundry service

Studio, one and two bedroom units. Maximum numbers are 6.

Kings on Peace Apartments

4 Peace Street
Fenton Park
5 star
18 rooms

Kings on Peace, the adjacent sister property to Sport of Kings Motel, is a quality place to stay with studio and 1 or 2 bedroom apartments, plus Tahi House that sleeps up to 8.
Located on the southern end of the city, it's only a 4min 2km drive into town. Nearby you will find Te Puia Thermal Valley, Whakarewarewa Village, mountain biking and walking trails.
Features
Perk you up goodies on arrival

Free wifi

Heat pump

Serviced daily
Kitchens that come fully equipped

Washing machine, dryer & drying room

Book Kings On Peace Apartments ≫
Free electric vehicle charging + Tesla Destination charger + commando plug

Bike cleaning & storage facilities

Studio, one and two bedroom apartments plus Tahi house
Lake Lodge Motel

1190 Lake Road
3 star
Sleeps from 2 - 5 people

Formerly known as Ledwich Lodge, Lake Lodge Motel has undergone a transformation. Modernised and refurbishment allows visitors to enjoy not only their accommodation but views across the green to the lakefront of Rotorua. (Currently under redevelopment).

Perfect for couples wanting a weekend getaway that allows them to be semi-secluded. The motel is tucked back off the road so if you're walking along the footpath you don't really notice it. Yet, from the motel you can see all the activity taking place in front of you. Sounds voyeuristic doesn't it?
You can wander to the lakefront, or along the street to the Terrace Kitchen for a coffee. If you want more of a wider range of restaurants and bars to choose from, carry on along the road towards town which takes you to Eat Street.

Features
Non-smoking
Free parking

Studio, one & two bedroom apartments

Alternative Rotorua Accommodation