Top-Rated Rotorua Motels

During this period of uncertainty, some local attractions, businesses, hotels and motels may be closed or have limited hours. Please check with the operator when booking. For those of you who cannot visit New Zealand due to border closures, enjoy a virtual visit to Rotorua. Hopefully we get to see you in person real soon. Stay healthy and take care! —Karen

Discover Rotorua motels that travellers - like you - rate amongst the best. Because we have in excess of 40, it can be a hit and miss affair when it comes time to book. Taking it to the streets is the best way to find out what real people have to say so that's what I've done.



The ten Rotorua motels featured on this page are clean, comfortable, affordable ($89 - $299) and vary between unpretentious and luxurious. Solo visitors, families, corporates and large groups (20 beds - really!) are all catered for.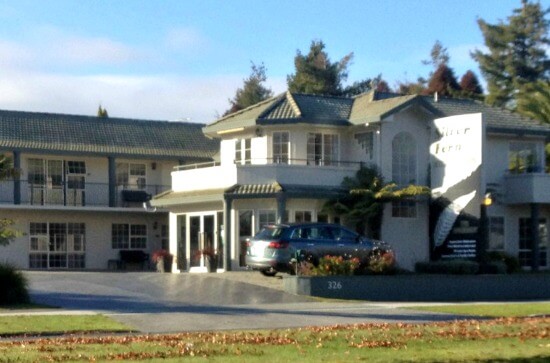 Rotorua motels lust list begins with—

Sport of Kings Motel

6 Peace St, Fenton Park
4.5 star
16 ground-floor rooms
Price range: $140 - $198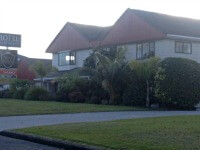 Rotorua Motels - Sport of Kings
Sport of Kings Motel is located on a quiet residential side-street (where I lived once upon a time so I know it's quiet) about 2km, 4min from the town center.
If you want locally grown proprietors who go the extra mile, have extensive local knowledge and are perfectly nice people, this is your place.
The care that has gone into the motels recent refurbishment perfectly illustrates the type of experience Pete and Tristen offer.

Features
Studio units sleep 2-3, 2 bed apartments sleep 6 & 1 bed spa apartments
Kitchen or kitchenette

Swimming pool & 2 public spa pools

BBQ
Kiddies playground
Babysitting - Paid
Thermal heating
Free electric vehicle charging station

Compare prices at TripAdvisor ≫
Mountain bike wash down facilities, storage, and drying room for the wet gear

Off road parking

Free wifi

Business center

Laundry facilities
NB. The link for each establishment pops you through to Trip Advisor (TA) with a link to the  establishment in question at the top of the page. Click that to find the best deal, compare prices and see what other travellers have to say.
Click here if you want to see why I use TripAdvisor. (I'll pop you back again once you've finished reading.)
Arista of Rotorua

296 Fenton St
4.5 star
16 rooms
Price range $135 - $299

Don't let all the motels awards scare you off the Arista because the prices are still reasonable. TripAdvisor Travellers Choice of Motels 2015, No.10 Family Hot Spot Award... in the South Pacific (including Australia). No.1 in NZ for families. Cool huh?

Your lovely hosts, Mike & Annmarie, have created a home away from home with the largest, extremely family-friendly units in Rotorua. Kids can run wild in a fully-fenced playground, bikers can store their ultra precious cargo, and one's own spa (apart from the house) is hard to beat too. Problem? You've got to get in early.

Features
On-site parking
Free wifi (up to 3Gb)

Babysitting & kiddy activities
Self- service laundry and dry cleaning services

Book Arista of Rotorua ≫
Kitchenettes
Business center & meeting rooms

Free DVD hire
Mountain bike storage & wash down facilities

Cedarwood Lakeside

17 Holdens Ave
4 star
16 rooms
Price range $138 - $171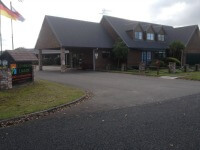 Rotorua Motels - Arista
Cedarwood Lakeside is located in the park-like setting of a quiet residential area on the south-east shores of Lake Rotorua, a 3km, 12min drive from the city center. Honestly, you're going to think you're somewhere rural, that's how quiet it is.
The host is another Rotorua gem who looks after her guests like they were her own.

Wanting a largish family get-together? This is the place for it. They've got the accommodation, privacy and spaciousness to play together or chill-out alone. It's a slam dunk.

If you're after fast food to go, nearby, in fact on the turnoff from the main road, is a McDonald's. Closer still (a few minutes walk) is the Wai Ora Lakeside Spa Resort where you can make use of the restaurant or pampering facilities. The kiddies might enjoy checking out the Te Amorangi Museum (around the corner) too. A model train runs every Thursday and Sunday.  
If it's stocking up on groceries you want, the Te Ngae Shopping Center is a short drive towards town with the Redwood Shopping Center a bit further on again. Grab some steak and make use of the motels bbq facility. How's that?

Features
Swimming pool - heated Sept school holidays to end of April school holidays
Indoor/outdoor spa

BBQ and picnic area
Playground includes petanque
Mountain bike wash & storage facilities
Book Cedarwood Lakeside ≫
Self-service laundry (coins)
Wheelchair access
Studios sleep 2, two bedroom unit sleeps 6 (with 4 adults), family unit sleeps 7 (max. 5 adults), lakefront 2 bedroom unit sleeps up to 6.

Silver Fern Accommodation & Spa

326 Fenton St
5 star
25 rooms
Price range $143 - $187

Yes, a motel and spa in one. And, 5 stars no less. Situated midway between the city centre and the likes of Te Puia, the Silver Fern motel is handy to everything. It would be a 20 minute walk into town, if that.

The Silver Fern motel is another lovely establishment that offers service par excellence. What sets it apart from the other motels would have to be the day spa facilities. Also, (whispering) it's got a bit of a reputation. It's inclined to be romantic. Just so you know.
In handy proximity, around the corner on Maida Vale Street is a liquor store, look past it and you will see the Savemart second-hand shop. On the Savemart street is a dairy (also sells Charleez chicken & chips). Next door to that is Strike Zone Entertainment Centre - ten pin bowling for the family.

Features
Continental breakfast

Private spa pool or spa bath

Complimentary slippers

Room service
Free wifi
Free parking
Complimentary retro styled bicycles (way cool)

Wheelchair access
Did I mention the day spa facilities? Yep, got those too

Compare prices ≫
Secure storage for bikes & motorbikes
BBQ & garden

Babysitters

Non-smoking rooms

Drycleaning, laundry & self-serve laundry services
Business centre & executive rooms

Studios, suites, one & two bedrooms. Sleep max 6.

NB. Events are held in Rotorua most weekends so it pays to book accommodation early - real early. People still get caught short and have to go all the way to Tauranga or Taupo to find a bed.

Roto Vegas Motel of Rotorua

249 Fenton St
4 star
22 rooms
Price range $103 - $141

Rotorua Motels - Roto Vegas
Playing off the theme of Fenton Street being known as 'Motel Mile' and Rotorua's nick-name of Roto Vegas, you can easily see where this motel gets its name from. To take it a step further, the interior has retro-inspired furnishings. Love it.
This is another property that can cater for large groups (sleeps 20) in a separate house (what a thought).
There's a supermarket right across the road and numerous fast-food joints within spitting distance - think McDonalds, Burger King, Carls Junior, and Cobb & Co if you want something more filling. Ask at reception for directions.

Features
Free parking (Including campervans)

Free & paid wifi
Swimming pool

Private spa pools in some units

Sauna - mmm, that's a bit of all right
Kitchenettes or kitchens
Studios and one and two bedroomed units sleeping to a maximum of 7.
Find the best deal, compare prices ≫

Fenton Court Motel

306 - 307 Fenton St
4 star
18 rooms
Price range $118 - $135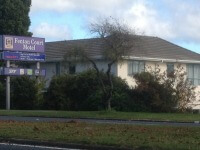 Fenton Court Motel is about service. Owners that drive you places - Taupo anyone - now that's going way above and beyond expectations. No wonder people love this place.
And a complimentary continental breakfast (I've heard they do this with cooked ones too). And free transportation. It doesn't stop does it? I have to wonder how the managers, Terry and Karen, make a buck. 
Once again, you're in the thick of things staying here. It's a short drive or walk into town.

Features
Either private spa pools or double spa baths

Wheelchair access & reduced mobility rooms

Kitchen or kitchenettes

Non-smoking rooms

Free wifi
Free shuttle bus service

Read what other travellers say ≫
Airport transportation

Free parking (boats too)

Secure bike storage
Self-catering laundry

Security lighting

Pet-friendly

(not often you get that)




Red Rock Thermal Motel

107 - 109 Lake Rd
3.5 star
8 rooms
Price range $96 - $138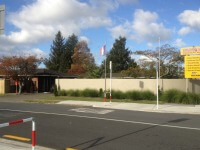 The view from the road belies the quality of what's waiting for you inside the gates so don't let that stop you from staying at  the Red Rock Motel. You'll be surprised, I'm sure.
Far and away the best feature of this motel is... the indoor mineral pool. This is the way families at Ohinemutu and Whakarewarewa villages have bathed since first settling in Rotorua. It becomes quite a social experience actually.
Located on Lake Rd, Red Rock is on the way into town (a 1.8km, 4 min drive) if you're heading in from Auckland.
On the boundary is the Utuhina Stream - trout fishing? And nearby is Kuirau Park if it's geothermal sights you're wanting.
Foodwise, on the opposite side of Lake Rd; to the left you'll find a dairy, Wendy's Chinese Takeaway cum Fish & Chip shop plus a Goldstar bakery. To the right is a well-stocked fruit & vege store, Couplands Bakery and a butcher - and a liquor store by the Gull gas station.

Features
Thermal heating 

Outdoor swimming pool & indoor thermal spa

BBQ area
Enclosed trampoline for young ones

Free wifi  & Sky TV
Single level units

Find the best deal ≫
Continental brekky on request

Laundry service or self-serve + drying room

Kitchens or kitchenettes
Studio, one bedroom and family units sleep up to 6 people plus a cottage  sleeps up to 9.

Bella Vista Motel

94 - 98 Lake Rd
4 star
18 rooms
Price range $115 - $260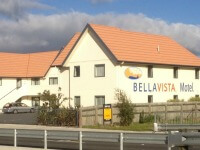 Rotorua Motels - Bella Vista
Bella Vista is one of a chain of motels and like the Red Rock beforehand, it is located on Lake Rd, a 1.8km, 4min drive into town. It's also beside the dairy and fish & chip shop mentioned.
Sue, your host, will help you out with bookings and availability of discounts in addition to great service overall.
Although this Rotorua motel is on a busy main road, there have been no complaints about noise from what I can tell.

Features
Kitchen or kitchenette
Free parking
Free & wifi
BBQ area
Business centre & meeting rooms

Book Bella Vista ≫
Non-smoking motel

Laundry service

Studio, one and two bedroom units. Maximum numbers are 6.


Santa Maria Motel

270 Te Ngae Rd
3 stars
8 rooms
Price range $89 - $229

The Ritz it doesn't profess to be but this unpretentious Rotorua motel is still a terrific place to stay - especially for families with its 1 or 2 bedroom units, two 3 bedroom units and the 30's style 3 bedroom cottage in a garden setting. You'll have great hosts too in Jason and Emma. They'll do right by you.

Located out east-side, it's only a 5min drive, 3.5km into town. Santa Maria is handy to numerous lakes including the Blue & Green Lakes, and then the world famous in NZ - okay, the world too - Redwoods walking tracks are in walking distance if that's your thing.
For the ever present need for vittles, an Indian takeaway is next door (as well as a dairy) to the motel and across the road is the Redwood Shopping Center with an excellent fruit & vege shop plus various food outlets. There's also a cafe in addition to the cafe attached to the Outdoorsman Headquarters - don't worry, it's all easy to see once there. A short drive takes you to supermarkets located on the way into town.

Features
Pool
Great playground for kiddies - they'll love the rabbits

Spa

BBQ
Free wifi & Sky TV

Find the best deal ≫
Kitchenette
Free parking
Self-serve laundry
Non-smoking rooms
Cooked or continental breakfasts


Tuscany Villas

280 Fenton St
4 star
28 rooms
Price range $195 - $298 full-rate. Often cheaper.

Rotorua Motels - Tuscany Villas
If you like nice surroundings, Tuscany Villas is an extremely attractive (my pic so doesn't do it justice) two-level building, and the rooms are top-notch too - no, make that luxurious.
A 1.7km, 4min drive will have you in town or an easy flat walk of less than 20 mins or so. Many of our visitors walk to and from the supermarkets so strike up a conversation.

Adjacent is our racecourse if that's a bit of you and the attractions, shopping, restaurants etc. are not too far away either. The popular Urbano restaurant/cafe is only a few blocks away.
Features
Non-smoking
Free parking

Free wifi
Business center & meeting rooms

Studio, one and two bedroom units. Maximum capacity is for 5.
---
Alternative Rotorua Accommodation
Return to Top of Rotorua Motels