---
Walks
Rotorua has an outdoors culture and with that we have so many walking tracks it would keep you busy to do them all.
I read where the owner of Treetops Lodge & Estate was mentioned as saying if Rotorua got their walking tracks right, we could be on a par with Cinque Terre in Italy.
How cool would that be? I've walked the five villages of Cinque Terre and it was absolutely incredible. But I digress.
You will find many walks in and around the city, others in the forests and others again out around some of the 17 lakes in the area. It's like... where to begin.

Let's get going with some of my favourites; ones that would definitely give Cinque Terre a run for their money.


---
Okere Falls 1hr - Even if you don't raft, kayak or sledge the Kaituna you can still have fun watching others come down the falls - and hearing the screams. This walk takes you along the banks of the Kaituna (also known as Okere Falls) river with waterfalls, a cave, parts of our first power station and a trout pool.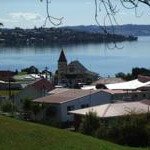 Ohinemutu 30min+ to have a good wander - Spiritual is what comes to mind when I think of this place, from the Tama-te-kapua meeting house to St Faith's Anglican Church and also Ohinemutu Māori Handcrafts. Māori culture is alive and somehow, I don't think you will leave without being touched by it.


The Rotorua Redwoods - six walking tracks with varying degrees of difficulty. Caters to the leisure walker, families with children and the more experienced hiker.
Tarawera Trail 5-6hrs - Walking this 15km trail is something special when you learn about the history of the place and the people first. It sets the scene so to speak.

Blue And Green Lakes 1hr + - see the sacred Green Lake (Lake Rotokakai) then take a walk around the popular Blue Lake (Lake Tikitapu) where you can also play, picnic and barbecue.

Puarenga Stream Walk 30-40 mins - this is a little known Rotorua walk that wends it's way through ponga trees beside a tinkling stream… definitely a great place to unwind.You won't find it in the guide books because it's not one of the 'official' walks; at least it wasn't at the time of writing. As of 2023 I see it's now been christened the Puarenga Stream Walk.

Mystical Mount Ngongotaha Walks 1-1.30min plus - Do you believe in fairies (Patu-Paiarehe in Māori)? You very well may after walking the Jubilee Track and/or Nature Walk. The mountain is said to be home to a tribe of fairy people whose thin, reedy voices and flutes can still be heard on days when mist rolls down over the slopes.

Lake Okareka Walkway 1-2hrs - Stroll along the wetlands boardwalk on this easy 5.5km walk. Observe water birds from the birdwatching hide. Take in the spectacular views of bush laden hills and farmland. And once again, like a lot of Rotorua's walks, enjoy the sound of peace and quiet.

Hemo Gorge Trail 30m-1hr - Strapped for time, want a quick pick me up, or just out for pleasure? Try this great 3km return walk alongside the Puarenga Stream and located on the city southern fringe. I've thrown in a challenge too for the more experienced walker.
Rainbow Mountain Dual walk/bike tracks. A 15min one way walk to the crater lakes, with another 3.5km to Te Ranga (Kerosene Creek) or 1.30hr up to the summit, quite a bit quicker coming down. You can't help but feel on top of the world when taking in the incredible 360° views at the summit of this mountain.
---
Parks & Playgrounds
Kuirau Park - should be on your list of fun free things to do in Rotorua, NZ. Kicking back with your feet soaking in a hot foot pool is fabulous after a lot of walking. A flea market, playground, geothermal; what else do you need?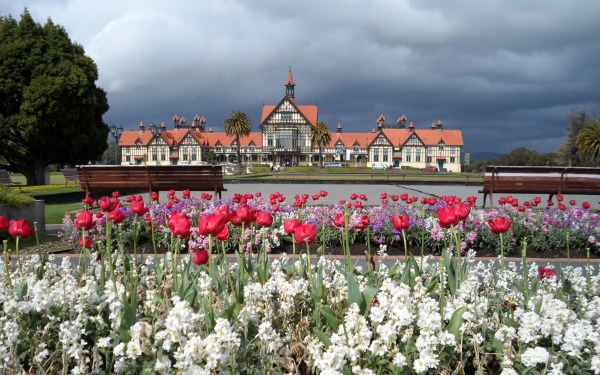 Government Gardens and the Rotorua Museum. Isn't it great?

Government Gardens - Who would think that a formal English garden and Māoridom could blend so well together. They do, and it works.
You can wander at your leisure but make sure you set aside enough time to do it all.
The kiddies aren't left out either. The playground on site will keep them busy having lots of fun.


---
A Thermal Soak

Kerosene Creek - We've tried to keep it a secret but the word is definitely out there. This hot geothermal pool is gorgeous. A half-hour drive from Rotorua will see you easing your aches and pains in a natural setting. Ah, bliss. What more could you ask for.
Hot 'n' Cold - Same again but a bit further down the road. Another not so secret, secret, anymore. As the name implies, this local thermal pool area is the result of a hot and a cold stream meeting. Move around to find the temperature that's comfortable for you.


---
Look Our for Upcoming Free Events
Eventfinda.co.nz - This is a comprehensive New Zealand events calendar website. The link is set to take you to Rotorua's upcoming free events so there may be quite a few or nothing.
This link is set to all events  in Rotorua. Filters include Free, Under $20, $20-$50, $50 and over.
NB: Unlike large cities overseas, many Rotorua events do not show up on Eventfinda until closer to the time, as in 1 or 2mths out, or even closer to the event.


---

I will add more free things to do in Rotorua as time goes by so check back periodically to see what's happening, unless....

Have you...