Popular Rotorua Backpackers

During this period of uncertainty, some local attractions, businesses, hotels and motels may be closed or have limited hours. Please check with the operator when booking. For those of you who cannot visit New Zealand due to border closures, enjoy a virtual visit to Rotorua. Hopefully we get to see you in person real soon. Stay healthy and take care! —Karen

To work out the best Rotorua backpackers accommodation - for you - start with this handy guide. Once the accommodation is sorted you can relax into planning the fun stuff - hooyah! (As Jamie Fox would say.)



Most Rotorua backpackers are centrally located and within easy walking distance of supermarkets, the i-Site (info centre & long distance bus services), Government Gardens & Museum, Lakefront, Kuirau Park, Ohinemutu, and some tour operators. Te Puia and Whakarewarewa are further out at 2-3km.
The price guides quoted are not a good measure of actual prices. They change and special deals are frequent.
Something else, Rotorua backpackers accommodation providers often have good deals for local activities and attractions. Much better than official outlets.

---

Rotorua Backpackers Guide—

Rock Solid Backpackers

1140 Hinemoa St
14 rooms
--- 4,6,8 bed dorms - mixture of bunks & beds
--- Private twin & double rooms
--- Ensuite rooms
Price range: $33 - $61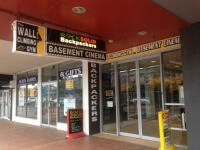 Rock Solid Rotorua Backpackers would have to be the number one backpackers in Rotorua. Well regarded within the backpacking fraternity, it has a solid reputation.
Bright, modern, contemporary. Spacious too. The building also houses a climbing wall and the quirky Basement Cinema. These are well-utilised by locals.
It's located in the middle of town near the main intersection of Tutanekai & Hinemoa Streets (closed off). We call the closed off portion the City Focus and you'll find a manned information center there.
Supermarkets can be found within a couple of blocks as well as the Central Mall, bars and cafes. Restaurants are nearby too.

Unlimited free wifi
Free luggage storage
Free bike storage

Free pool table
Free table tennis
Free coffee & tea
Big-screen TV
3 lounges
Bar

Large kitchen/dining area
In-room lockers
Wheelchair access
Book exchange
No children


Crash Palace Rotorua Backpackers

1271 Hinemaru St
22 rooms
--- Dorms: 10, 8, 6, 4 rooms & 4 bed females
--- Single rooms
--- Twin & Double rooms
--- Ensuite rooms
Price range $23 - $62

Oops, Crash Palace is a different colour now. Blue. It's a popular place for backpackers to stay. It's off the main road so quieter than some of the others.

The interior is clean, bright and funky. Best claim to fame? Crash Palace won't be beaten on price. $10 anyone? A few rooms go up for grabs at that price so I guess you've got to get in early.
Walk out the door, look to the right and there's Pak 'n' Save, one of the local supermarkets. One block away is the Government Gardens and Polynesian Pools. You won't need that with your own hot tub though, will you?

Hot tub

Free wifi & computers

Pool table

Laundry done for you (irons/boards)
Bar
TV & Dvd's
2 kitchens with freebies
Wheelchair access
Continental brekky optional
Common room
Outside area (bbq)

Off/on street parking
Shed for the bikes
Bikes for hire

Luggage storage
View and book at Tripadvisor >>


Funky Green Voyager

4 Union St
--- Dorms sleep 7 & 4
--- Family 4 bed with ensuite
--- Double, single rooms
--- Double & twin with ensuite
Price range $52 - $80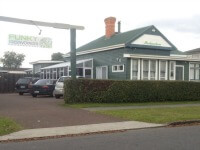 This Rotorua backpackers is more like a home away from home than a backpackers. An Eco-friendly home at that. Located on the fringe of the city centre, the Funky Green Voyager is spread out over several properties. More like a residential street, the block is a blend of motels, apartments (private), flats and residential housing - not Rotorua's best looking street.

It's a short walk to the Central Mall and food outlets. If you're planning on shopping in the town centre, (far side of the mall), it would pay to use a vehicle if you have one.
Wifi (paid)
Free maps
On/off road parking
Good bbq area
Family sized kitchen (can get tight)

Book exchange

Laundry facilities
Vending machines
Tea/coffee making facilities
Luggage storage
Safe deposit box

No curfew


Blarneys Rock Backpackers

In case you're specifically looking for Hennessey's Irish Bar with Blarneys Rock Backpackers on top, it doesn't exist anymore. The building was so old it has been pulled down with a brand new larger Hennessey's Irish Bar set to open in Nov 2016, minus a backpackers.


YHA Rotorua

1278 Haupapa St
--- Dorms 6 bed mixed
--- Dorms 4 bed male/female/mixed
--- Private 3 bed
--- Private Double bed
--- Private Double bed - ensuite
--- Twin private - ensuite
186 Beds
Price range $48 - $81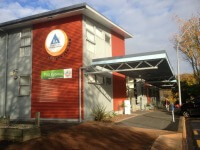 Sleeping up to 180, the YHA can cater for large groups. If you don't mind a lot of people (at times) and want a modern look, it may be for you. But, apart from the spacious kitchen/dining area and outside areas, others have found the sleeping quarters on the small side with only basic amenities. It's no frills folks.

Located on a side street, this particular Rotorua backpackers is a 2 block walk to the main bus stop and 4 blocks to the nearest supermarket.

Best feature of the YHA would have to be its proximity to Kuirau Park - across the road. Free thermal activity and the Flea Market on a Saturday morning. You can pick up a tasty breakfast, fruit and veges, second-hand stuff and there's an assortment of other stalls too.

Free Parking

Wifi
Bbq
TV Room
Good kitchen
Key card access
Meals available
Washing machine

Outdoors areas
Common room
Luggage storage & coin lockers

Bike storage

Disability facilities & wheelchair access
Jobs board


Rotorua Planet Backpackers

1080 Eruera St
--- Dorms 4 & 6 beds
--- Single, twin & double rooms
10 rooms
Price range $32 - $60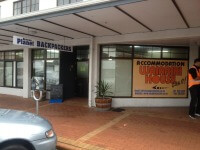 The best feature of Rotorua Planet Backpackers would be its proximity to the supermarket. Fast food outlets are close too, as in 100m. The Government Gardens, Polynesian Spa and museum are nearby.

It's a mixture of short and long term accommodation so you will be mixing it up with locals. That can add value to your experience. The amenities are basic but still everything you need.

Free wifi - 100Mb
Free Sky TV
Free parking
Ping pong table
Billiards

Secure lockers
Luggage storage
Kitchen/communal area

Coin laundry
Not suitable children


Astray Motel & Backpackers

1198-1204 Pukuatua St
--- Dorm 4 bed mixed
--- Twin & double rooms
--- Twin & double - ensuites
--- Family/group units sleep 3-6
20 rooms
Price range $48 - $70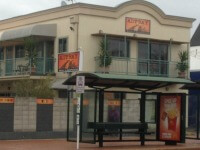 A lovely looking motel cum backpackers, Astray is a comfortable stay in the heart of the city. It's close to Eat Streat, cafes and other restaurants as well as shops. Ronnies, next door, is a cheap eat.

The single rooms are on the small side but it gets better as you go up.

I've always thought it a pity about the location. Outside Astray is a major bus stop, which is fine because you also get the shuttles stopping here. The downside is across the road. The (WINZ) Work & Income NZ and Child, Youth & Family building attracts a lot of riff-raff to the area and of course they are catching the buses too. I haven't seen any complaints about this though so maybe the fact you're inside a compound makes the difference.

Free off-street parking
Freeview TV
Wifi - paid
Kitchen/common room

Laundry 
Fully made-up beds

Wheelchair access


Oasis Backpackers Hostel

33A Tarewa Rd
--- Dorms sleep 4 & 6
--- Triple room sleeps 3
--- Double sleeps 2
--- Twin sleeps 2
--- Single sleeps 1
18 rooms
Price range $56 - $73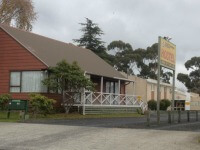 People looking for peace and quiet won't go wrong at the Oasis Rotorua backpackers. This two-story building is located on the fringe of the city in a park-like setting. It may be a bit out of the way for solo backpackers but it's ideal for families or groups.

If you have an aversion to walking more than a few hundred meters a car would be a must to get into town. It's a 4min, 2km drive to the i-Site for any long haul bus services.

The Aquatic Centre (public swimming pools) are very close as is Kuirau Park. Across the other side of Kuirau Park is the central city.

Free off-street parking
Sky TV
Free Wifi & computers

Well setup kitchen, multiple fridges
And stoves

A huge common room
Inner-sprung mattresses no less.

See more at Oasis Backpackers >>
Washing machine
Lockers 

Pool table/foosball
Tennis court
Bbq area
Bike hire



Rotorua Downtown Backpackers

1193 Fenton St
--- Dorms 6 & 10 mixed, cosy
--- Dorms 6 bed females
--- Doubles sleep 2
--- Twins sleep 2
--- Singles
17 rooms
Price range $38 - $53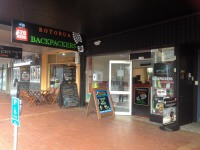 Think compact, cheap and cheerful for this Rotorua backpackers. Plus, you couldn't get much closer to the information centre and bus stop than this. Fall out of bed, you're there.
Across the road is the mammoth new police station and the Sir Howard Morrison Performing Arts Centre (that's your view). Behind that the Government Gardens and museum. A short walk and you're at the Lakefront.

Cafes and takeaways run adjacent to Downtown Backpackers; includes Turkish food, roasts and typical cafe fare for NZ. Closest supermarket (Pak 'n' Save) is a 4 block walk.

Free wifi
Free movies
Free pasta, rice, coffe & tea
Small kitchen
Small common room

Discounted attractions

Courtyard Bbq (Free on Fridays)

Nightly activities
Lockers
Luggage storage
Laundry
Alternative Rotorua Accommodation
Return to Top