Most Rotorua backpackers are centrally located and within easy walking distance of supermarkets, the Visitor I-Site (info centre & long distance bus services), Government Gardens & Museum, Lakefront, Kuirau Park, Ohinemutu, and some tour operators. Te Puia and Whakarewarewa are further out at 2-3km.
The price guides quoted are not a good measure of actual prices. They change and special deals are frequent.
Something else, Rotorua backpackers accommodation providers often have good deals for local activities and attractions. Much better than official outlets.
Post-Covid world? It appears quite a few of our backpacker accommodations have suffered with having housed the homeless over the past few years. The amenities and level of service are not up to par, I think, so I have taken them off my site until I see an improvement.
Rotorua Backpackers Guide—

Rock Solid Backpackers

1140 Hinemoa St
14 rooms
--- 4,6,8 bed dorms - mixture of bunks & beds
--- Private twin & double rooms
--- Ensuite rooms
Dorm rooms from: $36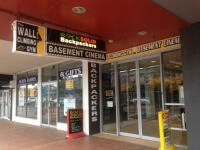 Rock Solid Rotorua Backpackers would have to be the number one backpackers in Rotorua. Well regarded within the backpacking fraternity, it has a solid reputation.
Bright, modern, contemporary. Spacious too. The building also houses a climbing wall and the quirky Basement Cinema. These are well-utilised by locals.
It's located in the middle of town near the main intersection of Tutanekai & Hinemoa Streets.
Supermarkets can be found within a couple of blocks as well as the Central Mall, bars and cafes. Restaurants are nearby too.

Unlimited free wifi
Free luggage storage
Free bike storage

Free pool table
Free table tennis
Free coffee & tea
Big-screen TV
3 lounges
Bar

Large kitchen/dining area
In-room lockers
Wheelchair access
Book exchange
No children

Blarneys Rock Backpackers

In case you're specifically looking for Hennessey's Irish Bar with Blarneys Rock Backpackers on top, it doesn't exist anymore. The building was so old it has been pulled down with a brand new larger Hennessey's Irish Bar, minus a backpackers.

YHA Rotorua

1278 Haupapa St
--- Dorms 6 bed mixed
--- Dorms 4 bed male/female/mixed
--- Private 3 bed
--- Private Double bed
--- Private Double bed - ensuite
--- Twin private - ensuite
186 Beds
Dorm rooms starting from $32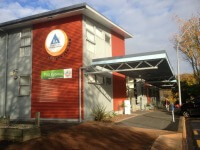 Sleeping up to 180, the YHA can cater for large groups. If you don't mind a lot of people (at times) and want a modern look, it may be for you. But, apart from the spacious kitchen/dining area and outside areas, others have found the sleeping quarters on the small side with only basic amenities. It's no frills folks.

Located on a quiet side street, this particular Rotorua backpackers is a 2 block walk to the main bus stop and 4 blocks to the nearest supermarket.

Best feature of the YHA would have to be its proximity to Kuirau Park - across the road. Free thermal activity and the Market on a Saturday morning. You can pick up a tasty breakfast, fruit and veges, second-hand stuff and there's an assortment of other stalls too.

Free Parking

Wifi
Bbq
TV Room
Good kitchen
Key card access
Meals available
Washing machine

Outdoors areas
Common room
Luggage storage & coin lockers

Bike storage

Disability facilities & wheelchair access
Jobs board

Book Rotorua YHA  Backpackers >>

Alternative Rotorua Accommodation