Rotorua, New Zealand

Location & General Information
Rotorua, New Zealand, is an enchanting travel destination that engages the senses with its characters, climate and history. It's easy to get around while you're here too which makes it better still.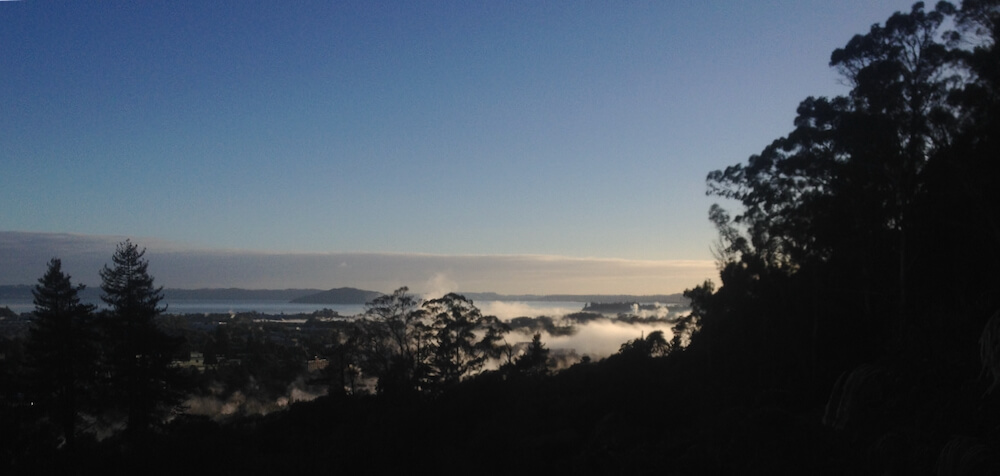 Daybreak over Rotorua

Where is New Zealand?

But, never mind Rotorua, where's New Zealand?
That's the first question that comes up when we travel overseas and no, it's not in Australia as a lot of people seem to think. We're our own separate, small island country located in the Southern Pacific ocean. Looking on a map, New Zealand is situated to the bottom-right of Australia.

When we refer to New Zealand we're actually talking about three islands. The North Island (Te Ika-a-Māui), the South Island (Te Wai Pounamu) and Stewart Island (Te Punga o Te Waka a Māui).

As for Rotorua, it's located in the central North Island of New Zealand, about 2½hrs south of Auckland city.
Auckland is a major inbound link to New Zealand as is Christchurch and Wellington.

The map below shows Rotorua's proximity to the major centres of New Zealand. Zoom in and out to get more detail.

Just zoomed out on the map myself and we don't seem to be that far from the Antarctic. Brrr, no wonder it gets so cold here.

View Larger Map of Rotorua, New Zealand.
History Of Rotorua

Although young in years - compared to the likes of Europe that is - we have had our share of high drama. The historical events timeline will give you a blow by blow account from when the local main Māori tribe, Te Arawa,  arrived in NZ up to present times.
Getting Around Rotorua

The city is compact so it is easy enough to get around. No vehicle, no problem, our local buses are the way to go. They're reasonably modern and not uncomfortable. They're also the one thing you'll see blatting around a lot while you're here with their distinctive bright green colour.
Rotorua Weather

There is nothing worse when travelling than turning up with the wrong clothing for the weather. Our weather has its own peculiarities that you can check out with this link.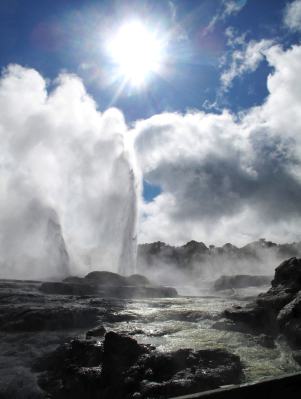 Pohutu Geyser at Te Puia, Whakarewarewa Thermal Valley
Return to Top
---

Like This Page?

Like This Site?