Māori History
An overview of Māori history in New Zealand and more specifically Rotorua tells how the indigenous culture has not only managed to survive but is also enjoying a resurgence with the culture being embraced by many. Not the majority yet but hopefully, in time to come.

Members of the Great White Fleet visit Tamatekapua Meeting House in 1908 Collection of Lieutenant Commander Richard Wainwright, 1928. US Naval History and Heritage Command Photograph
Māori Language
The Māori language has been resurrected with the creation in the 1980s of Kohanga Reo (Māori language pre-schools.) Nowadays there are numerous schools and university courses that make the language available to anyone who wants to learn it.
Getting to grips with the Māori language before you visit will make it a lot easier to get around.
You can also try out some of the Māori words you are likely to come across. The pronunciation for quite a few of our street names in Rotorua will have your tongue tied up in knots I can guarantee.

Māori Humour

Māori humour is very... different. When you get a bunch of Māori people together at any type of gathering nothing is off limits. Probably the best way to demonstrate our humour is with some examples and our comedians so read on.

Māori Haka, Tattoo, Customs & Traditions
We now have inter-tribal competitions featuring the Māori haka, traditional games, tikanga (customs and traditions), waka ama (double-hull canoe) races etc. along with the traditional european games of tennis, rugby, netball etc. I love the fact that this helps to keep our culture well and truly alive and how it promotes whanau (family).
In relation to the haka, I can proudly say that my brother (Wayne) Buck Shelford had a hand in making the All Blacks Haka what it is today. The All Blacks are New Zealand's national rugby team. When he was playing in the 80's, the All Blacks absolutely dominated the world of rugby. Those were great days for New Zealand rugby fans.

Māori Art
It doesn't matter where you are in the world, people love creating beautiful things. As the indigenous culture in NZ, Māori have their own unique way of doing this. Beauty has been and is still being created with carving, flax weaving, tattoo and all the modern art media. New Zealand has a number of fabulous artists with ones from Rotorua being right up there.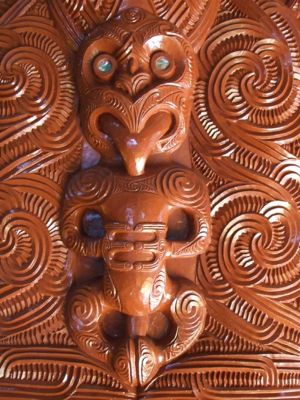 Closeup of Māori art with a carving at Te Puia
Māori Food
Māori people love their kai (food) including me. When our ancestors travelled to New Zealand from Hawaiki they had to quickly adapt to a far cooler climate. Although they brought a lot of plants with them, only the kumara (sweet potato) flourished in this climate.
They soon got to grips with the local flora and fauna resulting in delicacies peculiar to New Zealand. The Māori people also soon adapted to european food brought here by the early settlers. You will have to try some of the delicacies such as Kaanga Wai (Rotten corn). Yes, it is rotten and yes, I have tried it - even holding my nose - but it still tastes awful. Some people love it. Different strokes for different folks I guess.

Related Pages You May Enjoy...