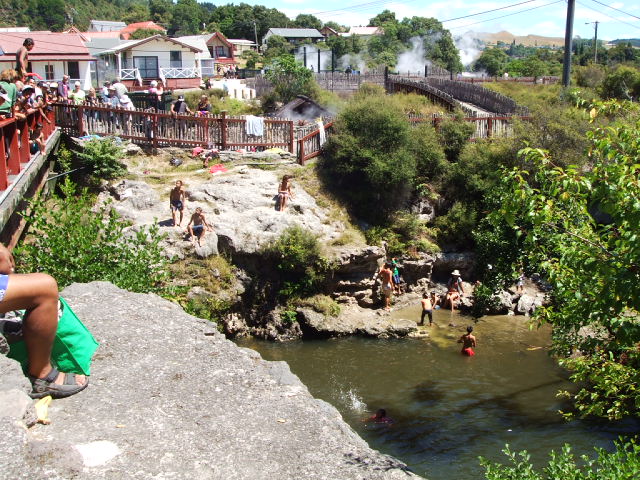 Whakarewarewa Thermal Village penny divers
Tourists loved it too and would line up 3-4 deep to watch.

At that time, this was the main entrance to the Whakarewarewa thermal valley. The place used to buzz with people. Not so now. Ever since the Whakarewarewa thermal valley was split down the middle in 1997, the foot traffic through Whaka, as we call it, came to a halt.
Te Hokuwhitu-a-Tu is a memorial bridge into Whakarewarewa Thermal Village - it commemorates Tuhourangi soldiers who served in the 1st & 2nd World Wars
Possibly because of this, the village has retained a sense of authenticity that can sometimes be taken as missing from Te Puia, right next door. I've had quite a number of visitors through the museum comment on that authenticity.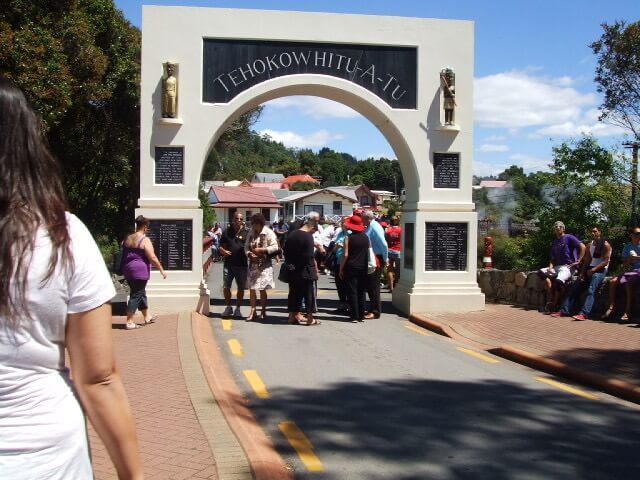 Entrance bridge into the village - Whakanui open day. This it what it was like in its heyday.
A Bolted Gate
Whakarewarewa Thermal Village and Te Puia, the adjoining thermal attraction, were once one body, as mentioned above. But now they are separated by a bolted gate.

Bolted gate dividing Whakarewarewa Village and Te Puia
The rift came about when the government wanted to go in a different direction from the Tuhourangi tribe. The net result is this bolted gate, which appeared overnight. It is still shut today.

There is a glimmer of light appearing in the steaming mist though. A lot of hard work has been going on behind the scenes for years now, and it looks very close to a resolution that will see these two institutions reunited.

How it will look, we don't know, but the main thing is that the whole of the Whakarewarewa thermal valley will once again be back in the hands of the Te Arawa people. Yay.

It also means that visitors won't have to visit two separate attractions. Double yay.
As at 2023, still waiting.


---
Puarenga Stream looking towards the village
What to Do at Whakarewarewa Village
What you get at Whaka today is still the village where the Tuhourangi - Ngāti Wahiao people have lived for at least 125 years. That is the really cool thing about it. They LIVE there. What you see is the real deal, not a re-enactment of times gone by.

The fact they choose to share this with visitors is amazing. I don't know that I would like people walking around my house peering inside, how about you? It would be quite disconcerting actually.

Speaking of houses, because of where we live, and I'm meaning Rotorua here, it has been known to happen that a hot pool (ngawha) suddenly appears overnight. Underneath a house. The owners have woken up to find their house partially sunk, scary huh? You just never know.
Marae Atea, Wharemoi, and flagpole
Back to the village. Find out how the villagers live with the thermal while you wander amongst the houses and thermal pools. Guided tours that run hourly are a great source of information and learning so make sure to jump on one. Guiding is in the blood as the villagers have been doing it for generations.

A cultural performance takes place twice a day and you can try your hand at weaving and also eating food straight out of the hot pools or stone ovens. Some of the villagers are creative so you will find weavers and tattooists at work as well. Souvenirs made by villagers and bought in can be purchased.

And don't forget. You can always spend a few nights with a Marae Stay. You will need a group for this option.

Tip: You can view geysers erupting on the Te Puia side of the Whakarewarewa thermal valley but you can't get close to them from this side... YET.
Looking from Whakarewarewa Village to Feathers Geyser at Te Puia
Silica bank on the side of Puarenga Stream
Getting To Whakarewarewa
Where:
17 Tryon St
Whakarewarewa Village
Rotorua
Hours: 9am - 4pm daily (closed Christmas Day)
Phone: +64 7 349 3463
Fax: +64 7 347 0100
Email: info@whakarewarewa.com
Website: www.whakarewarewa.com/
---
More thermal attractions