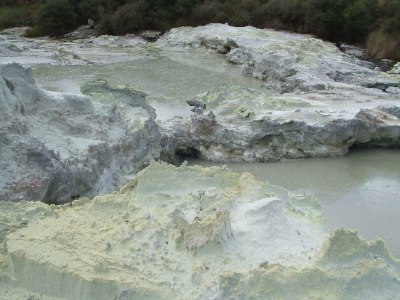 Sulphur Rocks at Rotorua's Hells Gate. Can you see the chalkiness?
Having checked it out for myself again recently, (it's not like we go to these places every day you know) I was pleasantly surprised.

The landscape, formed about 10,000yrs ago is a good version of what hell would look like except that it's not dark enough and it doesn't belt out flames of fire which is how I envision hell to look.
Our hell is mostly a muddy, greyish landscape, with relief found only in the inky blackness of some pools, or with patches of sulfurous yellow rocks and burnt orange ground. I didn't realise how I was soaking this in until I happened to lift my eyes and was surprised at the green of trees on the horizon and the blueness of sky. 
There is a LOT of thermal activity going on here and, as I found out, it's the most active thermal area in Rotorua. I believe it.

People are quirky aren't they, because I had to laugh when I looked over and saw this Hells Gate warning sign. You have to wonder if anyone has tested it.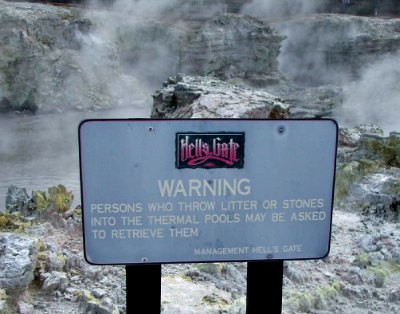 Persons who throw litter or stones into the thermal pools may be asked to retrieve them.
Points of Interest

The Hells Gate Rotorua terrain is varied with different points of interest along the way. These are set out on descriptive signs, as above, telling the story about the particular sight. The imagination can run riot with names like Devil's Bath, Ink Pots, Inferno Pools, Sodom and Gomorrah, Devl's Cauldron, Sulphur Crystal Valley and Mud Volcano don't you think?

The Mud Volcano is still growing, currently about 2.4 meters high.
Take the Mud Volcano as one example, this is an interesting beastie and the only one you will find in any New Zealand reserve. It erupts about every 6 weeks, mostly at night (phew), when the top hardens and the pressure seeks release. Boom. Mud everywhere.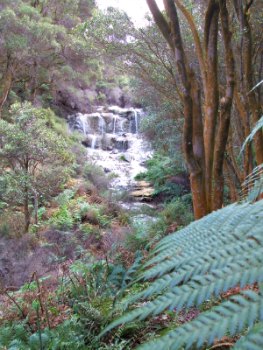 Kakahi Falls
Hells Gate is the only site currently owned by Māori, specifically the Ngati Rangiteaorere people. They used the waters for cooking, bathing and healing. After battles the men would seek relief by bathing in the warm waters of the Kakahi Falls, the largest hot water falls this side of the equator.
Early European tourists also used the waters for the healing and relief of rheumatism, arthritis, muscular ailments and skin diseases like psoriasis.
Today people still seek out thermal waters and treatments because of the sense of well-being that is engendered.

Experience for Yourself

There's an opportunity to bathe your feet in a genuine, squishy Rotorua mud pool which you must to take advantage of. Even though it's only your feet, you're left feeling refreshed.
(A lot of people in Rotorua love using the free footpools at Kuirau Park.)
Deeper into the reserve you can rub some of the mud on your hands, leave it for a bit to soak in and wash it off further along the track.
Just before leaving the Hells Gate park there is a place where you can stop off and try your hand at carving.
You can see the photo of me having a try at carving...
... and the little kiwi carving is my result. Cute huh? It's rough as guts actually, that's why I made it a small pic. :) Only in Rotorua.

Thermal Bathing, Spa & Massage

Yes, apart from everything else you can also have a thermal mud bath and Spa (thermal) bath. Book here at Get Your Guide. Enquire about the shuttle service if you need it too.

People complain about being asked to get out after 20min but there's a very good reason for that. The mud retains heat and once you are coated in it the body pores open up 100%. Result? Your blood pressure goes up. Too long like that could get dangerous so 20min is quite enough. If pregnant the time is probably even shorter.
The mud bath is followed by a cold shower to bring the body temperature back down and then it's into the spa pool to sit back, wallow and enjoy the Hells Gate rock formations
Hells Gate Rotorua also offers ½hr or 1hr 'Wai Ora' full body massage and mud therapies, facials and scrubs.

Something to keep in mind is that this is not a Luxury Spa. No glitz, no glamour. Just an authentic experience with mud bucketed from the park probably that very day. You can also purchase Hells Gate's very own 'Alite' mud products from their retail shop.


Getting There

Get onto Te Ngae Rd heading out of Rotorua and drive for about 10min until you get to the Whakatane, SH30, turnoff. Turn right and proceed for about 4km. Hells Gate is on the left at the beginning of a bend on the highway.

You can also view the google map below for directions to Hells Gate Rotorua.

View driving directions to Hells Gate Rotorua in a larger map
Food & Drink
Food and liquid beverages are available throughout the day at the onsite Volcanic Cafe. On the day I was there it was a bit of a sad looking selection, not much on view at all. It may be that it was in the middle of winter and summer could be a whole different ball game.

Parking & Toilets

A small parking area is available right outside the the Hells Gate Rotorua park otherwise people park on the sides of the road.

One thing to be aware of is that this attraction is on a State Highway so traffic is moving fast - 100kmh speed limit. Be careful with any manoeuvring.

Toilets are located at the entrance to the park in the main building. There is nothing in the park itself so if you need to go… or even if you don't you better. An hour or more can be a long time.

FAQ
What ages are catered for?
All ages and that goes for the park and the spa and mud baths. From watching a family going through the park at the same time as myself, young children could probably get bored pretty quick.

What do I need to bring?
Wear sturdy footwear as you will be walking over rough, stony ground. Water and sunscreen for the summer is highly recommended and raincoats and umbrellas if it's wet.

Can swimwear be hired?
Yes, swimming gear can be hired along with towels for a small fee. In fact, it might be a good idea to do just that as the sulphur will make them reek for ages afterwards.
Is Hells Gate Rotorua wheelchair friendly?
It is a bit rough with an incline in parts. If you're reasonably strong it should be okay. Ask them for a test run if you are not sure.
How long does it take?
To get around the park would take about 45min to an hour. Even longer if you want to take lots of photos.

Contact Details

Address: State Highway 30, Tikitere, Rotorua
Phone: +64 7 345 3151
Email: bookings@athellsgate.co.nz
Website: www.hellsgate.co.nz
Hours:
8.30am - 10pm Summer
8.30am - 8.30pm Winter (closed Christmas Day)
Visits after 6.00pm must be booked
Cost: Entry to Hells Gate Rotorua starts at NZ$35.00 and from there it's all up depending if you want to add on a mud bath, thermal spa bath or massage type treatments.

If this page didn't answer all your questions don't hesitate to Contact Me. In the meantime you may like to read about...

More thermal attractions