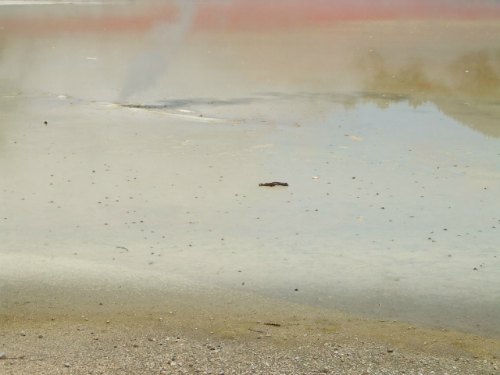 Subtle colourings of the Artist's Palette at Waiotapu, Rotorua - see the tiny steam hole?
And don't be surprised if you get caught up in the pictorial titles of the various sights as well. Artist's Pallette, Bird's Nest Crater, Sulphur Cave, Oyster Pool. Do they conjure up a picture or what?
Something to keep in mind when visiting this attraction is to arrive first thing in the morning. This way you get to catch the Lady Knox geyser erupting at 10.15am. The venue for this is separate from Waiotapu thermal reserve which can be taken in either before or after Lady Knox. In addition there's also a mud pool which is at another location again.


Lady Knox Geyser

The Lady Knox Geyser is one of the most visited geysers in Rotorua and, in itself, a big drawcard, probably because it is guaranteed to go off at 10.15am each day.
It's a bit convoluted though, because you have to pay at the Visitor Center first, then get back into your car and backtrack for a couple of kilometers to get to Lady Knox.
A short walk through the bush leads to an amphitheater type setting with seating on one side facing the silica-laden geyser.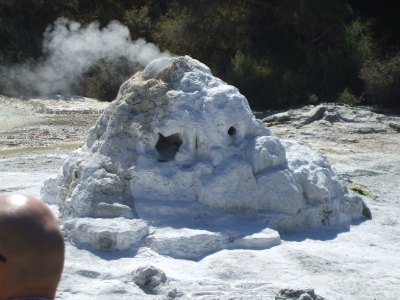 Lady Knox Geyser looking very unassuming
The eruption itself is achieved in an ingenious way. There are two layers of water underneath the ground with differing temperatures. With the introduction of a non-residue soap powder the tension of the two bodies is broken resulting in an eruption some 10-20m high.

Apparently, convicts back in the day found out about this when they washed their clothing in the waters using soap powder. The resulting explosions blew the clothing up into the air. Ha, ha. I can just see it. You would think they would be backing off quick smart as soon as any rumblings began.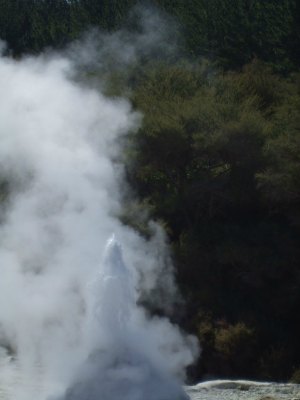 Lady Knox beginning to erupt
People have differing opinions on the value of the soap powder, often perceiving it to be an artificial experience of Rotorua's geothermal activity. I suppose the thing is, if nature is left to itself then it is hit and miss as to whether an eruption occurs so, a guaranteed eruption or ...??? It's up to the individual I guess.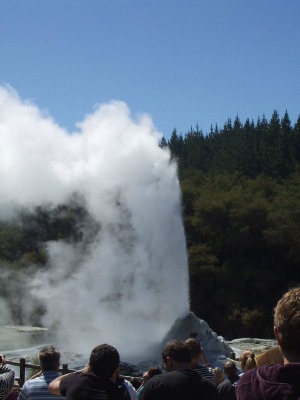 Lady Knox erupting
It blew me away when I took a trip out to Waiotapu recently and saw the amount of visitors arriving for the Lady Knox geyser eruption. There were heaps as you can see from the pics. I think they were probably representative of every country in the world going by the variety of languages floating around me.

The huge crowd waiting patiently for Lady Knox to blow
Waiotapu Thermal Reserve

Once you get back to the thermal reserve it's easy to get your bearings with the informational map provided. All up, there are three walks. 1.5km, 2km and 3kms. They loop back onto each other so you don't get to miss anything.

I'm always stopping to take photos so it's a pain for anybody going to these places with me; as my friend found out. It's easy to rack up 180 odd pics at one place just to get a wee few (hopefully) good ones to put on this site.

The terrain is easy walking around the first of the three walks with fourteen of the twenty-five points of interest included in this one.

One of the highlights is the Champagne Pool. Even for Rotorua it's freaky, because the sides are gradually being built up by the mineral deposits as a sinter ledge. This means you are actually standing below the water level.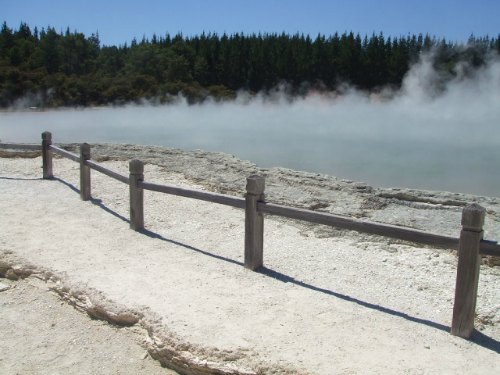 Champagne Pool at Waiotapu, Rotorua
When the breeze enveloped me with steam I had visions of walking right on into the pool. It wouldn't happen though because there is a barrier in place. Still, you can't help but wonder.
Another Waiotapu point of interest is the Artist's Palette. This is the one you would see most often in pics on the net and on postcards.

Up close with the Artist's Palette
It's actually the mineral rich runoff from the Champagne Pool. As the minerals spread out and settle, they gradually contribute to some of the rich array of colours mentioned in the first paragraph.

Once you hit the second and third walks; steps and a woodland area are thrown into the mix. From a viewing platform you get a good view of the Primrose Terrace and you also walk alongside it further on.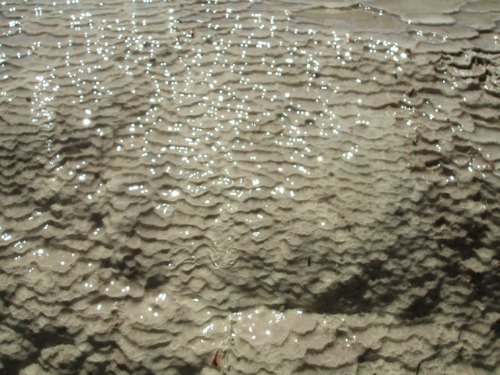 The Primrose Terrace at Waiotapu, Rotorua - So pretty
This terrace is so cool. Once upon a time we had the world famous Pink & White Terraces but they got destroyed when Mt Tarawera erupted in 1886. Now, the Primrose Terrace is a teeny, weeny baby version. It's already 700yrs old so it's going to take a whole lot longer to get as big as the Pink & White Terraces. They cascaded down for 30 and 40 meters and people could bathe in the scalloped bowls.


Devil's Bath with cracked mud around the edges
Apart from the points I have mentioned here, there is so much more to see at Waiotapu, Rotorua. There are also craters and caves, falls and stunningly coloured waters like the Devil's Bath above, so much to see and absorb.

Buy your Tickets for Waiotapu or Book a Tour >>
Contact Details
Address:
201 Waiotapu Loop Rd
RD 3,
Rotorua, 3073
Phb: +64 7 366 6333
Fax: +64 7 366 6010
Hours:
Fri - Tues 8:30am - 4:30pm
Last admission is 3pm
NB: No cash is taken onsite, only credit or debit cards.
Driving Directions

Self-drive 27km south from Rotorua to Waiotapu using the google map directions outlined below. It will take about 20mins.
If coming from the south (Taupo) you will exit SH1 north of Taupo onto SH5 and look out for the signs. This drive is about 40mins.
Alternatively, there are shuttle options available with the Geyser Link Shuttle 0800 000 4321 or the Thermal Land Shuttle 0800 894 287.
View Waiotapu Rotorua in a larger map
Food & Drink

A nice cafe is located in the visitor center with both indoor and outdoor seating. Outside there is a lovely view over bush and the first part of the reserve.


Parking & Toilets

Toilets are available in the visitor center only. Parking is plentiful at both the visitor center and at Lady Knox. Wardens will guide you to parking when it is busy. Even bikes are catered for at the visitor center along with security lockers if you need to stow valuables.

FAQ
Any age but in saying that, parents would need to be very mindful of children because you're walking right beside boiling hot water pools and craters etc. I would probably have a death-grip on my children if I had brought them here.


There are three walks in the reserve with wheelchair access to the first walk of 1.5km and a part of the second. If there's a good strong man around to hoist prams up and down stairs then the whole park would be accessible.
The usual sunscreen, brollies, wet weather gear… just in case. Good footwear is also recommended.

From 30mins for the first walk to 75mins covering the whole reserve. Add on another ½hr for the Lady Knox.


Schools visit Waiotapu, Rotorua all the time. A guide can be provided for a few minutes to cover off different points specified by teachers beforehand.