Rotorua Shopping For The Visitor
During this period of uncertainty, some local attractions, businesses, hotels and motels may be closed or have limited hours. Please check with the operator when booking. For those of you who cannot visit New Zealand due to border closures, enjoy a virtual visit to Rotorua. Hopefully we get to see you in person real soon. Stay healthy and take care! —Karen

Rotorua Shopping caters to a variety of interests and needs for a visitor.
What would you like? Souvenirs & Gifts, Supermarkets or Markets maybe? Or are you more interested in Outdoor Clothing & Equipment, whether it's for Running, Biking, Fishing & Hunting etc? And what about Second Hand shopping, some people love that.
For me it's all about saving time. If I know what's available and where it is before I arrive I can be in and out doing what I really want to do.

---
Souvenir Shopping
It can be fun looking for that perfect souvenir to take home when you're visiting distant shores.

Whether it's for yourself or as a gift for someone else, we have a good selection of souvenir shops to browse through.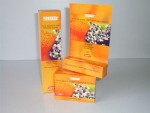 From quirky kiwiana gifts, māori gifts, merino and possum clothing to NZ skincare ranges, you'll more than likely spend a few hours in these stores..
See also the tips for buying souvenirs to remember - bet you never thought about buying them from a grocery store. And then, if you're from overseas, there's also the tip for dealing with our lovely GST (Goods & Services Tax). Believe me, it's an art form within itself.
Rotorua Souvenir Shops »


Rotorua Markets
We have 4 main Rotorua Markets with yummy locally made food, unique NZ arts and crafts, plus lots more… come for brekky… we do.

There's the Flea Market, Hot Lakes Craft Market, the Night Market and the Craft Market. All the markets have their own flavour so if you get the opportunity visit the lot.
Rotorua Markets »


The Major Supermarkets

In Rotorua we have three major supermarket chains. They are Pak n Save and Countdown (2 stores) in the inner city and New World further out in the suburbs. Whether you are looking for value for money, presentation, quality, service or handiness to your accommodation, there should be something to suit.
Rotorua Supermarkets »


Rotorua Mall
 Large national chain stores plus smaller, owner-operated retail businesses and a food court all hang out at the Rotorua Mall. Listed by name and what services are provided should help you decide if you need to visit.
Rotorua Mall »


Rotorua Outdoor Gear Stores
What would Rotorua shopping be like without outdoor gear. We have a great range of outdoor gear stores that cater to the outdoors culture.
What are you into?

Is it camping? Maybe hiking or biking, running or golfing. We get lots of mad keen hunters and fishmen, I know that much. Or maybe you're into something else entirely.

This page features Rotorua's specialist bike shops along with hunting & fishing. I'm sure you will find something of interest if you are into the outdoors in any way. Make sure to check out the page for Rotorua, NZ Outdoor Stores as well.
Rotorua Outdoor Gear Stores »


Rotorua NZ Outdoor Stores
As if the above isn't enough I've added another section to the outdoors. Here you will find the hours, locations and websites for Outdoorsman Headquarters, Kathmandu and Mountain Designs. Two further stores that are more general in an outdoors, sporty way are Rebel Sport and Stirling Sports.

Quite a few of the stores in this and the preceding section crossover with the gear they stock so make sure to check them all out.
Rotorua NZ Outdoor Stores »


Rotorua Second Hand Shops
A lot of people love the thrill of the hunt when it comes to second hand shopping. Use this handy guide for navigating around Rotorua's second hand shops.

From clothing, jewellery, bric-a-brac and retro to books, furniture, fishing gear, demolition, whiteware etc. etc., it's all here.
Rotorua Second Hand Shops »


Rotorua Deals

Visiting attractions can be a very costly exercise. So, how about saving $$$ by finding Rotorua deals the way we do. We use some of the big discount providers who offer daily or weekly deals, often in excess of 50%. Find deals on attractions, accommodation, food, outdoor gear and equipment. Clothing is in the mix as well.
Rotorua Deals »


---
Return to Top of Rotorua Shopping