Hang Out At The Rotorua Mall
During this period of uncertainty, some local attractions and businesses may be closed or have limited hours. Please check when booking. For those of you who cannot visit New Zealand due to border closures, enjoy a virtual visit to Rotorua. Hopefully we get to see you in person real soon. Stay healthy and take care! —Karen

Rotorua Mall - Large national chain stores plus smaller, owner-operated retail businesses and a food court all hang out at the Mall, also known as Rotorua Central Mall.

It sure is a strange place, all spread out with the shops covering a wide area. Basically, another town center has been built right next to the old one.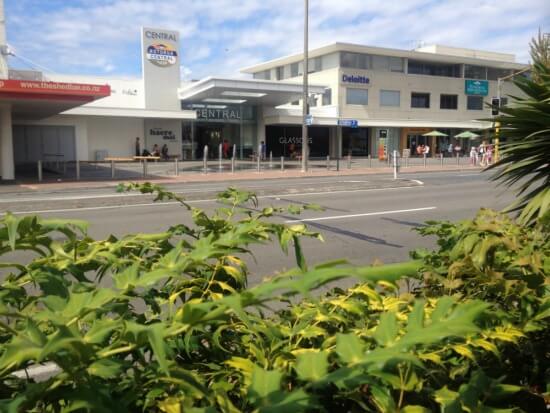 Rotorua Central Mall - Amohau St (cityside) entrance.
Located in the heart of the Rotorua Central Mall is the undercover food court with the likes of:
Ma Higgins

LJ's Fish & Chips
Super Chick (Chicken & Roasts) 
Bakers Delight

Subway
United Sweets
Columbus Coffee


Indian Star Express
Ming & Sing Asian Cuisine
Wild Rice
Asuka Sushi
Yopick
Wendy's Supa Sundaes

Around the food court you will find:
Health 2000 - health shop for natural remedies, vitamins etc.
Shantons - women's clothing in the medium price bracket

Not Just $2 - lots of cheapie bits and pieces
Pero's Hairtek - Barber Shop
Spark - one of the leading telecommunications groups with a network by the name of XT. Sells mobile phones and accessories.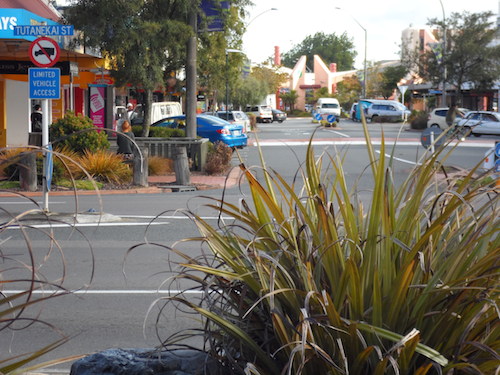 The view from Rotorua Mall, Amohau St., towards what was the City Focus (objects pointing towards the sky). It's been demolished now.
The Warehouse - A big store that is a well-known brand throughout New Zealand. They pretty much sell everything you could want at a reasonable price.

Hallensteins - Men and boy's clothing
Bendon Outlet - Lingerie
Glasson's - Women's clothing and accessories

Credit Union Central - A local bank
Vodafone - another telecommunications store
2Degrees - another telecommunications store
PaperPlus - Books, stationery, magazines, postal services and bills can be paid here as well. Also provide a Lotto (lottery) service
EB Games - gaming store for Xbox 360, PS3, Wii, PS2, PSP, DS and accessories etc
Michael Hill - NZ brand jewellery store
No.1 Shoes - shoe store for the budget concious
Professional Nails - nail treatments



Exit Northwest:
Bank of NZ (BNZ)
Postie - Clothing shop for women, men and children
ANZ Bank

Westpac Bank

Van Dyks - Furniture Store
Flooring Xtra

Bed, Bath & Beyond - Linen
Smith City Furniture


Exit South and South West

Warehouse Stationery - All your stationery needs are covered here.

Countdown - Supermarket


South, other side of carpark:
Rebel Sports - sporting goods and clothing
Briscoes - all types of homewares. They have sales all the time.


Western Border of the Block
In a westerly direction you are now looking at the buildings on the perimeter of the whole block. They are the big department stores such as:
Farmers - Furniture, Manchester, clothing (all ages), skincare, appliances etc
Uncle Bills - Wholesale club out to beat retail prices with all sorts of things from laundry items to clothing and everything in between.

Noel Leeming - Appliances, computer, phone, TV ware etc .
No.1 Shoes - this is the big store for the shoes
Harvey Norman - Furniture, manchester, appliances, computer, phone, TV ware etc .
Carpark & Location on a Map

If you don't know it, getting around in the car-park is a mission. It defies logic the way it's been built as there are dead-ends or through-roads that are hard to see from a distance. You'll see what I mean if you visit here with a car. Keep your wits about you.

Bus stops have been added too which contributes to the madness at times.

There are four entrances to the block that houses the Rotorua Mall area. They are located on  Amohau St, Fenton St, and two on Victoria St. The Amohau St entrance is a nightmare as cars get banked  up because of shocking planning. It's a pet peeve for a lot of us here. Avoid it like the plague.
Looking at the block on the map you will also find additional businesses that can mostly be accessed from within the block:

View Rotorua Mall in a larger map


---

More Shopping Quicklinks

You may also like to find out about the Rotorua Souvenir Shops,  Supermarkets or the Rotorua Markets.

Return to Top
---

Like This Page?

Like This Site?