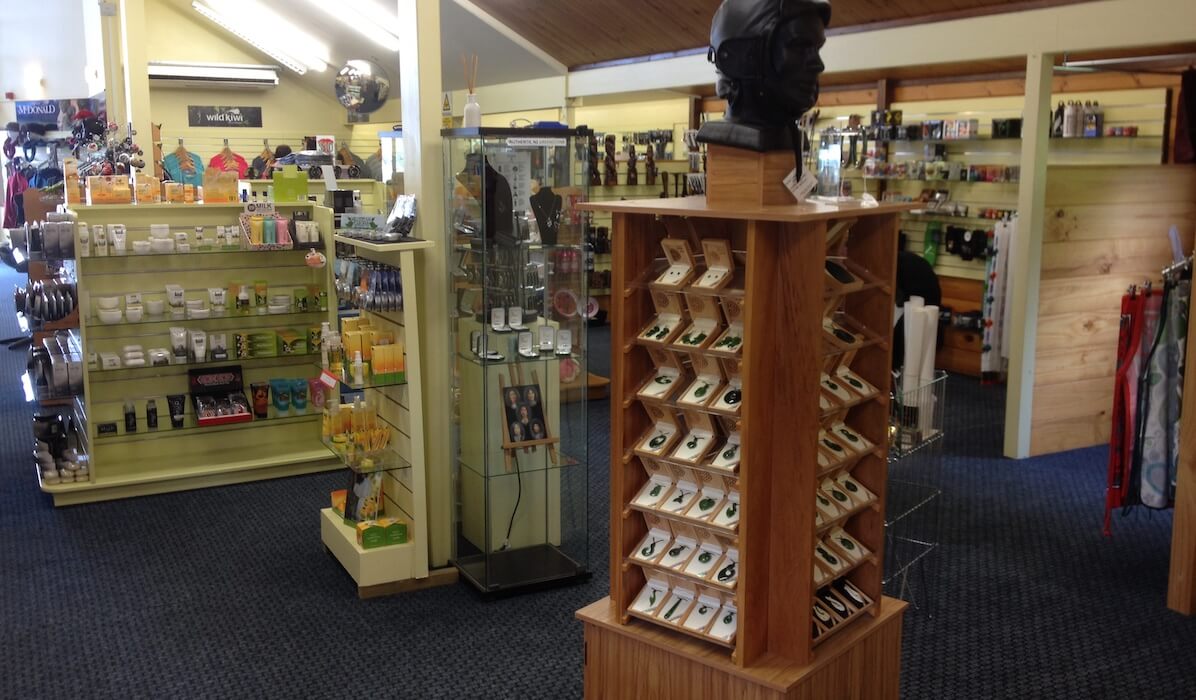 Rotorua has some really good places to get souvenirs and gifts from. In the ordinary course of events, you will come across gift shops offering quality goods at the various attractions you may visit so I won't mention those here - hmm, I lie. Apart from one. More on that later.

Be aware of your rights when shopping in NZ
In New Zealand we, and you as a visitor, are protected by consumer laws. That makes any business liable if they mislead, give false information, or use unfair trading practices.
Learn more about your rights before you buy, after you buy, on pricing, eating out, accommodation, getting around, souvenirs, environmental claims and duty free at www.comcom.govt.nz.

Tutanekai Souvenirs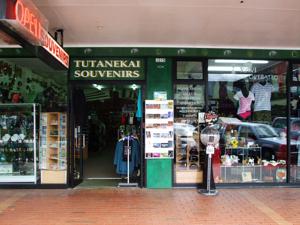 Tutanekai Souvenirs - Rotorua Souvenir Shops
Located on Tutanekai St, this family owned and operated business seems to have been around for years and years. Lovely people, stop in, have a chat.
From the tiniest key rings, magnets etc through to skincare products, NZ t-shirts, jewellery, Māori souvenirs and dolls, merino and possum products, this place is packed with a wide range of goodies that caters to all budgets.
Where: 1215 Tutanekai St (near the City Focus)
Phone: +64 7 348 7461
Fax: +64 7 348 7461
Email: souvenirs.rotorua@gmail.com


Mountain Jade
We are very lucky to have Mountain Jade. Previously known as the Jade Factory, it's NZ's No.1 source of good quality jade jewellery and artifacts.
Jade is known as Pounamu or Greenstone in New Zealand. It's found mostly in the South Island on the West Coast. My cousin Gary lives there and literally falls over Pounamu when he's out fishing.
Mountain Jade - Rotorua Souvenir Shops
Mountain Jade sells souvenir pieces of Pounamu made into necklaces, earrings, pendants etc. and... wait for it... dog tags of all things. I hadn't heard of that before now.
They also make gorgeous pieces of Jade art that can attract a hefty price-tag.
Onsite is a Carving Studio and you can take part in a free tour if you want to learn about jade and watch the carvers working. The tours run daily (apart from Christmas Day) at 10am, 3pm and 4.30pm.

You will have to take a look at Mountain Jade's website. It has the fascinating, slowly unfolding story of the original founder, John Sheehan and his partner Jin Hong "Dracky" Zhang.
They have taken this business from a tiny start-up to a world-class operation.

Where: 1288 Fenton St
Phone: +64 7 349 3968
Fax: +64 7 349 8239
Email: sales@mountainjade.co.nz
Website: www.mountainjade.co.nz


Out Of New Zealand Souvenir & Gift Store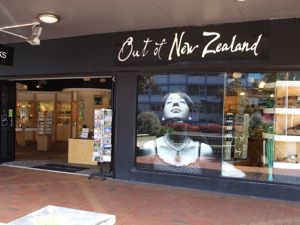 Out of New Zealand Rotorua Souvenir Shop
Mountain Jade also owns this store which is conveniently located next to the iSite information center.

Out of New Zealand has a good selection of Jade jewellery as well as other touristy paraphernalia.
They have quite a few good sales which my friends and I take advantage of so hopefully you're here when one is happening.
Where: 1189 Fenton St
Phone: +64 7 349 3992


Rotorua Arts Village Craft Shop
Arts Village Craft Shop - Rotorua Souvenir Shops
Another place to find locally crafted souvenirs would be at the Arts Village shop. The Arts Village is home to the creative community holding arts workshops, exhibitions, markets, and various events and celebrations throughout the year.
Featured in the shop are knitted products, pottery, paintings, clothing, books; all sorts in fact. A vase full of knitted flowers would be the most unusual item I've seen.
Exhibition pieces are also available for purchase.

Where: Cnr Hinemaru & Hinemoa Sts
Phone: +64 7 348 9008
Email: artsvillage@xtra.co.nz


McLeods Booksellers
If you're a book-lover and want to visit a 'real' bookshop, this is it. Be prepared to lose an hour or two though, I kid you not, it's that good.
The vibe is friendly and the selection of books is outstanding. Many types are featured like New Zealand and Rotorua books, books about Māori and in Māori (adults and children), biographies and memoirs, poetry, journals, your more  contemporary books, and many more.
As well, it's a place I head to if I'm looking for gifts that have a New Zealand flavour, or something that's a bit different. There's lots to choose from.
Where: 1105 Pukuatua St
Phone: +64 7 348 5388
Email: shop@mcleodsbooks.co.nz
Website: www.mcleodsbooks.co.nz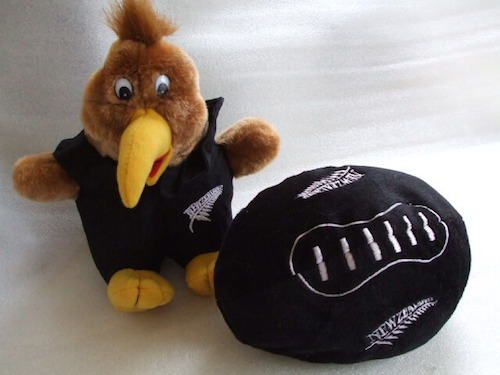 Kiwi All Black souvenirs are a favourite
RTS Tip

If you are specifically after Māori gifts, ie. carvings, another good source would be the taonga Gallery at Te Puia.


(GST) Goods & Services Tax

Goods & Services Tax (GST) of 15% is paid on all goods and services in New Zealand, and there are no refunds for visitors. Boo.

But... but... as an international traveller, if you buy from a duty free store, you won't have to pay GST if:

the retailer arranges to send the goods home for you
arranges to send the goods to the airport of your departure
arranges to send the goods to an overseas customer.

Keep this in the back of your mind when considering costlier purchases. The cost of GST could quite possibly outweigh shipping or postal costs.

Ask the retailer, eg. Mountain Jade, to help you out.


Locate Rotorua Souvenir Shops

Use this google map to find your way to the souvenir shops easily. As you can see, they are all within walking distance of each other. If you fancy visiting the lot, that is.



View Rotorua Souvenir Shops in a larger map
Overall you will find that prices are comparable between all the stores and generally cater to all budgets. Unless, best of all, you catch them having a sale.
Enjoy your Rotorua souvenir shopping experience.