Quality Rotorua Bed And Breakfast Accommodation
During this period of uncertainty, some local attractions, businesses, hotels and motels may be closed or have limited hours. Please check with the operator when booking. For those of you who cannot visit New Zealand due to border closures, enjoy a virtual visit to Rotorua. Hopefully we get to see you in person real soon. Stay healthy and take care! —Karen

Rotorua Bed and Breakfast accommodation is an option often favoured by visitors wanting a relaxed, personalised escape. With that, numerous properties, apart from the few mentioned here, can be found in the steamy inner city or way out in the countryside, overlooking peaceful lake and bush settings.
On this page you will learn about a select few that pass the rigorous tests for a quality facility and service along with a tip and link to more properties.

Doolan's Country Retreat

At: 165 Dalbeth Rd, RD 2, (between Ngongotaha & Hamurana)
Website: www.doolanscountryretreat.co.nz
Price per night: From $230
Sleeps: 8

Christine Doolan, another guide from the museum, owns this gorgeous Rotorua bed and breakfast property which she loves to share with visitors.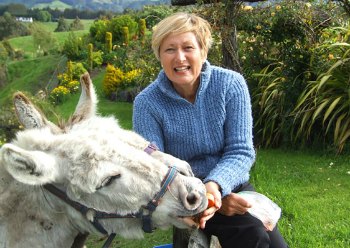 © Image - Your hostess, Christine Doolan along with part of the family, the resident donkeys, a firm favorite with visitors
Christine is a lovely person who originally hails from the UK. She and I trained together for the guiding and did she have a lovely time of it... not. She had a heck of a time trying to get her tongue around the Māori words. I felt so sorry for her and others in the same boat, they all tried so hard to get it right. I include myself in that too because I still struggle with some words - and I'm part Māori.
Christine said that the main feature of the property are her donkeys - of all things. Beautiful gardens, amazing scenery - and the visitors are taken with the donkeys. Go figure.
Four donkeys go by the names of Ricky Martin (he's the boss), Shania Twain (the girlfriend), Milo (named after the drink) and Otis Redding. Is that funny or what?

Three of them are rescue donkeys that had been ill-treated; poor beggars. But hey, at least now they're making up for it by living the life of riley at Doolan's Country Retreat.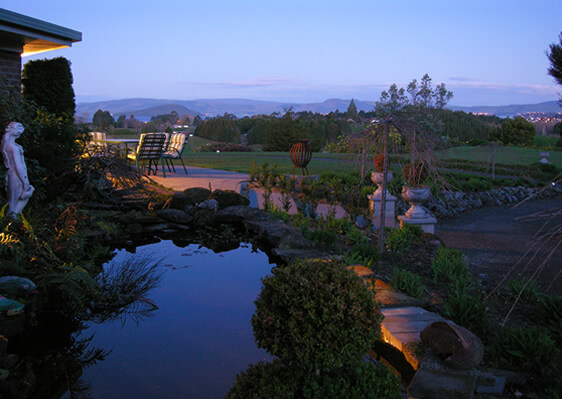 © Image Doolan's Country Retreat - view looking towards Rotorua
Doolan's Country Retreat is exactly what the name implies, a retreat from the constant demands on precious time into the peacefulness of beautiful gardens, peaceful countryside and birdsong. The views are fantastic as the property overlooks Lake Rotorua to Rotorua city and also Mt Tarawera.

Christine admits to spoiling her guests rotten so I guess you're in for a treat huh? Lucky you.
There are four rooms to choose from, absolutely gorgeous they are, each sleeps 2 persons. If I had to put a style to this property it would be pure English.


Island View B&B

At: 151 Tarukenga Rd, RD2
Website: Book on Air BnB
Price per night: $240
Sleeps: 4

Located on a sprawling, 15 hectare working farm, owned by your hosts John and Pauline, you can get away from it all yet still see it all. Sweeping views that make for fantastic sunrises encompass a rural landscape and Lake Rotorua. Only problem is, it's probably hard to be up early enough to catch the sunrise.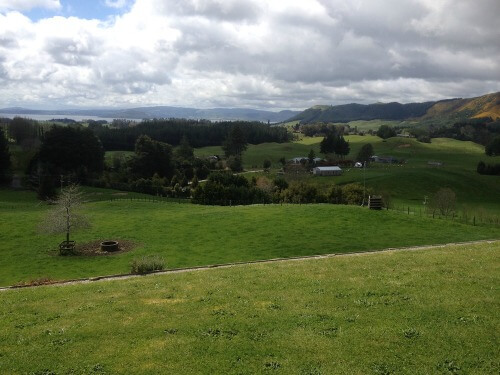 Island View B&B views
You will be part of the family but still able to retain your privacy with a large double bedroom away from the main living area. It has its own entrance, a wheelchair accessible en-suite, coffee making facilities, and overlooks the rear courtyard.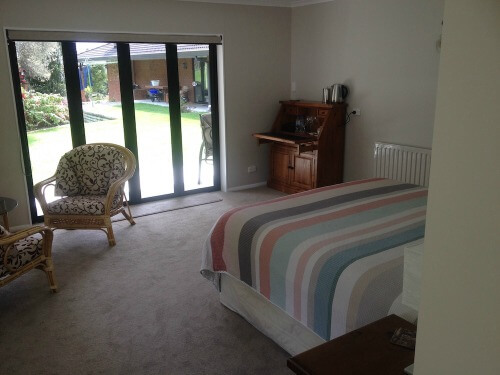 Private room at Island View B&B
In the main house is another large double bedroom with king-size bed, en-suite and tea/coffee making facilities. This one has the to-die for views over the lake.

The house itself is a bit like the farm. Sprawling. The kitchen and living room are huge and overlook the lake. Out on the front deck is a spa you can make use of too. Romantic huh?
The farm is about 10min north of Rotorua city, on the way to Auckland. Nearby is the bustling township of Ngongotaha where you will find all the conveniences.
Nearby also are a number of popular Rotorua attractions. Apart from Wingspan, Velocity Valley and Rainbow Springs Nature Park, pictured below you will find links to:

Pauline and John are sociable people. They love travelling themselves so don't be surprised if you're up until the wee hours comparing travel tales.

Nicara Lodge
At: 30 Ranginui St, Ngongotaha
Website: www.nicaralodge.co.nz
Pricing per night: From $485

Nicara Lodge is at the luxury end of the Rotorua bed and breakfast market located lakeside at Ngongotaha, a suburb just out of Rotorua.
The hosts of this award winning Rotorua bed and breakfast, are Mike and Heather Johnson. Towards the end of 2011 Mike completed 50yrs in tourism. What an accomplishment!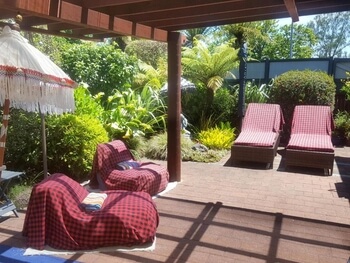 © Image courtesy of Nicara Lodge - Rotorua Bed and Breakfast
I'm not sure how it started but the guests seem to enjoy purchasing trees to plant at Hamurana Springs. An area is set aside especially for Traveller's Trees. Once planted they get the GPS co-ordinates in order to track it, how nifty is that?
Aside from that, Nicara Lodge has three gorgeous rooms with en-suites, lake views and all the trimmings.
How do evening nibbles and New Zealand wine sound, or the al fresco breakfast when the weather is behaving? Mmmm, sounds pretty good to me.
One last thing, Nicara Lodge also provide a range of packages that, combined with the accommodation, would take the stress out of trying to organise everything yourself. They make it so easy.


Maple House B & B
At: 154A Tarawera Rd., Lynmore
Website: www.maplehouse.co.nz

Here we have another museum guide. I'm certainly recommending people that know a bit about Rotorua's history aren't I?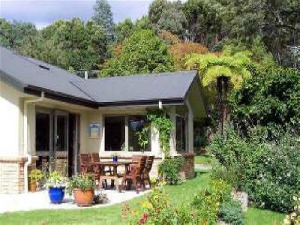 © Image courtesy of Maple House B & B - Rotorua Bed and Breakfast
Joan (she does the guiding) and Barry Nicol own this lovely house that is right next door to the Redwood Forest. A huge bonus if you're into walking, running or biking.
Maple House is about 5-10 minutes from the city so it's close to a lot of the attractions.
There are two guest rooms, one with a queen bed and one with twin singles, and there is a private bathroom.
The property is wheelchair friendly which is a nice bonus. Most of the places seem to involve steps of some sort.


---

Julie's Rotorua Bed and Breakfast Tip
If these aren't enough for you, check out the Rotorua branch of the Bed & Breakfast Association of New Zealand.
In this network, the largest in New Zealand, you will find Bed and Breakfast homes, Farmstays, Countrystays, Boutique B & Bs and Luxury Accommodation.
What's great about it? The properties are assessed every two years, and apparently, according to Julie, it's quite a rigorous test to ensure quality facilities and services.
Once passed, the owners are given the go-ahead to list their property on the Bed & Breakfast Association website. A one stop shop.


More Accommodation Options

You May Also Like...
Return to Top