The activities have some strange sounding names don't they? I've often had people asking me about them. I mean, who would know what a Swoop or Schweeb is? Let's find out shall we?

Rotorua's Swoop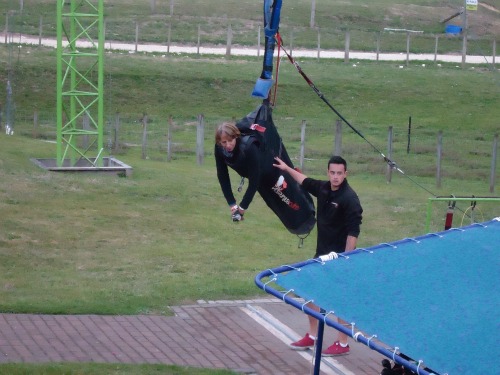 Yours truly in a body harness.
The swoop is like a giant swing. Very scary as I found out.
Decked out in a full body harness (as pictured) I was raised about 40m/141ft into the air. At this height, people on the ground start looking real small.
The operator on the ground counted to three and then it was up to me to pull the rip-cord. I don't know which is worse, releasing it yourself or having someone else doing it. It's a lose-lose I think. Either way you get the crap scared out of you.


The flying through the air part is quite cool though. It made me feel like doing twists, turns and somersaults. I know how a bird must feel.
Height minimum: 1m/3.3ft
Maximum persons on one swing: Three

Book your Swoop tickets online > Ticketing options are all located on the same page.

Rotorua Bungy

Everyone probably knows what a bungy jump is. Basically it's being harnessed around the ankles, standing on a high platform and jumping off. Sound like a bit of you?
The Rotorua Bungy is a great way to introduce yourself to what can only be called an extreme activity. You can do it with a friend if it's too scary or a Velocity Valley staff member.

After being 40m/141ft up in the air with the Swoop, surely adding on another 3m/2ft to do the bungy wouldn't make that much difference.
Yeah right! I think I'll wait until I can do it over water. I just don't like these visions of smashing into the ground at hundreds of miles an hour.

Don't let my fears put you off doing this bungy though. I haven't heard of anyone being killed on our one. Yet! Ha ha.

Age restrictions: 10yrs and over OR 16yrs and under with parent/guardian consent
Weight minimum: 35kg/77lbs
Book your Bungy tickets online ⇨

Velocity Valley Freefall Xtreme

What would a Rotorua adventure park be without a freefall. Except instead of jumping out of a plane, you're getting blown up into the air. To simulate skydiving. It's quite safe because, although it's outside you're entirely surrounded.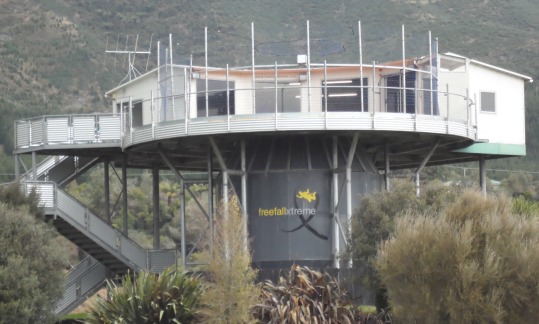 Freefall Xtreme Building
The posts rising from the semi-circular looking deck in the picture are covered with netting, sides and top. Underneath, the grey part is the wind tunnel that blows you upwards.
Weight minimum: 25kgs/55lbs
Book your Freefall Xtreme tickets online ⇨

Velocity Valley Schweeb
The Schweeb is a funny activity. Ever thought of cycling lying down? That's what this is. Pods hang down from a circular monorail track that you race/cycle around. Go figure huh.
The races are timed and if the world record is broken the winner gets NZ$1,000. Bit of an incentive to get those legs pumping. Apparently this is the only place in the world you can do this.

Height minimum: 1.1m/3.3ft and maximum 2m/6.6ft
Rotorua Schweeb pod.
Agrojet - Rotorua Jet Boat

Jet boats always seem to appeal to people. Maybe it's the deep-throated growl of the V8 engine.
I was watching a little boy go around the course having himself a ball. Water was flying everywhere as the boat spun and wove in, out and around.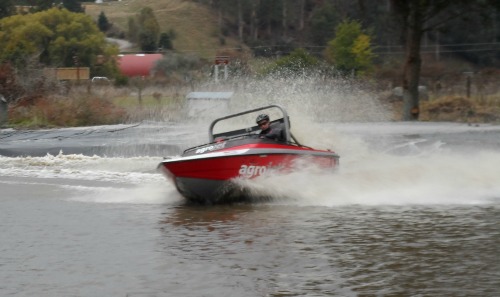 When they got back to the start the driver (sorry, you don't drive yourself) asked the boy if he wanted to go again. There was no hesitation. This activity is great for all ages from 3yrs up.

Height minimum: 1m/3.3ft
Freestyle Airbag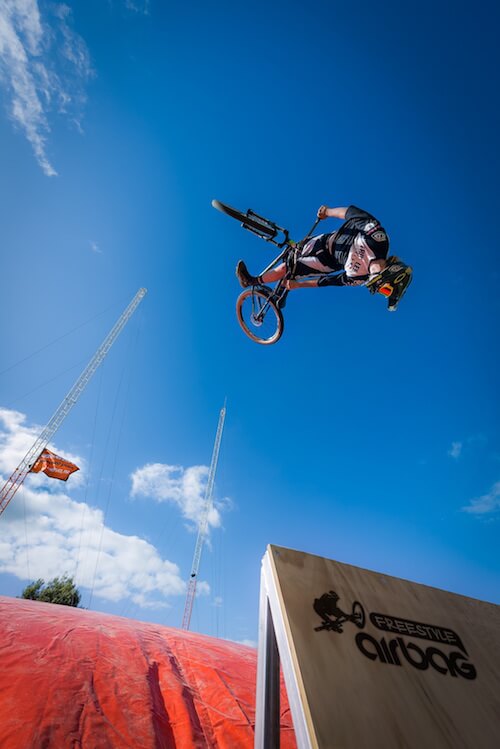 Freestyle Airbag
Meet New Zealand's first dedicated bike airbag, the Freestyle Airbag. It allows riders to belt down a hill, hit one of three ramps (beginner, intermediate or advanced) and show off their best aerial tricks before landing (you would hope) in the large airbag.
Riders of all levels ranging from beginners (8yrs old +) through to seasoned professionals will enjoy their time on the Freestyle Airbag.
Riders can bring their own bike and safety gear (subject to a safety inspection) or safety gear (full face helmet, neck brace, knee pads, body armour) can be hired onsite.

Book your Freestyle Airbag tickets online 
Velocity Valley Contact Details:
Address:
335 Paradise Valley Rd
 Ngongotaha
 Rotorua 3040
Ph: +64 7 357 4747
Freephone: 0800 949 888
Fax: +64 7 357 4259
Email: reservations@agroventures.co.nz
Website: www.agroventures.co.nz

Hours: 9am-5pm
Closed Christmas Day only

Rotorua Velocity Valley Is Not Suitable For:
Pregnant women, or people with spinal problems i.e. neck and back problems, heart conditions, epilepsy or neurological problems.

Directions to Velocity Valley

Located 8.8km from the iSite information center, Rotorua's Velocity Valley is on Paradise Valley Rd which is off SH 5, the road to Auckland. See the google map below.

No vehicle? That's okay because the local bus service Cityride Rotorua, running half hourly, stops outside the Agrodome which is across the highway. Velocity Valley is accessed by an underpass between the two attractions.

More info on the bus service ⇨



View Rotorua Velocity Valley in a larger map
Also in the general area: