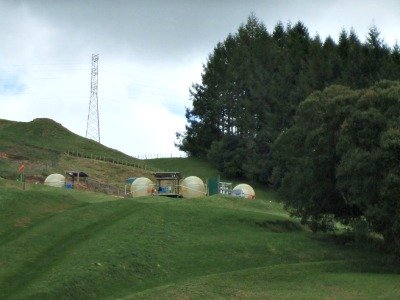 Zorb's lined up ready to go at the top of the hill
What Is Zorbing, and Is It Really Fun?
If you don't know what zorbing is, it's simply you inside a giant semi-transparent plastic ball, inside another plastic ball, rolling on grass tracks down a hill. You can be strapped into a harness for a head over heels dry ride or, you can free-wheel in a zorb partially filled with water. The tracks are either straight or winding.
It's all well and good to know that but is it fun you ask?

Hello, of course it's fun. I tried zorbing when a friend gave me a couple of tickets. She had bought them on Grab One, a 1 day sale site, and couldn't use them herself. Due to expire at the end of the day in question - I know, no notice whatsoever - it was now or never.
It was winter, it was cold, it was raining… see what I go through for my site visitors. Life's tough at times. ;)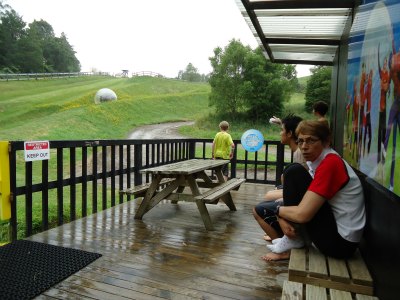 Waiting for my zorbing experience
I took a towel and suitable clothing out to Zorb (the second site at the time)… yes, I was going to be brave and have the wet experience. For that I would need dry clothing to get changed back into.
There were a few hardy souls about including a couple of young English boys who'd already been down a few times. Despite goose pimpled skin and bouts of shivering they still went back for more (There's spa pools to warm up between rides).
Jumping into the onsite vehicle we headed uphill to the zorb station. Nervously I watched as the others took their turns. When it came time for mine it was such a relief to find out the water inside the zorb was warm.

Forget the Vanity
End result of zorbing... not pretty.
I don't think there's a dignified way of getting into a zorb. Diving in head first, I came to a screeching halt halfway - stuck on the plastic - then had to wiggle the rest of the way before falling face-first into the water. Hallelujah, it was like being in a steamy spa.
Once it got going I couldn't help but laugh, the whole way. I know how a bug trapped in a giant washing machine feels now. The only thing missing? Soapsuds. Swish up one side then the other, water up my nose, in my hair, I was soaked. It was such fun though. If it had been a warmer day I would have gone back up again and again because it could get seriously addictive. Funny thing though, the shortest ride is about 40 seconds but feels quite a lot longer when you're in the ball.
The staff were lovely, very solicitous. Somehow I don't think they believed I was going to do it. Just because we're getting older doesn't mean we don't want to live a little, does it?
That's enough about me, let's get onto the Zorb rides.

Types of Zorb Rides & Approx Costs

Four tracks range in length from 250m - 350m (longest in the world).

250m Straight Track - A long straight slope with dual tracks. You can race others. :) A choice of  wet (H2OGO) or dry (DRYGO) rides and 1-3 people per ride.

350m Sidewinder Track -Wet or dry rides will see you rolling downhill weaving in a snakelike pattern with 6 high corner banks to spice things up. You won't know which way is up. 1-3 riders.

300m Big Air Track -It's all wet on this ride that includes 3 drops, bends and straight sections. Limited to one person only.

300m Mega Track -It's high, straight and long. 2 riders max.

Good to Know

Prices: begin at $40 - $75pp for one rider, becoming up to $10 cheaper with multiple riders. Multi ride combos are also available from $85 - $160pp.
Dry rides: Unavailable in the summer due to heat.
Maximum weights: 125kg/275lb for one rider or 250kg/551lb multiple riders.
Ages: Minimum age is 5yrs on all rides.
Hireage: Don't worry if you haven't got the right gear, they rent shorts, a t-shirt and towel for $7 at the moment.
Photos: A photographer takes photos and a video of your ride but you can also make use of a GOPRO camera to use inside the ball while you're riding. You can then buy photos or the video ($30 singly or $50 for both). You can take your own waterproof GOPRO or camera if that's preferable.
Pre-book your tickets below using Get Your Guide. It's super easy. They stay flexible with easy cancellation up to 24 hours before.
Best Times for Zorbing in Rotorua

The best time to go zorbing has to be summertime. The days are long and everything is so much brighter. As well, the location is fantastic because this activity is located on the slopes of Mt Ngongotaha overlooking the lake and Mokoia Island. When you're up top waiting for your turn you should be able to get some fantastic photos.


The Story Behind Zorb

Andrew Ackers is the co-inventor of the zorbing ball and one of the original owners of Zorb. From when Zorb was initially set-up in 1995 it's been a circular route, or maybe I should say a zig-zag route, to get to where Andrew and his brother David are today.
It would almost read like a soap opera except it was a lot more serious with real people involved. Thinking about it, the brothers' story would make a really interesting movie.

Probably by virtue of being young at the time they found themselves at odds with the professional investors they ended up taking on. Investors view business differently from entrepreneurs and for that reason Andrew and David ended up selling their shares in the company and leaving in 2006.
But, they couldn't leave zorbing in Rotorua alone.
The Rise of Ogo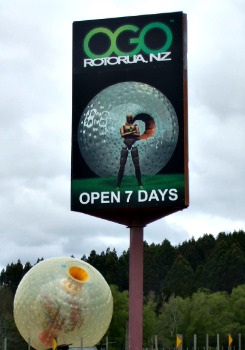 In 2010 Andrew and David set up OGO (Outdoor Gravity Orb) on the site where Zorb is now. I know right? Just wait, it gets even more weird, hopefully you can follow along. This site was where they originally began Zorb before it moved out to Ngongotaha.
Skip back to OGO. They worked hard on building the OGO business up to become a success, which it did. The location on the main road into town helped as did having premier tourism sites like Skyline Skyrides and Rainbow Springs right next door. I think the main reason though was the fact that these guys were the originals. People have an affinity for trailblazers (I know I do) and will support them over a corporate entity any day.
As much as it was heartening to see the rise of OGO, it was still sad to witness the decline of Zorb at Ngongotaha. I'd drive past Zorb in their last few years and the carpark would be almost empty. On speaking with a new general manager he was doing his best to revitalise the business but there had been too much neglect to overcome, and the heat coming from OGO was the death knell.

In May 2019 Andrew and David ended up buying Zorb back, lock, stock, and barrell.
In a nutshell, the brothers' zig-zagged as Zorb from the first ever site (current site) to Ngongotaha, left the business, set up OGO (they couldn't use the word Zorb anymore) on the current site, bought Zorb back and now the current site is back to the old but new Zorb. How's that for a story?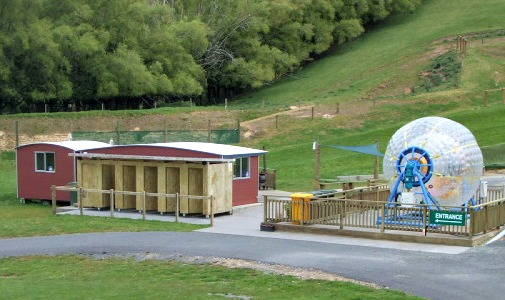 Zorb site and the Fishpipe
Contact Details
Address:
525 Ngongotaha Rd, Fairy Springs
Phone: +64 7 343 7676
Freephone: 0800 646 768
Fax: +64 7 343 7656
Email: info(at)zorb.com
Website: https://zorb.com/
Hours & Prices
9am-6pm summer hours, 9am-4pm winter hours, 7 days a week, closed Christmas Day
Getting To Zorbing in Rotorua

View Zorbing in Rotorua in a larger map
Check out the google map to get your bearings for driving to Zorb.
If you're on foot, no problem, the CityRide Bus - Route 1 runs every ½ hour Mon-Sat and hourly on a Sunday. It stops by Skyline Skyrides, which is beside the National Kiwi Hatchery, with a short walk heading away from the city to Zorb.
If you're thinking of doing any of these other activities it may pay to do them all on the same day. Start early and take lots of food as you will burn quite a bit of energy.

FAQ

Is there food available?
Vending type food and drink.

What do I need to take?


Something you can get wet in and a towel.
What about toilets/change rooms?
Toilets and change cubicles are located at the premises
Are there any restrictions?

Apart from minimum age and weight restrictions, medical conditions including high blood pressure, epilepsy, pregnancy, heart problems, back, neck or head injuries, lack of full body mobility, alcohol or drug impairment, or anything else that stops you from riding safely.

How long do the rides last?
Anywhere from 40secs and up.
Is zorbing worth the money?
I think so and going by the reviews so do many others.

What's the parking like?
Lots of parking available.
If you haven't already, check availability and booking options at Get Your Guide, If that doesn't appeal you can check out some further options below
Find More Fun Nearby