Video courtesy of Rotorua Canopy Tours
Any sort of ziplining is fun but when you're flying high above the treetops, and between the trees on these Rotorua zipline tours, it's super next level. The swing bridges are fun too, especially when you realise the trajectory you're on is getting higher and higher above the forest floor. 
Anybody from the age of 6 to 160 and beyond - if you make it that far - can do this. Yes, you can! No previous experience required.

My daughter Elise on one of the swingbridges
Original or Ultimate Canopy Tour?

Rotorua Canopy Tours provide two tours. The Original Canopy Tour and the Ultimate Canopy Tour. Ziplines, swing bridges, and conservation talks are included in both. The Ultimate though takes it a few steps further - and higher still - with additional challenging elements.
Here's a condensed overview of both tours.

Original Canopy Tour
---
3 Hours inclusive of driving times

6 Ziplines 600m total
Longest is 220m
Swingbridge 50m
Conservation trail walk
Free photos
Cost Adult $149, Child to 15yrs incl $119, Family $449 (2 Adults, 2 Children)
Restrictions: Max weight 120kg, min age 6yrs, 15yrs and under must be accompanied by adult 16yrs and over

Ultimate Canopy Tour

---
3½ hours inclusive of driving times

6 Ziplines 1200m total
Longest is 400m tandem
3 suspended swing bridges, longest is 70m

50m high rock cliff-face boardwalk
Spiral staircase up around a tree
18m abseil (controlled) to the ground
Free photos
Cost Adult $199, Child 10 to 15yrs incl $169, Family $599 (2 Adults, 2 Children)
Restrictions: Max weight 120kg, min age 10yrs, 15yrs and under must be accompanied by adult 16yrs and over
If you've already made up your mind and would like to book your zipline tour now, Get Your Guide in the banners just below can do that for you. They stay flexible with easy cancellation right up to 24 hours before your tour. You'll also be supporting me at the same time. :)

Feel the Fear - It's Zipline Time

It's a given that those who don't have a problem with heights and like a rush will most likely choose the Ultimate Tour. As for the rest of us?
Let's talk about that fear of heights and get it out of the way, yes? This can be a biggie for many but I'm telling you, if you can push that fear aside and summon up the courage to try this award winning activity, it could be one of the best decisions you ever make.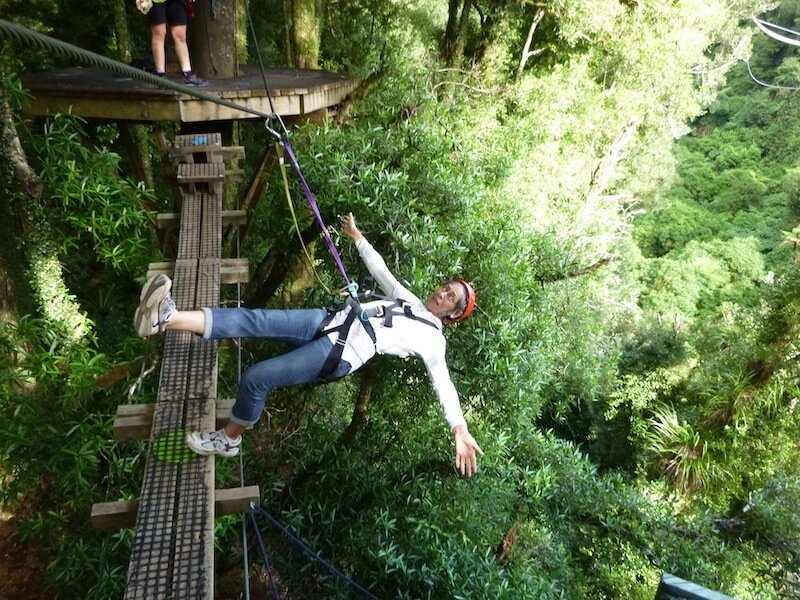 Don't be surprised if you end up doing this, like I did :)
Not only can you experience the joy of playing like a kid again, but the surroundings deep in the heart of this old forest make you feel so, so good you will end up wishing the tour could carry on longer. That's what it was like for me, and my head for heights has definitely taken a turn for the worse over the years.
(I'm thinking of a second visit to the top level of the Eiffel Tower and legs feeling like stone, very hard to lift, very, very hard. It was way different from when I was younger and did it with no problem at all.)

I think that as the tour progresses the height changes are so gradual and you get so caught up in what's going on that you don't even notice how high you are at times. Doing things like:

encouraging or watching others and vice versa

taking photos
listening to instructions

laughing and screaming while ziplining because you're both terrified and exhilarated, and finding it hard to believe you've dared- yes

Or maybe it's because:
the trees are all around you and,

the air is fresh and invigorating and,

you simply feel alive

Maybe it's all that.

For you, the Original Tour would likely be the best option. It's not so high, and not so long as in the distances you zipline. Oh hell, if you're going to throw caution to the wind anyway why not go all out huh? Lol. Just joking with you. Baby steps are highly recommended.

The Guides
If you're still worried, the competence and professionalism demonstrated by the guides (always two, always Kiwi) is highly reassuring, as is the attention to every little detail when it comes to kitting you out, harnessing you onto the ziplines, and being very clear with instructions. You know at any given time exactly what you need to do and what not to do.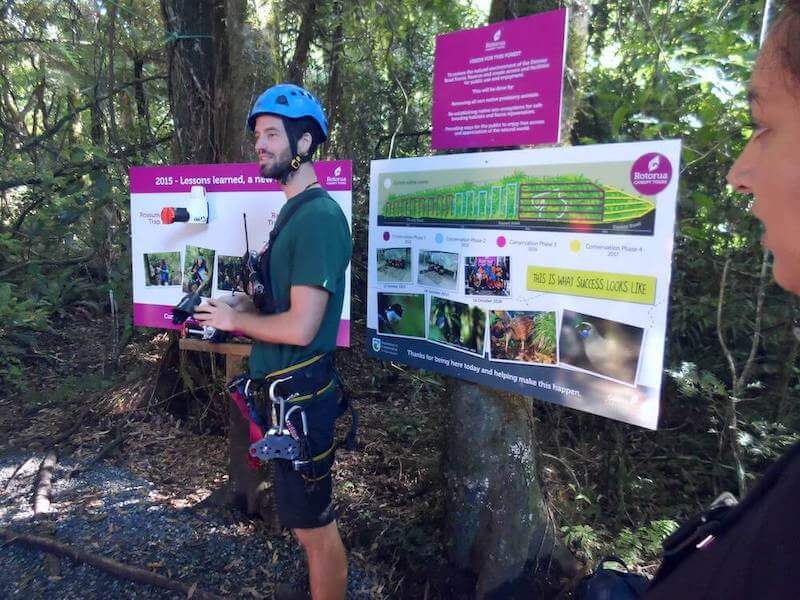 Our Rotorua Canopy Tour guide Andre explains about conservation efforts
If you choose not to listen, your tour is quickly over. Banished to the van. Fooling around is not tolerated. That's not to say the guides don't have fun with you though because they do. They are thoroughly entertaining.
From the numerous reviews I've looked at, the guides are turning people of all ages onto the wonders of conserving our forests and native species.
The Conservation
With the introduction of predators like possums, rats, ferrets etc. to New Zealand, many of our native wildlife and birds have been hunted to extinction. Rotorua Canopy Tours have made a point to make a difference to those left by getting out there and dealing to the predators, one by one.
That reminds me of Tui being rarely seen and heard around these parts for many years. In recent times, due no doubt to conservation measures, they have made a huge comeback in the city. Wonderful to see.
The guides provide food morsels and birds will fly down to feed off your hand. What a treat that must be - for the birds.

The forest treetop canopy looks lush and healthy now
Although it takes time, the folks at Canopy Tours have already helped. You will learn all about their efforts and see and hear the results as, once again, songs ring out from Tui, Bellbirds, Kereru, Robins and others.
The forest itself has come to life again too. The treetop canopy is lush once more without those pesky pests and predators sucking the life out of it.
Something you can feel really good about? A portion of your ticket price aids in the ongoing costs of this conservation work. Now is that cool or what? You can return home with the knowledge that you did your bit to contribute to New Zealand's ecological welfare. Thank you.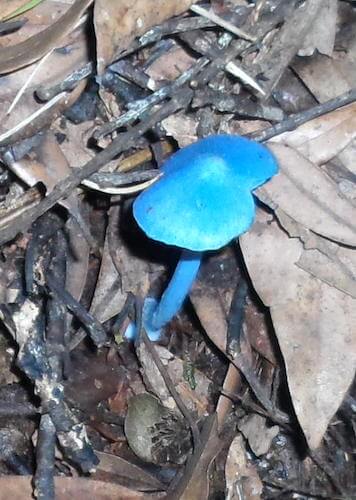 A Blue Fungi (Entoloma Hochstetteri) Only found in New Zealand, Brazil and India. Also found on our $50 notes. :)
As the reputation of this popular activity is growing all the time bookings are essential. This can be done online or via phone.

The groups are small, limited to 10 per tour so it pays to book early.
Rotorua Canopy Tours Contact Details

Base Address: 147 Fairy Springs Rd
Hours: May-Sep 9am-4pm | Oct-Apr 8am-8pm
Phone: +64 (0)7 343 1001 | 0800 226679
Email: hello(@)canopytours.co.nz
Website: http://canopytours.co.nz/


Map Location of Rotorua Canopy Tours Base
Tips
Good quality wet weather gear is supplied if you don't have your own. And make sure to wear closed toe shoes. Sneakers are fine. Warm socks are encouraged for winter.

Take your own camera/phone camera but make sure you can secure it in some way. Go Pros are great too. Leave behind items that can fall out of any pockets.
The free photos  are available for 3 weeks after your tour at https://daily-images.canopytours.co.nz/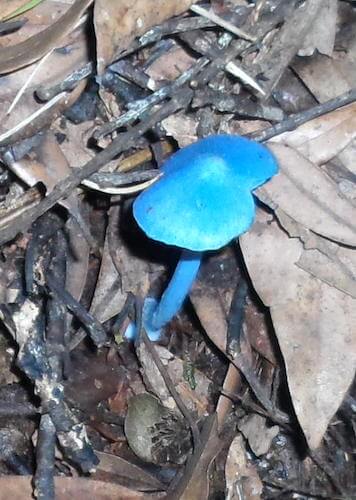 A Blue Fungi (Entoloma Hochstetteri) Only found in New Zealand, Brazil and India. Also found on our $50 notes. :)
PS. Being in a New Zealand native forest is a wonderful experience. Another one is located on Mount Ngongotaha (check out the fungi pics like the cutie above). Unlike Rotorua Canopy Tours this activity is purely for walking.

More tours to enjoy...