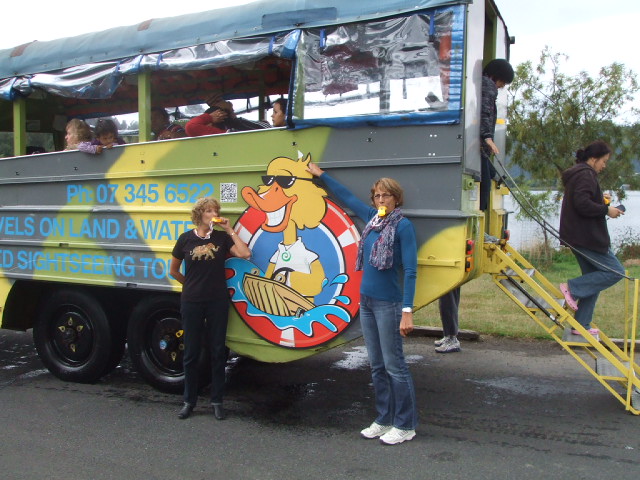 My friend Fiona and I embracing the call of the duck quacker
Yes, this is what I willingly, make that semi-willingly, signed up for. My best tip? Be prepared to enter into the spirit of the occasion with the 'Conducktor'. This is what makes the experience in my view.  
The Conducktors go out of their way to show people a good time with light-hearted banter mixed up with factual information. The tour that I took part in was 90mins in duration and it's amazing how fast it went. The other one is 2hrs.


I can't say Rotorua's Duck Tours were high on my list of things to do here. I've always thought, ho hum, riding around in a big yellow bus thingy, how exciting is that? I was, in fact, pleasantly surprised.
It's one of those things where you can let go of the reins for a bit, be silly, and not worry about how you're supposed to look and act. I wouldn't call it exciting but I would say it's fun. At least for myself and my friend it was. Everyone else seemed to have fun on this tour as well if the amount of laughter going on was a gauge.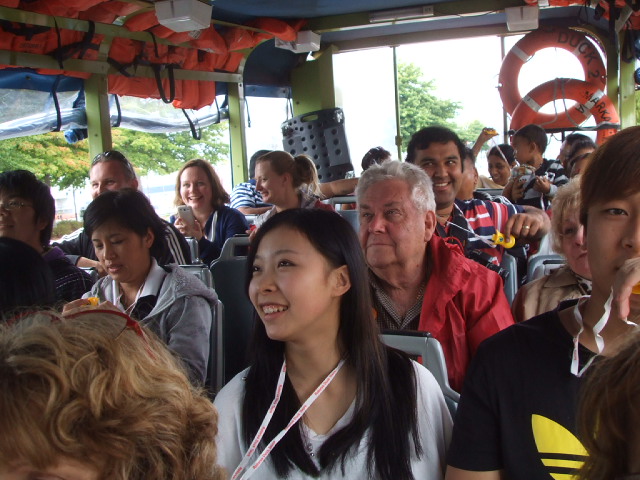 Happy Rotorua Duck Tour passengers - mostly - representative of various nationalities.
And it's uber cool, how can it not be when the wind is whipping through your hair when hooning along the road at 30km or less huh? I'm being cheeky here because the Rotorua duck does not go 'fast' as we know it.
It doesn't matter how old or young you are, this is an activity that everyone can enjoy. It's fun, very informative and the scenery can be spectacular.

City & Lakes Tour

Duration: 90mins
Daily 11am & 1pm
This tour takes in three lakes with splashdown by the Duck in two. Rotorua sights include Lake Rotorua, Mokoia Island, Sulphur Point, Government Gardens, Rotorua Museum of Art & History, the Blue Lake (Tikitapu) and Lake Okareka.
Check City & Lakes Tour reservation availability


A sombre Lake Okareka
Tarawera & Lakes Tour

Duration: 2hrs
Daily 3.30pm
This tour runs for seven months of the year. It takes in four of our lakes with splashdown in three: Lake Okareka, the Green Lake (Rotokakahi), Lake Tarawera and the Blue Lake (Tikitapu).
Apparently this tour focuses on the history of the coming of the Māori and legends plus the history of tourism in this area.
Check Tarawera & Lakes Tour reservation and availability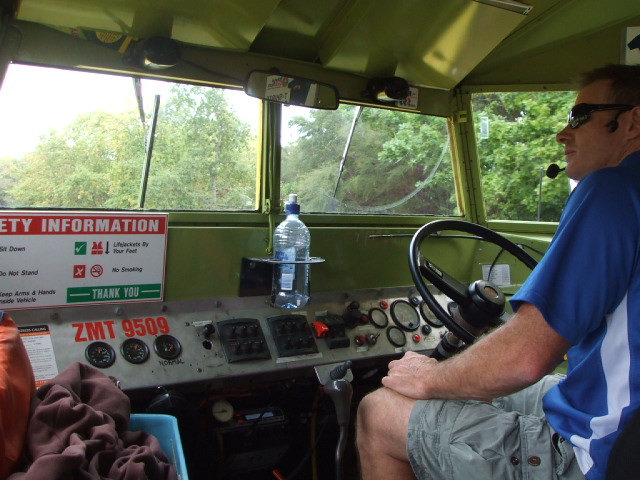 Our Rotorua Duck Conducktor, Peter.
Contact Details for Rotorua Duck Tours
Ph: +64 7 345 6522
Fax: +64 7 345 6527
Email: info@ducktours.co.nz
Website: www.rotoruaducktours.co.nz
Important Points
Rotorua Duck Tours depart and return from Rotorua Duck Tours office located at 1241 Fenton St. See Google map below.
Arrive 15mins beforehand.
Metered parking surrounds the area so put in enough coins for 2hrs or 2h 30m if on the longer tour. I think the meters are NZ$1 per hour, some parts of the city are $2 per hour. You can park for free in the Government Gardens.
Make sure to take warm clothing along as it can get cold on the lakes.
Although not wheelchair accessible you can be lifted into the duck if you don't mind. The wheelchair is then safely stored.
Booking in advance is advisable as seats do fill up, then pay on the day using cash, credit/eft-pos cards on the duck itself. Otherwise book and pay online.
Don't forget to take your camera... and make sure it has a good strap, you don't want to be dropping it in the lake because sure as eggs, you'll be wanting to hang out the window to take photos.
PS. You get to keep the quacker.
Duck tours run daily apart from Christmas Day.