Overview
An abundance of thermal activity is a magnet for visitors to Rotorua. Many locals also enjoy it. Like I said, it's an added benefit. It's one of the few places you get to see thermal up close for free.


Autumn colours in Kuirau Park
It's a great place to visit with family, friends or by yourself. Besides relaxing with a wander through the park to see thermal activity, you can also soak your feet with a choice of three footpools, use the picnic facilities (bbq's available or take your own food), let the kids go in the playground, and bike, rollerblade or skateboard on the wide cycleway.
If absolutely none of that appeals, you can always grab a good book or simply snooze underneath a tree on a warm day. :)

Something else to do if you're here on a Saturday is to visit the market, located on the corner of Kuirau & Pukuatua Streets, and pick yourself up some breakfast. 7am-1pm. The market takes place no matter the weather (it's had a bit of a blip with Covid though). You can read more about it on my Rotorua Markets page.
Friends of the Rotorua Library run book sales the 1st & 3rd Saturday of the month 9am-1pm. The location for that is in a red-bricked building near the playground and footpool.
One other thing, the park is undergoing major redevelopment so don't be surprised if works are taking place.

One footpool is located between the children's playground and an ornamental thermal pond. The other two are on the other side of the pond.
The one by the playground is in a lovely spot. Despite being thermal, ducks and other bird types swim in it. Years ago the pond would be chock full of ducks but some type of virus wiped them out. The numbers are still nothing like they were.


View overlooking a thermal pond to footpool by the playground

It's pleasant to sit with your feet in the pool and think about nothing in particular. Laughter and chatter can be heard from the playground adding to the ambience. I promise you, your feet will feel wonderful afterwards.

At the tail end of winter, early spring, flowers spring to life around the ornamental pond making it especially beautiful.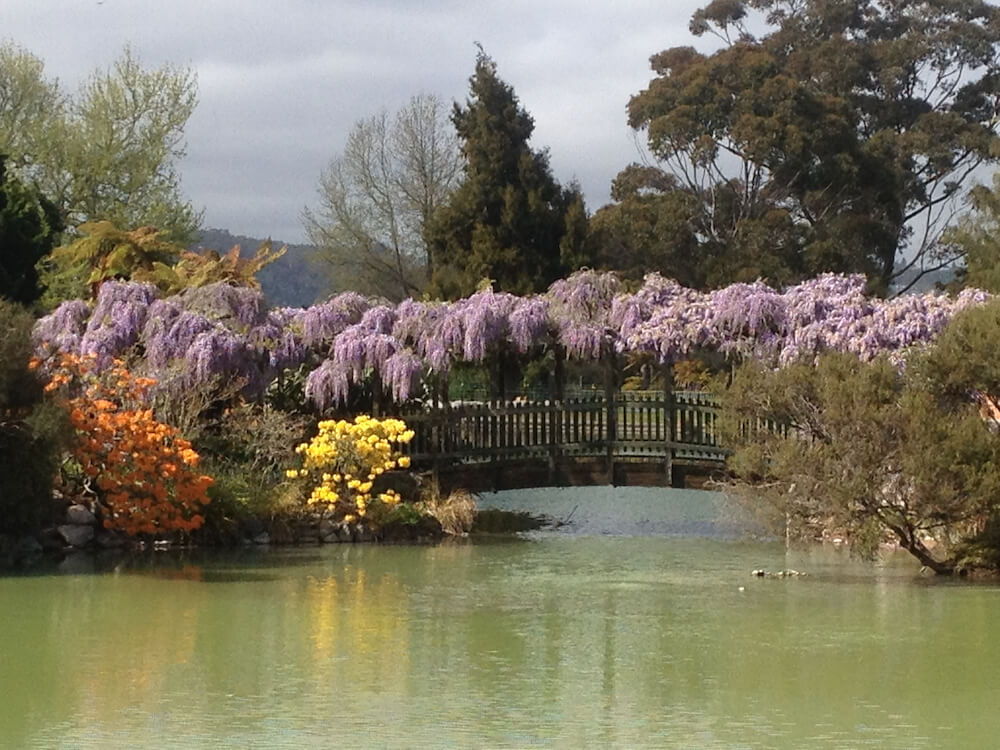 Wisteria covered bridge over thermal pond at Kuirau Park in Spring

The other two footpools and immediate surrounding area went through a major renovation beginning in 2016. The new roofed structure over one of the footpools has a contemporary Māori theme running through it. You can see it with the shape of the roof, thick poles and the concrete panels echoing meeting houses. The name Te Waimirimiri o Te Kuirau means water, relaxation, and massaging waters. The architect, Fred Stevens, was a winner for the Waikato/Bay of Plenty Architecture Awards in 2018 with this structure.


Te Waimirimiri o Te Kuirau footpools
As children and teenagers we sometimes snuck swims in the foot pools (as they originally were) although it was not allowed - but that's many years ago now so I don't know if people still do it or not. I am sure they must, who can resist water?

Make sure to take towels as the seats get wet from people swinging their feet out of the pools.
Playground
The playground at Kuirau Park is a popular place for families. It  has lots of fun things to climb, swing and spin on. Do you get dizzy thinking about it?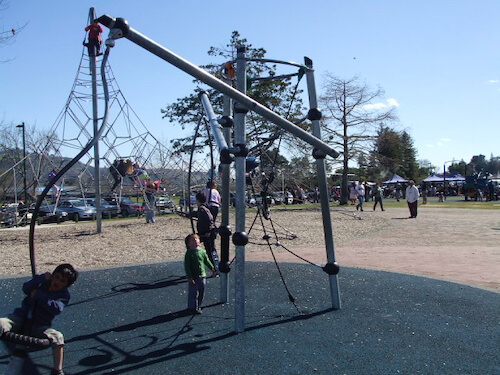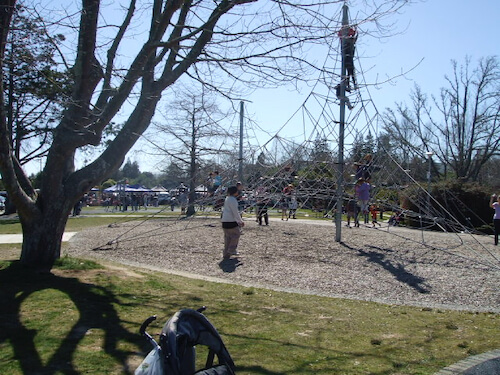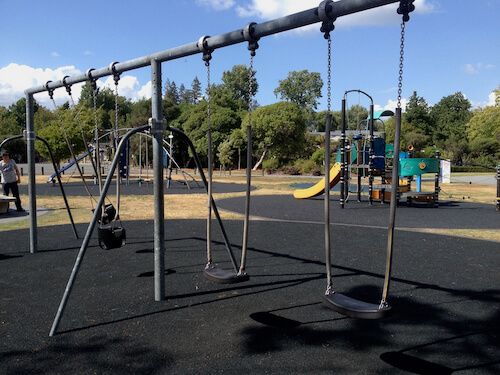 The equipment is modern with soft matting underneath for those harder landings. 
A children's water play area is also in the pipeline.
Geothermal Activity

A lot of geothermal activity happens in Kuirau Park so you do have to be careful. It's probably a good idea to stick to the paths. If you want to see mud, there's mud, if you want boiling thermal pools, there's that too.

In 2001 there was a hydrothermal eruption in Kuirau Park with mud and rocks the size of rugby balls flying in all directions. The rocks smashed branches off trees, and the nearby road and cars (lots of dents) were covered in mud. Certainly makes it an interesting place to live.

Towards the northern end of the park is a wooden walkway over Kuirau Lake. This water is boiling. Even though I live here I quite often walk over this bridge simply to marvel at what nature produces - and hope like heck that nothing untoward happens.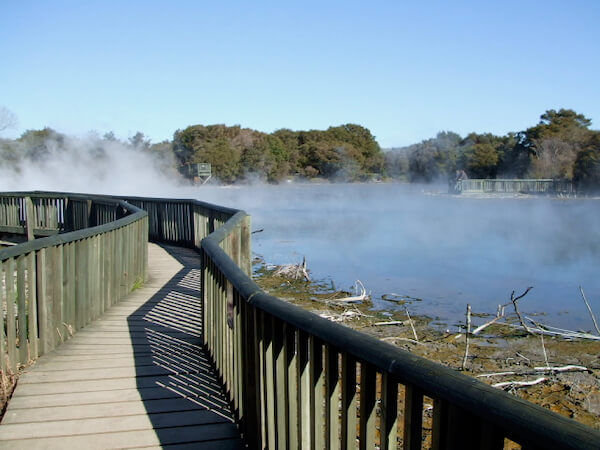 Bridge over a boiling hot Kuirau Lake, located at the northern end of the park
It's often the case you're enveloped in a steaming mist rising from the lake. Hopefully you don't mind the smell of sulphur. At times it can be spooky, especially in winter on gray, overcast mornings. Not only are you blinded by the mist but sounds are blanketed too.
This end of the park is right by Lake Road traffic lights, just below the hospital hill. The road also gets covered with steam from the lake in winter which can make for an interestingly blinding experience.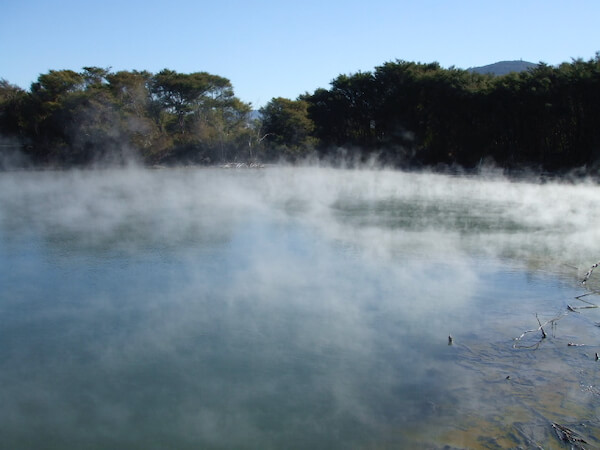 A steamy Kuirau Lake - the tip of Mount Ngongotaha can be seen on the right
Getting to Kuirau Park

Kuirau Park is right on the edge of the CBD (Central Business District). It's encircled on all sides by Pukuatua Street, Ranolf Street, Lake Road and Kuirau Street (off Tarewa Road). A no-name road cuts through the middle between Ranolf and Kuirau Streets too.
Access and parking is available from all roads mentioned be it on the roadside or dedicated parking spaces. It shouldn't be too much of a problem to get a park. In saying that, market days creates congestion on the Pukuatua Street end of Kuirau Street. Monday to Friday office workers fill up the roadside spaces on Ranolf and Pukuatua Streets.

If you take a look at the google map below you can work out the best way to approach depending on where you are, what day you're visiting, and what you want to do in the park. The black starred icons have information about each spot in the park.

Staying Safe
Although this is a fantastic park it can attract the seamier side of life, as a lot of parks do.

If you do witness any sort of non-social behaviours, don't hesitate to phone Police on 0800 TIP OFF (0800 691 102). Click here to read about staying safe in Rotorua and New Zealand as none of us here want anything happening to you.
---
More family activities...