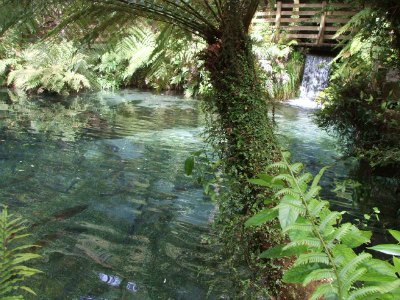 Paradise Valley Rotorua - see the Rainbow Trout?
Rainbow trout splash about in the crystal clear spring waters, slimy eels dwell in shallow ponds and then we have the Llamas, goats, sheep, opossums, and Captain Cook pigs; to name just a few examples of NZ wildlife found here. There are also screeds of different types of ducks and birds including our cheeky native Kea.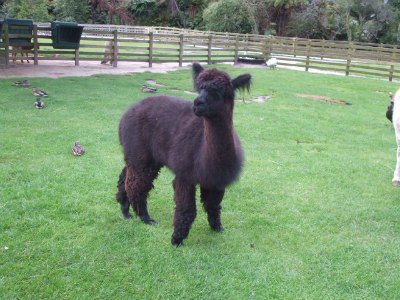 Paradise Valley Rotorua Llama
These types of places are to be savoured, if only to get the maximum out of the experience. Take the time to sit and feed the trout (they sell food for this), or stroke the Llamas, sheep and the donkey. It's not only the children that love doing this.
The last time I visited this Rotorua wildlife park I happened to come upon a toddler, her mum and grandpa. They were surrounded by a mother duck and her little ducklings. As the grown-ups went to walk away, quelle horreur, the little girl and I saw one of the ducklings get stuck in a gap in the boardwalk. As I reached to try and hook it out... the duckling fell right on through.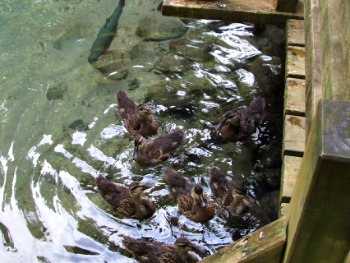 Paradise Valley Rotorua ducklings - see how small the boardwalk gaps are?
Ooh là là. The performance! Mother duck panicked and made a heck of a racket as she ran around on the boardwalk like a headless chook... or duck. The sibling ducklings streamed after her like little limpets - no way were they going to let her out of their sight. In the meantime the trapped duckling peeped frantically underneath the boardwalk.
The little girl's grownups came back and so here we all were, looking to see how we could rescue this little duckling. After a couple of minutes we could see it underneath struggling to get onto higher ground. Finally, he or she was able to squeeze back up through one of the cracks. Whew, the day was saved.
Treetops Canopy Walk

The treetops canopy walk is a wonderful new addition to Paradise Valley. It veers off the main track via a stairway, and although it's quite high a lot of the trees are higher still.
NZ native plants, trees and ferns are numerous as are the info boards placed along the walkway.

Cute little NZ Native fern
NZ native trees, ferns and plants
The info boards are quite informative actually, giving the names in English, Māori and Latin, the heights that can be attained and how/what parts were made use of by Māori.
Up high amongst the trees the occasional voices sound far away and birds with their songs become more apparent. It's lovely.
Rotorua Lion Park

Another part of Paradise Valley Springs is the Rotorua Lion Park, featuring a pride of African Lions. They are in a separate area because lions are not New Zealand native wildlife but it's still part of the same entry fee.
Max was the head of the pride with quite a few females of various ages with the oldest one being 22yrs at the time. Poor old thing, she had cataracts and her back was all sunken in so I don't know if she ended up outliving the last oldest who died at 23yrs.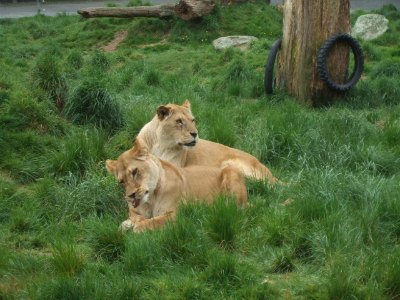 Two of the female lions at Paradise Valley Rotorua
The lions get fed at 2.30pm by a handler who provides a commentary about all the lions and lions in general. He has all sorts of little stories that make it interesting for the public as he throws meat over the fence to the lions.
One snippet was that a lion's roar can be heard up to 8km away. I can so believe it. When I've had occasion to walk past (training for marathons), the deep-throated, growling roars seem to rumble eerily around the hills. You'd swear it was thunder.
Don't be surprised if you visit and Max comes right up to the fence, looks you straight in the eye and does a big, fat, poop. I don't know if that's about staking out territory, just a bare patch of ground or what, but it can be disconcerting.
Rotorua Lion Cubs

This is the cute and cuddly part of Paradise Valley. The lion cubs are available three times a day to say hello and pet through a mesh fence (the only place in NZ you can do this).

Two very sleepy little cubs now they have full bellies.
When born, the cubs weigh in at about 1-2kg and once they're a month or so old they begin to meet the public with Suzie, their handler. At this time you can actually hold them until they get too big and frisky. When they get to 12-14mths the cubs begin the process of moving back into the main pride.
Feeding times for the cubs are:
10.45am - 11.45am
3.15pm - 4.15pm
Learn more and purchase tickets >>

Getting There

Paradise Valley is located in a rural area about 10.5km out of the city. Paradise Valley Road itself is a big crescent shape that can be accessed from two directions, the city as can be seen on the google map and also off SH5 (the highway heading into town from Auckland).

View Paradise Valley Rotorua in a larger map
Food & Drink

An onsite cafe serves coffee, tea etc but don't expect designer coffees. Snack food like pies, muffins etc. is available, not a huge selection though.
If you would like to take a picnic along, there is a lovely eating area near the entrance to reception. Enjoy the ambience of the country setting, it's lovely and peaceful… apart from the occasional lion roar that is. :)

Parking & Toilets

Lots of off-road parking is available at the front of the building and toilets are onsite.

FAQ
A: All ages get to play here. Little ones especially love it because of the baby animals, and animals full-stop.

A: The usual, sunscreen, brollies, wet weather gear… just in case.



A: The park is well set-up for wheelchair and pushchair access with cobblestones or boardwalk walkways. A couple of areas can't be accessed because of stairs, like the source of the Waireka Spring or the treetop walk. I don't think this would detract too much from the experience.
A: Look at spending 1-2hrs especially if you are going to be there for the lion feeding or patting.

A: 
Schools groups are very welcome and Paradise Valley can be contacted directly for further information on bookings, costs, etc.

Also in the area...