Rotorua Tours & Trips

The most popular Rotorua tours take you into an often-unfamiliar setting. One that can thrill, challenge and yes, sometimes even scare you.

You can tour Rotorua on foot, in the air, by water, or roads. There's the paddle boat or water taxi, helicopters or planes, buses, shuttles and more. Cruise excursions? Yes, we have those options too.

Then there are the day trips out of Rotorua. So much fun.

Whether you want to see absolutely everything in one day or to take more time with an extended visit, this selection of tours in Rotorua is to help you make the most of your visit.
And don't worry if you don't see a particular tour you know of. It's a slow process writing these pages.

---

Cruise Excursion Tours - Tauranga to Rotorua Return

Includes The Rotorua City Hop On Hop Off Tour for Cruise Ship Passengers
Many cruise ship passengers pop over to Rotorua when anchored at the Port of Tauranga.
A couple of options to help you manage this as a day excursion include tours and a Hop On Hop Off Tour. What follows is a small selection of tour companies hand-picked for the level of service provided.

Read more: Cruise Excursions ≫

Day Trips Out of Rotorua

Day trips within 2½hrs of Rotorua are a great way to see more without having to pack up every day and move on.
The tours visit places like Hobbiton and the Waitomo Caves. Unbelievably sought-after. Also covered off are the self-drive options.

The Tongariro Crossing and Mt Maunganui on the other hand are more your self-drive day trips.

Read More: Day Trips from Rotorua >>


Tour Options for One Day in Rotorua

Popping in for one day only? To save you some time, I've put together a few tour packages that capture the essence of Rotorua.
Numerous tours in Rotorua vist Te Puia
Expect to feel insignificant when you feel the earth shaking under your feet, or centered when visiting our lakes. There's laugh out loud amusement at the farm show, and trepidation at the cultural shows. That's without everything else.
All this sensory overload means you're going to be worn out by the end of the day.
Read more: One Day in Rotorua >>


Individual Rotorua Tours

Rotorua Canopy Tours

Rotorua Canopy Tours holds the number one spot as the most popular tour in Rotorua. People love it. And that includes people scared of heights. Ask my daughter-in-law.

What is it? Think zipping through the treetops 40m up in the air, think virgin New Zealand forest, think a portion of your ticket contributing to the conservation cause. :)

Read more: Rotorua Canopy Tours >>


Tarawera Water Taxi & Eco Tours

The popular Lake Tarawera Water Taxi provides transportation for Tarawera Trail walkers and Hot Water Beach campers, but that's not all it does.
Eco Tours are an additional sideline with a number of sought-after tour options sure to delight visitors. How would you like to bathe in a hot pool in a bush setting? Or visit the gorgeous Tarawera Falls? These guys make it easy.

Read more: Tarawera Water Taxi & Eco Tours >>


Rotorua Duck - City & Lake Tours

Rotorua Duck Tours are a fun way to delve into Rotorua's history, learn about  the WWII amphibious 'duck' craft and ride the roads and the lakes - in the same said craft. You can make people smile too, if not laugh right out loud, by blowing on a silly duck quacker as you pass by. These Rotorua Tours are hard to beat.


Kia Ora Guided City Walking Tour

With Kia Ora Guided City Walks I bet you'll 'feel' the people of Rotorua. Go on one and see if you agree. Josie or Gay will take you through landmark sites that include the Government Gardens, Pukeroa Hill, the village of Ohinemutu and our Lakefront. Probably a lot of locals don't know half of what you're going to learn about on this 2hr walk.
Kia Ora Guided City Walks ≫

Rotorua Paddle Tours (SUP)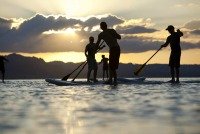 If you want to experience Rotorua in a totally different way or do something you wouldn't ordinarily, try Stand Up Paddle Boarding (SUP). Newbie? No worries, you'll be well looked after. A variety of Rotorua tours are on offer that can incorporate, amongst other things, sparkling crystal clear spring water, hot pools and a native bush walk.
Read more: Rotorua Paddle Tours ≫

Surico Alpaca Farm Tour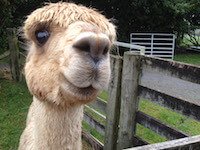 Have fun and find out why alpaca appeal to so many on this 60-90min personalised tour of a working farm. Lead and hand feed an alpaca, check out the cria (babies) that you might get to hold or see born, and learn about the alpaca industry. It's fascinating.


Mamaku Blue - Blueberry Orchard & Winery Tours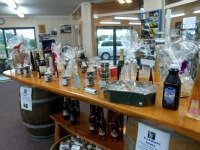 Mamaku Blue winery and orchard is a blueberry and gooseberry lover's paradise. Food, gifts, tours, a museum, wine and liqueurs. Learn about Mamaku Blue's history and also the history of the area. See what goes into making the wine and finish off with tastings. Yum.
Mamaku Blue Blueberry Experience ≫


---

More Travel Planning Links

Return to Top