Think, eating your lunch sitting high on top of a volcano, boogie boarding the pearliest of waves, navigating the silken darkness of caves in a tube, and more.
Numerous activities like these are within easy driving distance (up to 2½hrs) from Rotorua. If you prefer to take tours, those options are available too.

How about we get started with something of interest to Elvish fans? I know there's an awful lot of you judging by the tour buses I see most days.

---
Hobbiton Tour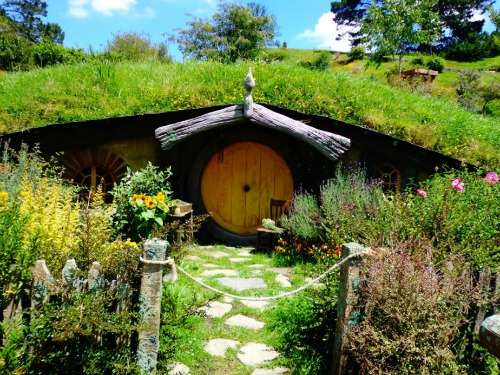 A young friend of the family visited Hobbiton after seeing ALL the movies. She then kindly wrote an article for Rotorua Travel Secrets about it.

What she had to say: "A Hobbiton tour is bliss for diehard LOTR fans and everyone else too... including those who haven't seen the movies."

Hobbition Tour ≫
50mins from Rotorua

---
Waitomo Black Water Rafting, Caving etc.

I tripped over to Waitomo (it's a tiny little town cum village) to check out the Black Water Rafting and had a lot of fun. You can try the rafting (it's actually a tyre tube), dry cave walks, abseiling canyoning (I don't know what the difference is) and boat rides.
Each business providing tours uses one particular cave and they're all unique. Some people do the lot.

Waitomo Black Water Rafting ≫
2hrs from Rotorua

---
Tongariro Crossing

Isn't it the way that thoughts can be worse than the actual doing? Find out more about this and what you can expect to see and do when taking on the Tongariro Alpine Crossing. The logistics of various ways to approach the mountain, shuttle companies you can use and more is covered off too. What are you waiting for. Happy hiking.
Tongariro Crossing ≫
2½hrs from Rotorua

---
Mount Maunganui Walk

 The Mount Maunganui walking tracks, whether it's from the exertion of climbing or the stunning scenery, tend to leave one breathless. Pristine white sands? Tick. The requisite turquoise sea? Tick. Ho hum, how boring huh? Not even!
Mount Maunganui Walk ≫
1hr 6min from Rotorua

---
Coming up I will cover off places like Huka Falls with the Jet and Prawn Park, Orakei Korako Cave and Thermal Park and day trips to White Island off the coast of the Bay of Plenty. Phew, there's still a lot to do.

While waiting for more day trips from Rotorua check out: