Terrific Rotorua Cafes
Rotorua Cafes - The cafe culture is alive and thriving in Rotorua with a number of them being quite funky and quirky.
I won't go into all of them here, just the ones that my family, friends and I mostly frequent.

The dollar signs indicate:

$ Affordable
$$ Middle of the road
$$$ More Expensive.

In saying that though, the ones showing as more expensive include evening dining.
---
$$ Fat Dog Cafe

Fat Dog Cafe is one of Rotorua's popular cafe's which means you have to pick your times to go else you will be waiting for ages.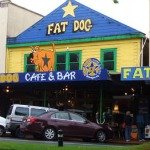 Rotorua Cafes - Fat Dog
It has a quirky decor consisting of old wooden mismatching chairs and tables with lots of bright paint splashed around plus paintings and mosaics that are for sale.
The meals are huge so if you're really hungry this would be your place. Whenever I have breakfast there I don't have to eat for the rest of the day, that should tell you something.

The Fat Dog Menu is extensive catering for all tastes if you would like to check it out.

Where: 1161 Arawa St
Serving: Breakfast/Lunch/Dinner
Hours: 7am-9pm Mon-Wed 7am-9.30pm Thurs-Sun
Contact: Ph+64 7 3477586


$$ - $$$ Abracadabra

Abracadabra has a very cool, funky Moroccan theme going on. From the vibrant furnishings brought in from Morocco to the fabulous menu that includes exotic food, it's definitely an experience.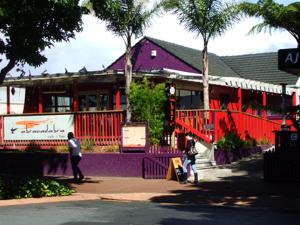 Rotorua Cafes - Abracadabra
The building was a house in a former life so it has rooms that can be reserved for groups.
I went along with a group once and we had platters with delicious Moroccan spiced chips, spicy Hungarian sausage, prawn cutlets plus lots more. I'll just say, we didn't leave hungry that's for sure.

The Abracadabra Menu has a good range from cabinet food through to Moroccan dinners fit for a King… or Queen.

Where: 1263 Amohia St
Serving: Breakfast/Lunch/Dinner and Tapa's/Mezze/Entree's
Hours: 10.30am-11pm Tue-Sat, 10.30am-3pm Sun, closed on Mondays
Contact: Ph: +64 7 3483883
Email: abracadabracafeandbar@gmail.com


$$ Zippy's

Zippy's is another favourite funky cafe. You will find local police and also road/mountain bikers hanging out here for their daily coffee fix.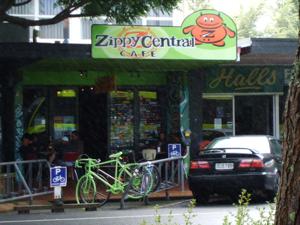 Rotorua Cafes - Zippy Central
Maybe they're 'undercover' because it's quite dark and cocoon-like inside. No windows.
Although it's a small cafe the meals are substantial… you've got to try the salmon bagels… and their muffins, they're huge… because they sell out quick you have to get in early.

Children are very welcome but if they are boisterous and like to play around it may pay to look elsewhere. Zippy's gets really busy and there's not a lot of room so they can get underfoot.

Where: 1153 Pukuatua St
Serving: Breakfast/Lunch/Dinner
Hours: 7am-9pm Daily
Contact: Ph +64 7 3488288


$$ - $$$ Urbano Bistro

A favourite Rotorua Cafe would have to be Urbano. They would slot in anywhere in the world when it comes to quality and service and some absolutely delectable delights.

Located about 1km from the City Center, on Fenton St opposite the Racecourse and Rydges Hotel, it is smack bang in the middle of a lot of the visitor accomodation with ample parking.
Rotorua Cafes - My buddy Fiona and I having coffee at Urbano Bistro
We pop in there for coffee in the morning sometimes and can't resist their baking. You would be looking at about NZ $20 for two people so this is on a par with the other cafes in Rotorua.
You've got to try the Chocolate Fudge and Raspberry Brownie. It's not too sweet but still absolutely decadent. Mmmm, I can feel myself drooling just at the thought of it.

In saying that though, Urbano is not confined to your normal cafe fare. In the evenings Fine Dining is the word with Chicken, Pork, Venison, Beef, Lamb, Duck and Salmon featuring.

Check it out on the Urbano Bistro menu.

The 'little person's menu' caters to the children in your life. How cute is that? I'm sure they'll be happy with the Pizza, Fish & Chips, Nachos or Crumbed Chicken Tenderloins.

Location: 289 Fenton St
Serving: Brunch/Lunch/Dinner
Hours: 9.00am to 11pm Mon-Sat, 9.00am-3pm Sun
Contact: Ph +64 7 3493770


---

If none of these cafes appeal, Zomato will have something for you. It's a dining out search engine with many search filters and also reviews by diners. The link is set to land you on Rotorua dining establishments.


View terrific Rotorua Cafes in a larger map
View more popular Rotorua Dining pages:

Rotorua Restaurants

Rotorua Pubs

Rotorua Takeaways
---
Return to Top
Home

›

Rotorua Dining

› Rotorua Cafes