Types Of Fish Available
Before we start you may want to know the types of fish used for Rotorua Takeaways. Snapper is the crème de la crème of fish in New Zealand so it follows that it's pricey. You're probably looking at around NZ$8-$10 for a battered piece.
Next in line is Tarakihi which is also really nice. This is mainly what I order.
From then on we have Gurnard, John Dory, Lemon Fish, Hoki and a few others that I forget the names of.
Hoki is what you usually get if you ask for fish & chips without specifying the type.

Oppie's Fish & Chips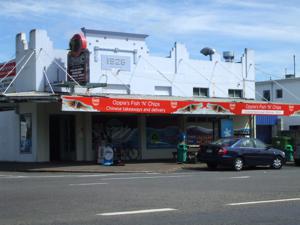 Oppie's Fish & Chips is also a Chinese takeaways and a Roast House.
They have been winning awards left, right and center for the best chips (a NZ award) and also best retail business (a local award).
Well done to Michael Huang and his kung fu kitchen as he calls his staff.
Don't be surprised too if you go to this takeaway and get served by a little scrap of a thing no bigger than a grasshopper. The whole family gets in on the act.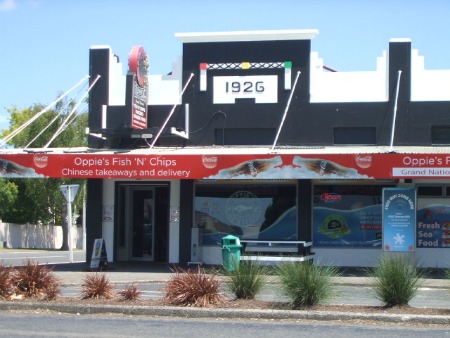 Oppie's has had a facelift
I don't normally go to Oppie's. Why? Because it's too busy most of the time.
When a girlfriend from Australia wanted to try the best chips in the land we decided to check it out.
She fell in love with their chips and went back twice more before she returned home. Unreal! By the time she left I was over it and couldn't face fish & chips for a while.
Where: 259 Fenton St
Hours: 11am-10pm everyday
Contact: Ph+64 7 3471909 Phone orders
Website: www.oppies.co.nz

Devon Seafood
This tiny shop has been a staple go-to for many locals, now into the second generation with Rotorua local Dave, your cook, or should I say chef. And of course it gets super busy at dinner time, waits of 20-30mins at times.
Phoning in your order is probably the order of the day because you might be having to wait outside. The shop seats three and then maybe another three standing along the counter, or four with a thin person squeezed in behind the door.
Where: 43 Devon St
Hours: 10.30am-7.30pm Tue-Sat, closed Sun & Mon
Contact: Ph+64 7-349 2490 Phone orders
Website: www.facebook.com/DevonSeafoodsRotorua/
Takeaway Locations

If none of these Rotorua Takeaways appeal, dig a bit deeper on Zomato. It's our most popular search engine for eating out with numerous search filters, and reviews by diners.

You may also like to view my other popular Rotorua Dining pages:

Rotorua Pubs

Rotorua Cafes

Rotorua Restaurants
Thanks for visiting and bon appétit.