We have lots of cafe cum bars but my three favourites mentioned here are what I would class as pubs. It's always a toss-up on the day as to which one I will go to. Classic pub fare like Lamb Shanks, Beef & Guinness Pie, or Bangers & Mash warms a body in winter. The likes of Fish & Chips, burgers and more modern dishes go down a treat year round too.

The Pig & Whistle Historic Pub
The Pig & Whistle used to be the local police station, way, way back… which I have personal experience of… not in the clanging of the cell door behind me way though.
I tried to follow my mother into town at about 3yrs of age and ended up having to be picked up from the station.
It must be karma because my daughter ended up in the police station at about the same age. Show her any bit of space and she was gone.
Strewth, poor parents when kids get it into their heads to do a runner!!!

The Pig & Whistle Pub
Getting back to the Pig & Whistle, the lovely old 1940's building is loaded with character. Old time police paraphernalia dot the walls along with big screen TVs that feature major sporting events.
A live band plays Thursday, Friday and Saturday. The place gets packed to the rafters with lots of raucous patrons thoroughly enjoying themselves.
Security guards are stationed outside to ensure anything out of place gets handled, plus to monitor crowd size.
Meals are served throughout the day. Try the curly fries that look just like the curly tails of a piglet. Be warned, the menu selection is extensive and portion sizes can be large. If you eat on the lighter side check with staff. A children's menu is provided as is a good vegetarian and gluten free selection.
A good range of Moa Brewery and three ciders is on tap. A fine sampling of NZ wines is available for those devotees.

The indoor area is quite small but there is also a covered outdoor garden bar that is more spacious. Gas heaters keep the place toasty when it gets cold.
If you are looking for a quiet meal go earlier in the evening before any music starts.
Where: 1182 Tutanekai St
Serving: Lunch/Dinner
Hours: 11.30-10pm for food every day and longer for the entertainment.
Contact: Ph+64 7 347 3025
Website: www.pigandwhistle.co.nz

Hennessy's Irish Bar
Hennessy's is another Rotorua pub institution when it comes to eating and drinking places. Totally rebuilt after failing to meet earthquake proofing standards, you'd be hard-pressed to notice it's not the original.

Although the outside of the building gives you a good idea, one step inside seals the deal. You've died and gone to Ireland. The set-up is that good you'd swear you were there. Dark wood, cosy, intimate… that's the overall feel I get.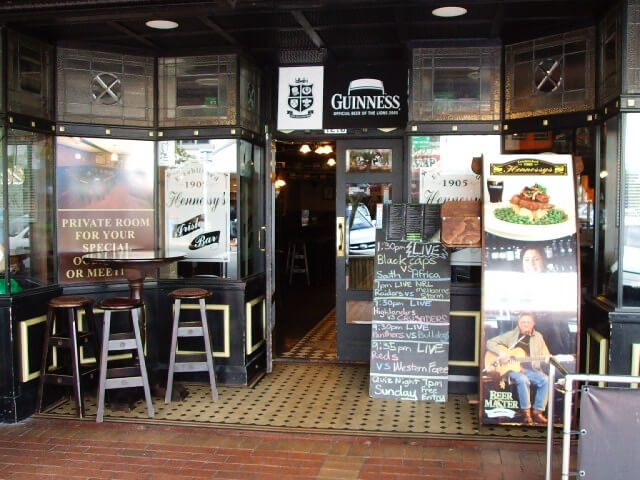 Hennessy's Irish Bar - Rotorua Pubs
My family and I have found this to be one of the best places to eat in Rotorua if you are looking for a typical pub meal.
Pub meals always makes me think of filling stews and casseroles, sausages with lots of mashed potatoes and gravy.
Well, they have that and more. The Hennessey's Menu is wide-ranging and caters to all tastes. You've got to try their Seafood Chowder.
Ha, I've forgotten to mention the beer, or should I say ale? Guinness… they've got it. Looking for a range of Irish beers… they've got that too. In fact they've got all sorts of NZ beers, Irish Whiskeys and wines etc. There's also mention of Kilkenny… I don't know if that's a beer or what. If you're an Irishman it'll mean something to you.
Hennessy's have been accredited with the Lion Nathan Beer Masters Award for Quality Beers & Cellar Management.…many times since they opened in 2002. That says volumes about the beer and the handling of it doesn't it? There's a whole raft of things to be covered off to be in the running for this award so I say well done Mr Hennessy - the original owner.
If you're into Irish music? Every Thursday night there is a live band and sometimes on the weekends as well. There's a quiz night on Sundays and if you're into sports they have the big screens showing either live coverage or replays of important games.
Where: 1210 Tutanekai St
Serving: Lunch/Dinner
Hours: 11am till late. Every day!
Contact: Ph+64 7 3437901
Website: www.Hennessys.co.nz

Brew - Craft Beer Pub & Coffee Roastery

This Rotorua pub would be of interest to anybody who has an interest in craft beers. Brew is a relatively new pub in town that is an extension of The Croucher Brewing Company which kicked off in 2005.
Paul Croucher and Nigel Gregory, as the owners of these businesses are gaining a reputation. They have won numerous awards for their beers that go by the names of Croucher Pilsner, Croucher Patriot, Croucher Pale Ale and the low alcohol Croucher Lowrider IPA.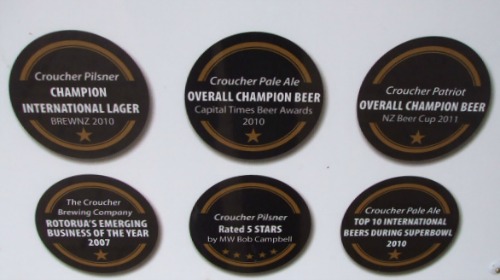 Croucher Brewing Company awards
I was intrigued as I hadn't had any experience of craft beers so decided, along with a few friends and family members, to go along and see what this place was all about.
Brew is about NZ craft beers so at that time you could get four different beers to try in 250ml glasses (I think that was the size). We did it like a wine tasting and these beers were definitely different. Very strong tasting with lots of flavour. We could taste fruit and other things we couldn't quite put a finger on.

When you're used to drinking beer in a fashion for most of your life, as in mainstream beer, it could take some getting used to craft beers. Like most things you may have to try a few times to fully acquire the taste.
A random thought; that's me, I kept on trying pickled onions until I finally got the taste for them.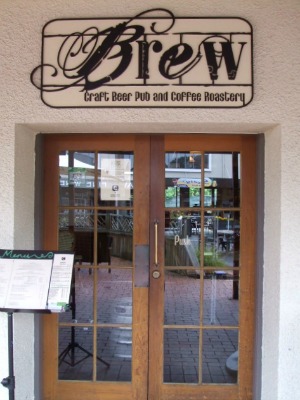 Along with showcasing their own beer, Brew serves beers from various top craft brewery's from around the country. They also feature New Zealand wines that are hand-selected so that is something else to try.
The food at Brew is very tasty and most of the menu incorporates the beers. The Pilsner Fish & Chips are delicious as was the Pilsner Marinated Pork with Plum Sauce.
There are platters, pizzas, a children's menu and sweets as well. There should be something to please everyone when the hunger pangs strike.
Where: 1103 Tutanekai St
Serving: Lunch/Dinner
Hours: 4pm-11pm Mon-Thu, 12pm-11pm Fri- Sun
Contact: Ph+64 7 3460976
Website: www.brewpub.co.nz/

Getting to Rotorua Pubs
Located on Tutanekai Street, the three pubs are within walking distance of each other in the inner city. Make sure to check out the google map for directions.


View Great Rotorua Pubs in a larger map
If none of these Rotorua pubs appeal you can dig a bit deeper on Menu Mania. It's our most popular search engine for dining out with all sorts of search filters and also reviews by diners.
You may also like to view my other popular Rotorua Dining pages:
Has the page answered all your questions? Can I improve it? If so, don't be shy to drop me a line. Use my Contact Me page.