Watermill at Hobbiton
Although I wouldn't consider myself a diehard fan it was still super-cool to visit this place which surprised me. I didn't think I would enjoy it as much as I did. If you've seen all Lord of the Rings and The Hobbit movies, and even if you haven't, you must go.
It felt to me like I was being bathed in mystical times what with the peacefulness of the country setting and walking amongst the hobbit holes. I could easily picture Frodo running up and down the hills. Actually, I kept half-expecting hobbits to appear and felt quite disappointed when they didn't, but I'm getting ahead of myself here.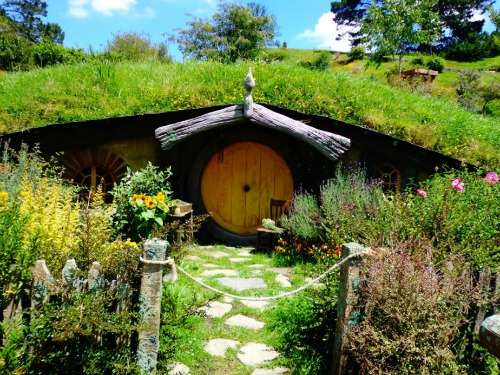 Hobbiton Tour - Hobbit hole
Rotorua to Matamata
It's a really nice drive to Matamata. There's the climb out of Rotorua through the manuka  laden Mamaku's, and after that the Fitzgerald Glade which is lovely, it's like going through a tunnel but with shady trees, pongas and shrubs on both sides of the road. Once through it's not long to the turn off to Matamata.
The kilometres pass by with rolling farmland on each side of the road now. Sheep and cows were grazing, paddocks full of sweet corn have just about reached full height and fertiliser sprayed out over empty paddocks. It's an entirely different story in winter, then you're more likely to strike thick, pea-soup fog and see nothing.

Gollum
Arriving in the little rural township of Matamata we found the local i-Site and bought our tickets for the Hobbiton tour (you can only go in on a tour).
You can't miss the I-site. It was revamped for the opening of The Hobbit and has a new name, The Gatehouse. A facade was built around the original building so now it looks like a building you would expect to see in relation to Hobbits.
This is where a statue of Gollum can be found. He is is on a rock by the Forbidden Pool with a fish in his hand. I find Gollum such an engaging, fascinating creature and love this statue of him. Isn't it wonderful?

Onto Hobbiton Movie Set

From the i-Site we jumped onto a bus that would take us to the Shires Rest Cafe. It was a nice new bus with air-conditioning. At the cafe we transferred onto another bus that took us into the farm site to Hobbiton itself (about 10-15 minutes). This driver was much older than the previous one and he'd actually worked on the movie sets. He was very chatty and friendly and very funny too, cracking lots of jokes.

The bus was old (like an old school bus), with no air conditioning. The windows were dusty and the bus ride was generally quite uncomfortable on the hot day that we went. But luckily it was made that little bit better by the friendly bus driver.
Once on site, we walked around the little valley in a loop with the hobbit holes dotted around the landscape. There are 17 Hobbit holes in total with lots of colourful photo opportunities to be had. It's an exterior set so there's nothing inside the hobbit holes apart from one that we could walk into. 
That was kind of disappointing because it's only about 1m deep with a back wall and that's it. It's a pity they can't build a full replica for people to go into, that would add massively to the experience.

That's me, Sonal, knocking to get into the hobbit hole
The tour guide we had was a really nice guy who knew his stuff. He told us lots of stories from when the movie was being filmed although he wasn't on the set himself. He also told us lots about what went into creating the set. It's incredible the detail that has gone into it.
For example, the old oak tree that is on the hill above Bilbo and Frodo's hole; it's not real! It's actually made out of fibreglass with the leaves wired on. Same for the lichen; not real. Amazing.

Our guide also quizzed us about the Lord of the Rings movies to see who the diehard fans were… there were a few with us. Then he told us about one fan who bought a replica of The One Ring for NZ$800 and promptly went and threw it into Mount Mordor (wherever that may be). The fan sent them the photos to prove it too.  Other fans spoke to each other in elvish. That's what you would call diehard fans isn't it?

The Green Dragon Inn

Crossing the bridge it was time to visit The Green Dragon Inn for a quiet beer. As part of the tour you get a free drink, either beer, cider or ginger beer.

Hobbiton Tour - The Green Dragon Inn
They've got a special beer available that was used on the LOTR set. It's almost alcohol free because they didn't want drunk hobbits running around. I can just see it. That brew is still being made for Hobbiton.
The Green Dragon Inn is exactly what you would expect it to be… just like in the movies. Sitting in the granddad chair by the fire, beer in hand, it felt so cosy… and real.
Rotorua Travel Secrets Tip

Private tours have you bypassing the crowds at the Shires Rest Cafe and from having to become part of a large tour group.
First tours in the morning and last tours of the day are the best time to go. You're not having to deal with a lot of people and the photo opportunities are far better.

Food, Drink & Souvenirs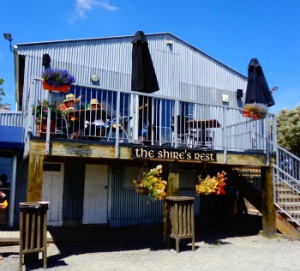 If preferred and depending on what time of the day, there are plenty of places to eat at in Matamata with cafes catering to all budgets.
The Shires Rest Cafe is ok, I didn't actually eat there. What I would say is if there are large groups in, especially during summer, you could be waiting a long time for service. As for the gift shop, it seemed quite sparse with not a whole lot on offer.
Update 2023: 
Hobbiton Tour Times & Prices

The tours of 2 hours run half-hourly beginning at 9.30 - 3.30pm. From 27 Dec to 28 Feb they run every 15mins. Closed Christmas Day.
In summer the hours are extended with extra tours at:
4pm and 4.30pm   20Aug - 20May
5pm and 5.30pm   27 Dec - 28 Feb.

Current Prices as at April 2023:
Leaving From Shires Rest Cafe
Allow 2hrs
From Adult $89
Youth 10-14 $44
Child 5-9 $0


Parking & Toilets

Available at the Shires Rest Cafe.
Behind The Scenes Tours in Other Locations & Guide Books

For the benefit of Tolkien fans, there are quite a few Lord of the Rings and Hobbit locations in New Zealand, so Rotorua Travel Secrets has ferreted around to come up with a selection of tours that may be of interest.
They are located in Auckland, Wellington, Queenstown in the South Island, and of course Hobbiton at Matamata. A tour option is especially good if you don't have your own transport.
And what good is a Tolkien fan without these wonderful location guide books. Going by some of the reviews on Amazon, you get to create your own Amazing Race as you use the guides to find the locations. Warning! Some are remote and it can be a rough ride getting to the sites. 4 wheel-drives may be the order of the day.

Self-Drive to Hobbiton

The question always comes up, where is Hobbiton in New Zealand or where is the shire in New Zealand?  Easy answer, it's on a farm near Matamata which is near Rotorua.
Hobbiton Tour - The Green Dragon Inn fireside
Although the route on the following google map is different from the one I used it doesn't really matter. If you're driving from Rotorua, the highlighted route travels through Tirau, a lovely bustling little township with antique, curio and kiwiana shops. It's also a favourite stop for having something to eat at one of the many eateries.
From here on, the roads are a lot straighter and wider too.
If visiting Hobbiton via Wellington you will notice on the map that Tirau is on SH1 so from then on follow the same marked directions.
Auckland visitors on the other hand don't have to go right through to Tirau. You will notice that you can turn off beforehand onto Karapiro Rd, then Buckland Rd which will take you straight to the Shires Rest Cafe where you can get your tickets and jump on a tour.
If driving you can go straight to the Shires Rest Cafe at 501 Buckland Rd and purchase tickets there.

View Rotorua to Matamata for Hobbiton Tours in a Larger Map
Click pic to view Hobbiton tour photo gallery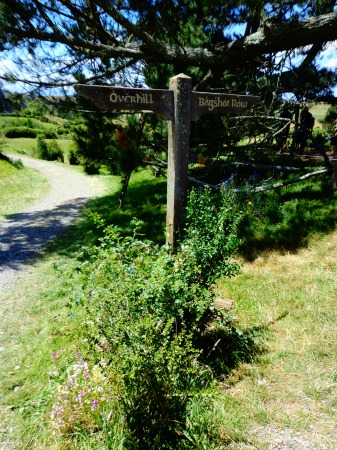 If you enjoyed this page you may also like -