Isn't this sign above a wonderful welcome - not - as the climb begins to incline rather steeply up the Devil's Staircase. Gulp - this is a serious business.
What if the weather turns (it does up there you know), have I got enough clothes, enough food? What if it begins to snow and I can't see? I'll wander off the track only to fall into a 1,000ft ravine. I'll be turned into a human Popsicle and not found for 5,00yrs (it happened to the Frozen Iceman in the Ötztal Alps). This is so not a good sign. Ha, get the pun?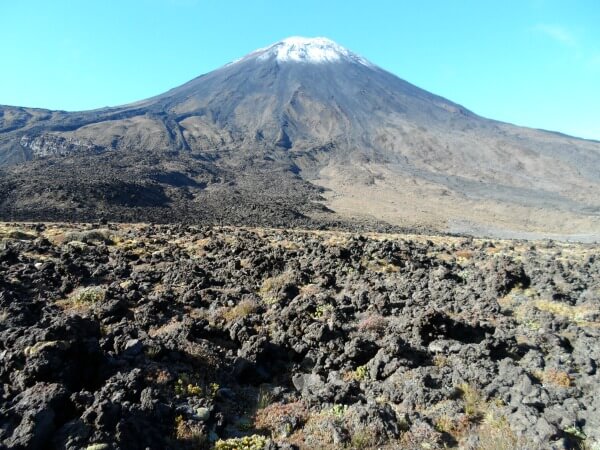 Mt Ngauruhoe again viewed from the lava trail
The Tongariro Crossing takes a good 6-7-8hrs

7h 59m in our case, not that I'm being nit-picky of course - hey, one minute is one minute. Included in that time were numerous stops to take photos, catch a breath (lots of times, it was comforting that everyone else did this too), have munchies, drinks and lunch, and to soak up the incredible views and scenery. With that, plenty of fuel and fluid is needed to make it through in good shape.

Something else to be mindful of

Vertigo! Yes, and in the most inconvenient places. Lift your head to look at the mountaintops and whoops, there you go again, listing towards the side of a particularly steep ridge.

Find a Place to Stay

Here's the surprising thing though

You don't actually see Mount Tongariro. Like a chameleon, it blends  into the surrounds. I mean it's not in your face like Mount Ngauruhoe (the steep pointed one). Now that one? You see! Apparently it's a parasitic cone of Tongariro. Gross, does that conjure up visions of nasty creatures erupting out of your skin too?

As an aside, you may want an additional challenge. A climb to the summit of  Ngauruhoe is a side trip of 1-1½hrs from the saddle between Tongariro and Ngauruhoe with 30min to come down.
(Not the place to lose your footing as a friend found out. He began sliding which turned into running, then he couldn't stop himself from going head over heels a number of times. He only stopped by smashing into rocks and whacking his head quite badly. Somebody was smiling down on him because he was okay.)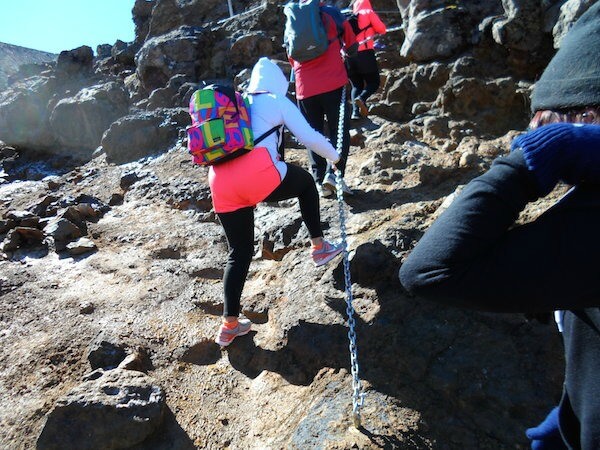 Ascent up to the Red Crater (the crossing's high point)
With the Tongariro Crossing you climb hill after hill. Each time the top is crested, there's an even more formidable one in the distance. Back-lit against the skyline, an army of ants march relentlessly upwards.
Here go those crazy-making thoughts again. Am I seeing right? No, surely those aren't people. You've got to be [insert favourite swear word] kidding me! Maybe it's another track. Please, please, pleeease let it be another track. No such luck because sure enough, that's where we would be headed next. Every time it looked hugely daunting but by just assuming the position and planting one foot in front of the other we eventually got there.

The South Crater (below) brought some relief as it was a fairly flat, windy expanse of desertness (my own word). I half expected to see tumble-weeds barrel past like in the old cowboy movies.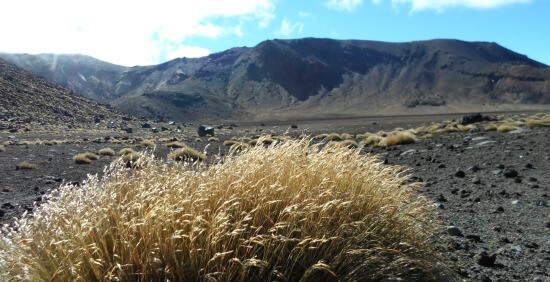 South Crater looking towards the ants!
The weirdest thing. I actually felt compelled to sing Climb Every Mountain', and wanted to do it full voice. I did manage to rein myself in and kept it low. The Sound of Music has never been my thing, at all, so I can only put it down to the alpine air.

It's hard to grasp where the Tongariro Crossing top is until you reach the Red Crater (1886m), and a sign says it's the highpoint. Initially, I didn't realise that it wasn't the top, top.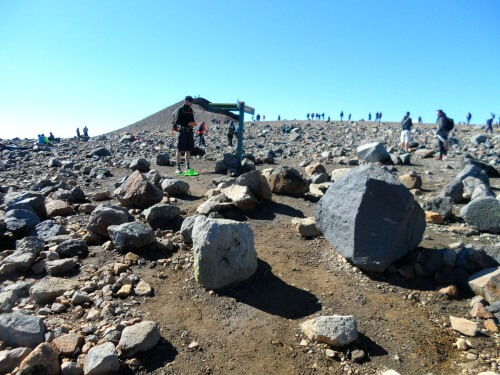 The Tongariro Crossing highest point - see what I mean about ants? And these are close.
The Tongariro Crossing Summit itself is another (easy) 1hr 20m return side trip from the Red Crater. This is all on top of your 7-8hrs. We thought about it - for a minute. Maybe another time.

Being up so high on volcanoes would, I imagine, be similar to standing on the moon or some other far-flung planet.
Like those other planets, Tongariro has been ripped apart again and again over preceding millennia. Left behind are deeply scored ravines coloured in brilliant shades of scorched, red and black fused scoria.
It's also been left a battered, barren wasteland that, contrarily, is beguiling with the harshness pocketed by moments of great beauty. Why else would people keep on climbing it?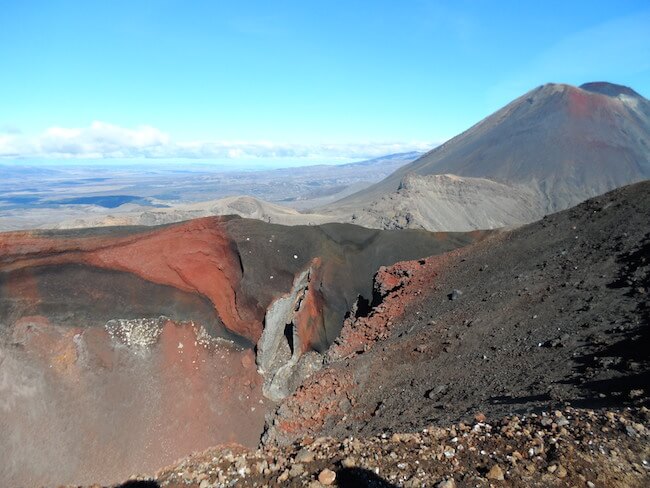 Parts of the Red Crater with Ngauruhoe in the background
Broken rock litters the unforgiving ground everywhere but is quickly forgotten with one look over the side. This is where the Blue and Emerald Lakes make their grand appearance.
And it's true

The Emerald Lakes are vivid pops of colour totally at odds with being nestled in such a brimstone hell-pit of desolation. All that's missing is a fiendish red devil with an evil laugh and a three-pronged fork beckoning you down, down, down.
Against a backdrop of hazy mountain ranges in the distance, the Blue Lake is situated in a crater quite a bit higher than the Emerald Lakes. To complete this surreal picture? Fluffy clouds floating by below eye level. Unbelievable!


View from Tongariro Crossing highpoint overlooking the lakes
You can see people walking down a ridge, left-hand side of the pic below, to the Emerald Lakes. It looks relatively easy doesn't it? Don't be fooled. When you're there, it's super steep, and each side of the track is a long way down.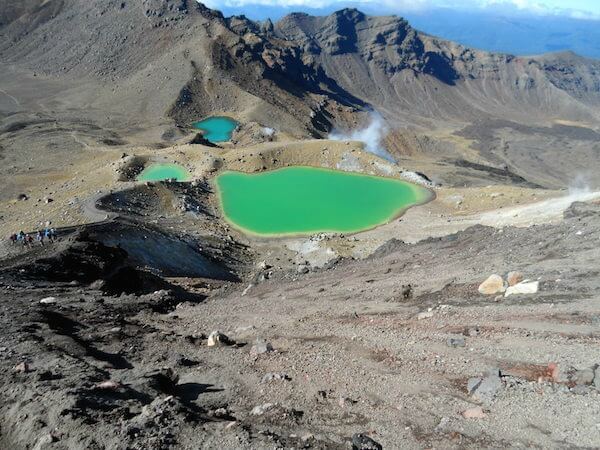 Emerald Lakes on the Tongariro Crossing
Loose, steaming black scree signals the beginning of the descent. Now that is scary - not the steam, the scree that has you sliding two or three steps for every one taken. One wrong step? It's all over rover, welcome to hell (can you hear that evil laugh).
Along with plenty of others I ended up on my backside a couple of times and cousin Sue just about lost it with an attack of cramp. Do you realise how hard it is to manage cramp while you're sliding? A narrow ridge isn't a good place to get it.
According to NZ Mountain Safety this ridge is where the most 'injuries and search and rescues happen on this mountain.' Check out their 7.37min video below because it will help with familiarisation and other things to take into consideration.

Once safely at the bottom you have to climb again to get to the Blue Lake (below). It's a strange feeling looking at a lake perched up higher than you are.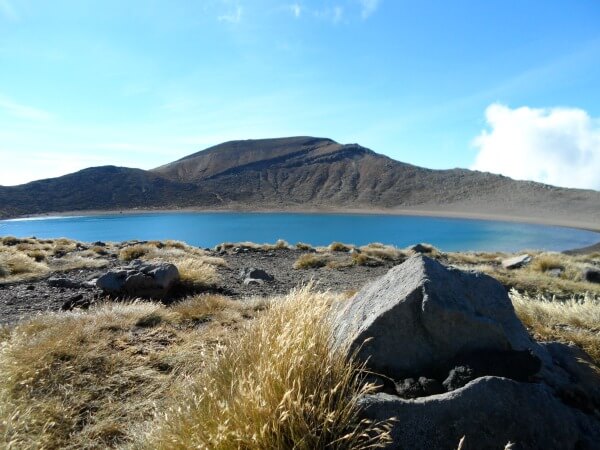 Tongariro Crossing Blue Lake
The track runs alongside this lake before yet another climb up through a pass where Lakes Rotoaira (foreground) and Taupo (looking like the sky) in the far background come into view. We'd made it to the other side!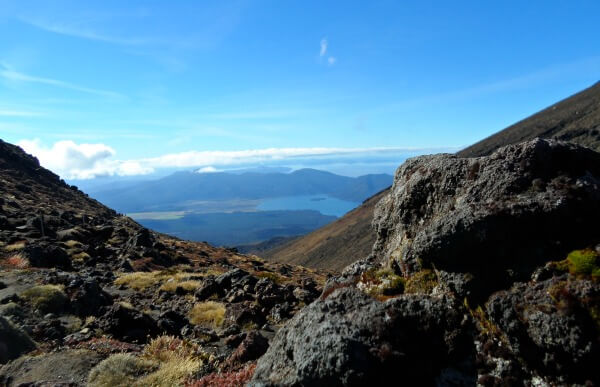 From now on the tussock-sided track is solidly downhill, including hundreds if not thousands of steps all the way (hours of it yet) to the Ketetahi Carpark.
Of  interest here, apart from the unforgettable views, are the Te Māri craters (below). They erupted in a cloud of steam and ash in 2012 and appear on the right-hand side of the hill. The area is hot with steam still billowing out of the craters.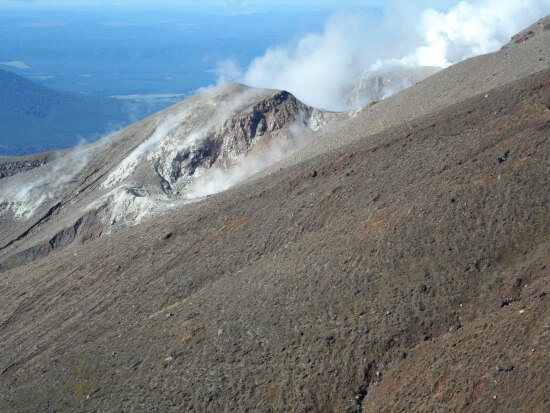 Te Māri Craters
Dodgy knees & blackened toenails

Now if you've got dodgy knees, this is where they will majorly kick in so Walking Poles are a must have.

One other thing? Toenails slamming into the front of your boots, every step of the way. I know, right! Not something anyone cared to alert me to prior. As I write this page, a couple of weeks later, one blackened toenail is on it's way out, the poor thing.
Since then I've spoken to others who've also lost toenails on the Tongariro Crossing, sometimes multiple ones. I thought only runners got this condition, now I know otherwise.

One way round it would be to carry light, open-toed sandals to slip on for this section.

Down, down, down
I'm not saying this happens to everyone though. Heck, people ran downhill... effortlessly. If only.
I've decided to make a recommendation to DOC to turn this section of the Tongariro Crossing into a luge track. That would make it so much easier... and a whole lot more fun too. You can see by the pic above that it would be great for luging.
And if that doesn't happen and I want to walk this trail again, a helicopter on standby would be the way to go.

Of rumblings & running

Walking in native bush towards the bottom, a sign appears that reads along the lines of: if you hear any rumblings, do a runner. A runner! What do you mean do a runner? I've just walked 19km over volcanoes and now you're telling me I may have to do a runner.

It was obviously because of water and rocks blowing out of the Te Māri Craters. Grasses were flattened in places and smaller trees and shrubs had been smashed to pieces by one or more of the large rocks lying on the ground. And only recently too by the looks of it. It was like a war zone.

Tired or not? The slightest hint of a rumble and you wouldn't have seen me for dust. What? If the size of the rocks and the smashed shrubbery was anything to go by, you wouldn't want to be hanging around either.

After about 5min there was a collective sigh of relief at the next sign saying we were out of the danger zone.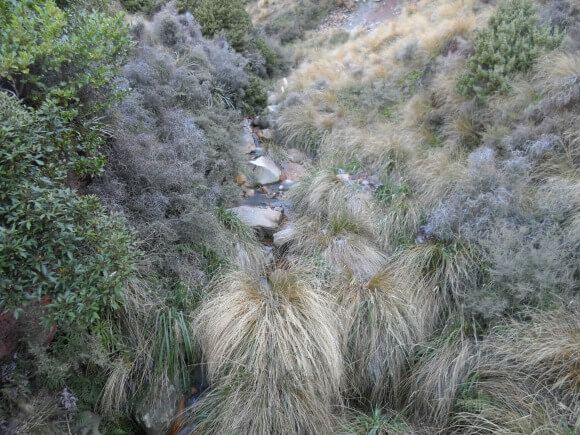 Tussock and native shrubbery on the track downhill
A short while later and we were finished. Done! Our bodies had stood up (mostly) to  the Tongaririo Crossing Test. It was so lovely to sink down onto a bench at Ketetahi Carpark, albeit rather briefly. 
Shuttles and buses were everywhere so we hauled our weary backsides up to go locate ours which would take us back to the car at Mangatepopo Rd (this has now changed as you will see below).
The driver laughed when telling us people are mostly seized up by the time they're dropped back at their vehicles. What a meanie. But it's true. And we were.

Tongariro Crossing Logistical Information

During the October - April high season parking is now limited to 4hrs at both Mangatepopo and Ketetahi carparks. This makes it impracticable to use them for the crossing. That leaves us having to pay for transportation usually in the form of a shuttle. Easy right? Not even!


View Rotorua to Tongariro Crossing Managatepopo Road start in a larger map