Mount Maunganui Walks

During this period of uncertainty, some local attractions, businesses, hotels and motels may be closed or have limited hours. Please check with the operator when booking. For those of you who cannot visit New Zealand due to border closures, enjoy a virtual visit to Rotorua. Hopefully we get to see you in person real soon. Stay healthy and take care! —Karen

Come with us on a fun day trip from Rotorua for sun, surf, sand... and sweat!


 The Mount Maunganui walking tracks, whether it's from the exertion of climbing or the stunning scenery, tend to leave one breathless. Pristine white sands? Tick. The requisite turquoise sea? Tick. Ho hum, how boring huh? Not even!
My niece Kerry had included, "walk up Mt Maunganui" on her bucket list so together with my brother Dean, we set off to do exactly that one fine, hot summers day. Did I mention hot?
Now before we get into it, this page is quite long, with detailed instructions on the tracks and getting to the Mount towards the end. If you're feeling tired, it might be better to bookmark it and come back later.


Okay, so, a one hour(ish) trip from Rotorua leaves plenty of time to walk up The Mount (or around the Base Track) plus... plus... you get to eat, swim and explore afterwards. How's that?
Enroute
To make a complete day of it, we'll complete a circular route.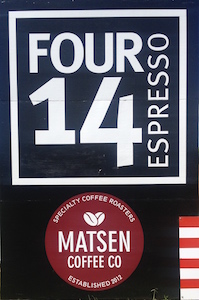 Leave early and take the Tauranga Direct Rd route which eventually changes to Pyes Pa Rd (all directions shown further down the page.) The road winds through bush, scenic gorges and rolling farmland before views open up all the way to Africa the coast and The Mount.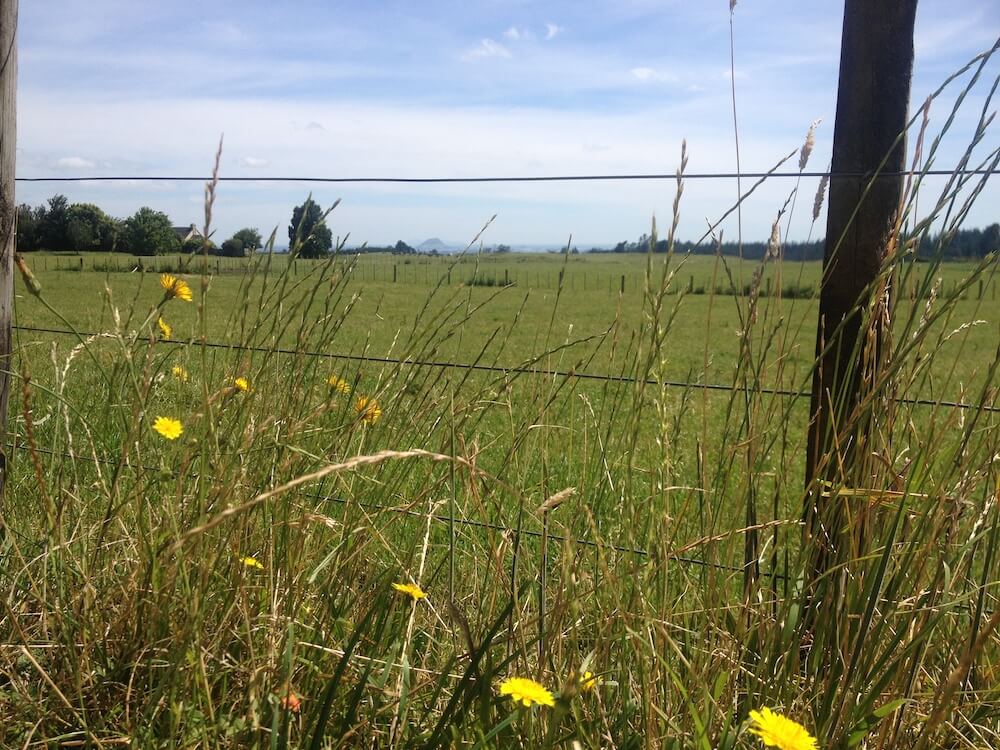 View from Pyes Pa Road to Mount Maunganui - tiny in the distance.
As the road begins to drop down, stop off at Four14 Espresso for a delicious breakfast or morning tea. (They roast their own coffee.) Look for the sign on the left. If you do this, you'll be well fuelled and ready to hit the track running. Joking.


The Mount - NZ

Mount Maunganui is a small seaside town jammed into a narrow peninsula, and I mean jammed. It's a popular spot so come the Christmas, New Year period, there is barely room to move let alone breathe (and that's why I avoid it).
On one side of the peninsula you have panoramic views of  an oftentimes wave-thumping ocean and on the other, a rather more restful Pilot Bay (perfect for families). Apart from the ships entering the Port of Tauranga harbour that is. Both sides are built out; mainly apartment buildings with only the odd private house left  as a reminder of bygone times.


Marine Parade is where it all happens in summer. And don't I know it. Guess where I used to spend each New Year's Eve when I was in the police force? You got it, on Marine Parade. Think, 5am on the 1st of the year. Police officers standing shoulder to shoulder the width of the road. A carpet of broken glass crunching underfoot as the line slowly shunts the last revellers off to bed. And only then heading back to Rotorua. (Maybe you remember those days?)

This was one of the major hot spots in the country (falling down drunkenness and general debauchery - you know how it goes) but in recent years, the powers that be have managed to make it a whole lot more family friendly.


The Mount Maunganui Walking Tracks

As for the Mount Maungani walks, you have a choice. You can either walk around the base of the Mount (Mauao) 45mins or, up to the summit 40mins, with a couple of routes to get there.
The next two pics (from the information boards) detail the Mount Maunganui walking tracks plus the map key with distances and times. I couldn't find any pics online with the level of detail shown here so, bad as my photography is, everything you need to know is included. Feel free to pin or copy if you want to familiarise yourself offline.


Base Track Around Mount Maunganui Walk

Distance: 2.9km
Walking Time: 45min

This track is suitable for all levels of fitness and for strollers too - I presume that would mean wheelchairs as well.
The track undulates around the base of The Mount in a circle. Even though it's the base, you still have to be careful because the track is relatively high at times. Enough to cause major damage if you fall onto the rocks below. Or scary enough if you fall into the sea.

Aside from that, it is a lovely walk that is well used by locals and visitors alike.


Waikorere Track to the Summit
Distance and Walking Time: See pics below

Kerry used Map My Walk on her phone so the following pics show our route.
As you can see, we started where we would eventually exit. The walk actually begins beach-side on the Base track. From there we switched onto the blue marked track.

At the intersection where you have to decide whether to take the shorter steep Waikorere track (green & yellow) or the longer supposedly easier Oruahine track (lavender & red), a kindly gentleman had this advice to give.
"The steeper track has a lot more stairs but is far better if you're fit enough. The longer route climbs gradually at first but it sucks you in because it ends up being just as bad." Say no more, steep it was - God help us!


| | |
| --- | --- |
| Map my walk up | Map my walk down |
Tip: Don't walk up around lunch time on one of the hottest days of the year - just because we did. Silly fools!
A good part of the Mount Maunganui walks are out in the open so the sun burns you to the bone and sucks the very life out of you. Ask me, ask Kerry, ask Dean. Oh, the blessed relief when you come to shady sections. (There were people running up and down too - shirtless. How the heck does that work?)
Other kindred souls found the heat a struggle too. We came across one tired young woman with her equally tired small daughter (5-6ish), taking a breather in a spot of shade. We joined them and chatted. The little girl, looking very woebegone, said she wasn't having a very good birthday which had us commiserating with her. I do hope her day improved.

We've taken children up in the past on the longer, (easier) track, and some didn't like that over much either. Maybe think again if you're contemplating the walk up with children. The base walk might be the better option.
Tip: Getting out on various walks for Rotorua Travel Secrets, I've begun to notice that quite a few children don't enjoy the hill/mountain walks, at all, and can get quite distressed. I know when the children in my extended family were smaller we assumed that they would like the walks, because we did, or that they would be good for them and dragged them along anyway. Literally. Go figure. Just something else to consider.


By the time we got to the top of our Mount Maunganui walk, our water bottles were being used to pour water on our heads in an effort to cool down. I think I've only ever done that once before and that was on a hot, hot, marathon walk.
The views? Totally worth it. All the way up. You'll find yourself spending time at the summit wandering around to soak in the different aspects. And to take lots of photos too.


As you can imagine, walking down Mount Maunganui was a heck of a lot easier. The majority of it was on the 4WD road if memory serves me correctly.
Once at the bottom, you can opt to visit one of the numerous cafes, take a dip in the ocean waves or Pilot Bay, wander along the boardwalk or have a swim at the Mount Hot Pools (Salt).
You can also jump in your car and head into Mount Maunganui proper to check out the numerous boutique stores. (Get onto Maunganui Rd again. When you get to the roundabout with Burger King on the left, park anywhere. It may require going around the block - a few times).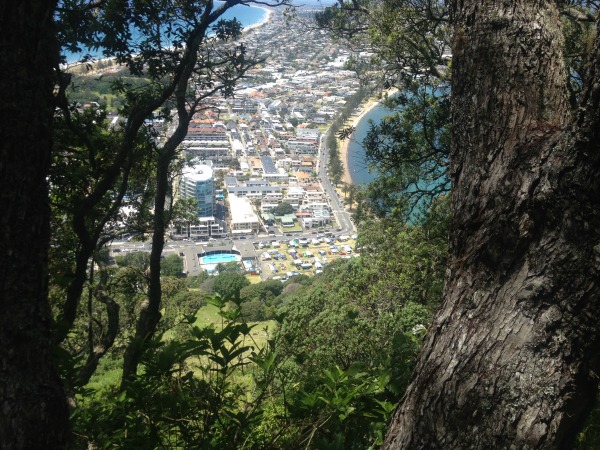 Looking down on the ocean (left) and Pilot Bay (right). The Hot (Salt) Water Pools are pictured lower center.
Directions to The Mount via Scenic SH 36

Distance: 70km
Driving Time: 1hr 10mins
From the iSite building on Fenton St, take a left at the roundabout onto Arawa St.
Turn right - when you run out of road - at the next roundabout onto Ranolf St (borders Kuirau Park) and continue straight through to the traffic lights on the bend, onto Lake Rd.
Next right-hand turn is at a set of major traffic lights where you will be facing large billboards. This road is Fairy Springs Rd. You will stay on it, past the Skyline Skyrides, past the Kaue Cemetery, through the roundabout (don't veer left on this as you will be heading off to Auckland) into the township of Ngongotaha.
Drive straight through staying on the same road (now called Ngongotaha Rd) SH36.
Continue on this road for quite a way, past (on your left) Dalbeth Rd, Oturoa Rd, Central Rd until you get to your turnoff, or should I say your veer off) onto Tauranga Direct Rd (stays as SH36). There's a tendency to reach this turnoff at speed so be careful, maybe even drive slower after Central Rd.
SH36 takes you all the way through to a major roundabout at Pyes Pa (there's two of these beforehand too) but you should be able to tell.
Take the 3rd turnoff onto Cameron Rd. This is a long, long, long road with craploads of traffic lights.

Turn left onto Elizabeth St, a major intersection.
Turn right at the next roundabout onto SH2 which is a motorway that takes you over the harbour. (I think getting onto the motorway here will stop you having to pay tolls, don't quote me on it though.)

Once you come off the bridge, look to turn left onto Totara St. Stay on this until you run out of road.
Turn right onto Rata St.
Turn left at the next roundabout onto Maunganui Rd. This takes you all the way to the Mount Maunganui township and a short way past this will be a T intersection that is at the base of The Mount mountain. Park up on the port or beach side, or as close as you can get depending on traffic and time of year.


Return Directions to Rotorua via Te Puke

Kiwifruit Country | Comvita (Honey) | Okere Falls

Distance: 79km
Driving Time: 1hr 6mins

Head back along Maunganui Rd through roundabouts and traffic lights for a long way. Past Mt Maunganui College, past Bayfair shopping center - unless you want to stop off there. It's a popular shopping mall. Keep on going, the same road becomes SH 2.
SH2 takes you all the way to and through Te Puke - a farming township.
(Update Sep 2016 - Kiwifruit Country has been bought out by a larger kiwifruit growing company. New name is Kiwifruit Country Tours and the site is moving to the main road, due to open 2016-17. Will update again once it's up and running). As you continue driving on SH2, you will come to a humongous Kiwifruit on the left, like 4 stories huge. That's Kiwifruit Country, another local attraction all about, wait for it, do you want a hint? You say, "Kiwifruit"? Yes! You get the prize. You might want to visit and you can do this by taking your next left turn onto Young's Rd.

Next up, SH2 will take a left turn but you continue straight on - the highway becomes SH33.
Drive a bit further and Paengaroa signs will appear. You can take a hooked left turn - where you see the petrol station on your right - and pop into the Comvita (Honey) Visitor Center which will be on your left. Try the products and get the lowdown on the honey industry.

Once you leave Comvita, go back onto SH33 and leisurely make your way back to Rotorua.

Oh yes, you might want to pop into Okere Falls for a short walk to watch whitewater rafters come down the rapids - if it's not dark by now. By this time you will be looking for your bed, it's been a big day.


Bus Service Rotorua ⇆ Tauranga

One of our readers, Mahmoud, asked me if there was public transport between Rotorua and Mount Maunganui so here goes.
Bus services have been sporadic to say the least. Various options have been trialled and cancelled so I can only presume it's cost-prohibitive.


---

Last Words of Advice
Take with you sunscreen, sunglasses, hats, wet weather gear, sturdy walking shoes, swimwear, towel, a camera, and a change of clothes in case you get too sweaty.
Showers and and toilets are located beach-side where you begin your walk and at the exit point too.

Finally, if you want to find out more about Mount Maunganui, as in attractions, what to do, restaurants and accommodation (in case you decide to stay over), you might want to check out
TripAdvisor
. I have set the filter to bring up Mount Maunganui's main page. Scroll down the page to see the top-rated restaurants and attractions.
All that's left now is for you to enjoy your day out. Have fun now.
---
Interested In Something More Restful Now?

Return to Top