The food is only a small part of what this blueberry winery, farm and orchard is all about though

You know how you have places in your hometown that you never get around to visiting? This was one of them for me. My daughter and I decided to go on a recce to see what this family owned and operated business was like. Our expectations were exceeded in some respects, not so much in others.
The Blueberry Cafe

I never knew there could be so many ways to serve blueberries in, on and over the top of. Like who would think to have blueberries with a cooked breakfast? I know, right!
At Mamaku Blue, blueberry chutneys and sauces are served right alongside the bacon and eggs.

Blueberries are served with the pancakes and crepes too, and then there's blueberry jam on hot toast or on the croissants and bagels.
The muffins are to die for as I mentioned earlier. That was enough for an afternoon snack but, I do have to go back to try some of the mains. Either the homemade Venison & Blueberry pie or the Lamb, Mint & Gooseberry Pie (yes, New Zealand gooseberries too). Don't they sound truly delicious?
Then there's the Berryfruit Desserts, I want to try those too. Yu-u-um. Vanilla ice cream lathered with hot blueberries, cream and a chocolate wafer biscuit. Or maybe the blueberry or gooseberry pies or crumble? I want to try them all.
I know, I'll have to go with a group and we can order everything. Then I can try the lot. How's that, my problem is solved. Have I mentioned elsewhere how much I like food?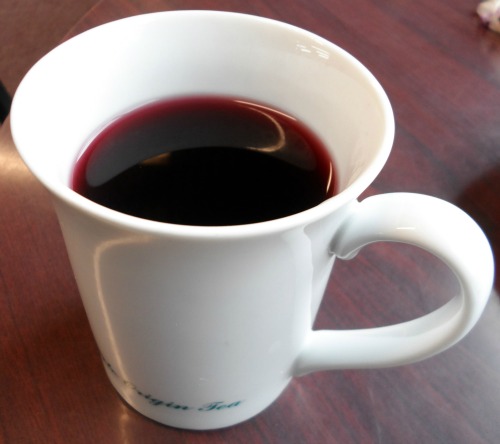 Super delicious Blueberry tea
I'm sorry to say it but there is a downside to the Blueberry Cafe. Keep in mind that this is about our experience, others may view it differently. I'll take it from a young persons (early 20's) perspective which also echoes my own. My daughter totally cracked me up with her description afterwards. She likened it to accompanying her Nan to line dancing in drafty old halls.

Weird old 70s tables and chairs, fluorescent lights, saws and souvenir spoons all over the walls and a radio out of the 40s; nothing to do with blueberries in her view and not inviting enough to call for a closer inspection.
"I'm sorry, did someone die here?" That's the feeling she got from the place. "There's no music or atmosphere." And "I go to this place with awesome food and feel like I've aged 100yrs." Finally, "I'm sure that everyone who comes here can see so much potential. There's no branding to match the awesome product (blueberries)."

Out of the mouths of babes.

The Blueberry Cafe
It doesn't end there though. When we arrived there was no-one around apart from a youngish couple. After a while a lady (she was lovely) turned up with what they'd ordered and showed us to a table. She took our order and disappeared.
The young couple didn't take long to eat their meal and left the dining area to pay before leaving. They waited for quite awhile and wandered around looking at the gifts in the meantime before the lady finally came back again to deal with them.
She brought us our order and disappeared. A deathly silence descended with just the two of us there but we engrossed ourselves with the fabulous food and looking out the window at the two resident donkeys.
Afterwards we had a good opportunity to browse in the gift shop because once again there was no-one behind the counter.

The Donkeys
I got the opportunity later to have a word with Anne Frost, one of the owners, about the above concerns. This is what Anne had to say.

"Mamaku Blue - although mainly a Blueberry Experience,  is also a "Memoribilia of Mamaku History," this is where the saws come in - it is also a family business and the spoons were all collected by my father-in-law, who was the one to collect the saws and all the museum pieces.
Many of our customers find the spoons really interesting and we get lots of comments about them and about how many spoons the customer has at home.

Also the saws do get a lot of interest - "Where did you get all these, I have one and thought I was doing well." But of course they are not of interest to everyone, and we do find the men are more interested in them, as well as the rest of the museum and old photos.
I do agree about the music, this is a situation I need to resolve when I have time this winter. We do have a lot of customers that love the peace and quiet and just looking out the window to see grass and animals - especially if they live in Auckland with noise all the time, and in the summer with more customers talking in the cafe it is not so bad - but if you are the only ones in the cafe it is rather quiet I admit. 
 I am pleased that the staff member on was lovely. The problem we have is that if we are quiet we have only one staff member on and another on call from the orchard or home. So you obviously struck a time with only one person on.

It is very difficult for that one person to be at the counter in the shop - and getting the lunch in the cafe. To have someone at the counter all the time, just in case, would not be financially viable unless we put all our prices up.  However you have given us the idea of putting up a sign at the counter with an explanation to the customer if one person is on by themselves."
Thanks for that Anne. As this is a family business - and not a very big family at that (3) - I can see how, at times, it's all hands on deck with the actual blueberries so it's something to keep in mind if the place appears deserted.
And also the fact that Mamaku Blue is about the history of the area. That probably makes it very appealing to history and memorabilia buffs,

Mamaku Blue Gift Shop

There are numerous blueberry products for sale and lots to taste too. Crackers are available to try the chutney's, sauces and jams. Mamaku blueberry and gooseberry wines, liqueurs and juices are available for tastings too.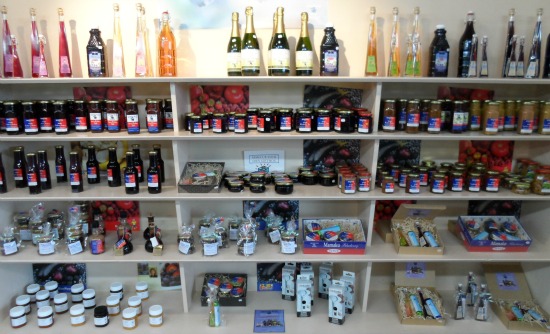 Gift shop selection
Something I found quite funny are the blueberry dog biscuits... random huh?

Dried mamaku blueberries and blueberry ice cream, I'm finding it hard to remember everything because there is such a selection. Oh yes, soaps. These would make a great gift.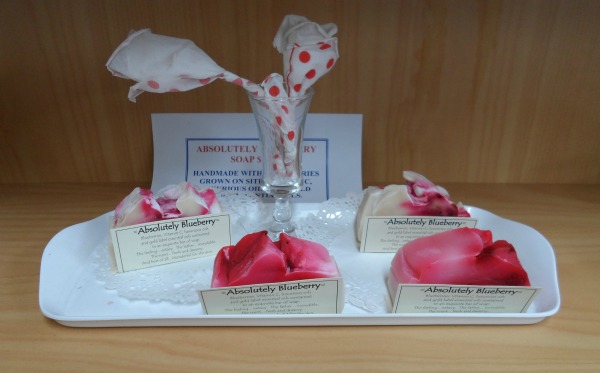 Blueberry Soap
Motaron Museum

The museum, in the function room, holds farm & forestry machinery collected over the years by the present owner's father. That explains the saws in the cafe.
A large photo collection, belonging to another local, documents the history of Mamaku over the last 100yrs. Mamaku is an old saw-milling area and there is a small township further along the road. Blink and you've missed it.

We didn't see the museum. One, because the room was in darkness and two, because I didn't know it was there. So much for doing my homework.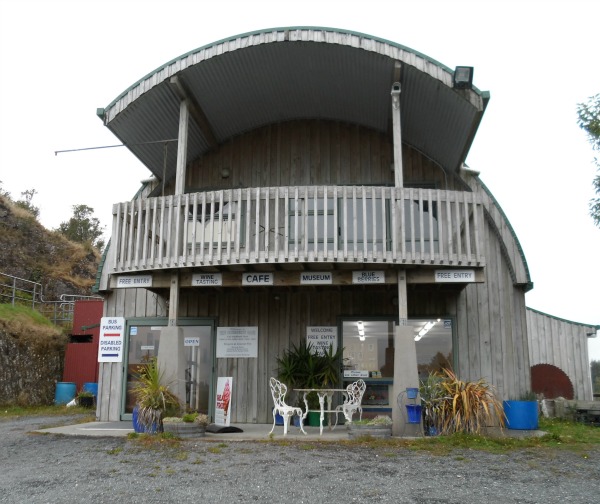 Mamaku Blue Cafe, Gift Shop, Museum
Orchard & Winery Tour | Farm & Bush Tour

Two tours are available both 1hr in duration. The tour guides are Harry and Phillip Frost, two of the owners. We didn't go on either of these as, once again, I hadn't done my homework and didn't know about them.
Both tours sound very interesting and from the reviews I've read people seem to thoroughly enjoy them. For Rotorua experiences the tours rate highly with reviews and testimonials.

On the Orchard & Mamaku Blue Winery Tour you get into the orchard and hear about the history of Mamaku Blue and what it takes to get the blueberries to the market. A visit to the packaging shed follows along with commentary on the exporting the blueberries. Also, a visit to the winery where you meet the winemaker and see what goes into this process. There's tastings too of the different products made.

Looking over the orchard from the cafe
On the Farm & Bush Tour meet some of the friendly farm animals, learn about the history of the Mamaku area and also volcanic features of the farm (including a crack in the ground caused by tectonic movement). Part of the native bush walk takes you through a popular wedding venue which is a bush cathedral.
For both tours a people-mover is available so you don't have to worry about walking all over.
Book: Blueberry Orchard & Winery Tour

In summary, I'd say the atmosphere of the building that houses the cafe, museum and gift shop leaves a lot to be desired, as does the lack of staff which is understandable after talking to Anne. The saving grace is that the food and selection of blueberry products is outstanding. And I suppose when it comes down to it, that's what it's all about really isn't it?

We're definitely going back again.

Contact Details

311 Maraeroa Rd
Rotorua
Ph: +64 7 332 5840
Fax: +64 7 332 5841
Email: winery@mamakublue.co.nz
Website: www.mamakublue.co.nz
Hours:
Summer 9am-5pm
Winter 9.30am-4.30pm
Closed Christmas Day, Boxing Day, Good Friday, ANZAC Day morning

Directions to Mamaku Blue

Located 15mins north-west of Rotorua, Mamaku Blue is easy to find. There's a big sign on SH5 pointing out the turn into Maraeroa Rd. From there it's about 3km along the road on the left.

View Mamaku Blue In A Larger Map
More Travel Planning Links