Top-Quality Cruise Excursions
Port of Tauranga to Rotorua Day Trips
During this period of uncertainty, some local attractions, businesses, hotels and motels may be closed or have limited hours. Please check with the operator when booking. For those of you who cannot visit New Zealand due to border closures, enjoy a virtual visit to Rotorua. Hopefully we get to see you in person real soon. Stay healthy and take care! —Karen


Cruise Excursions to Rotorua are a popular choice for passengers stopping in at the Port of Tauranga. Given that, it's no surprise the amount of tour businesses catering to this market. How to choose. Don't you hate that kind of dilemma? Sigh!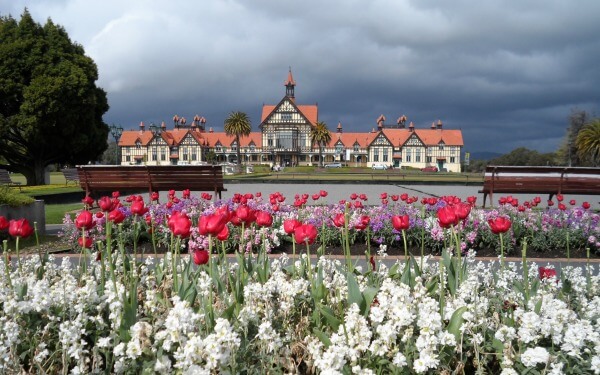 See the famous Government Gardens on a cruise excursion to Rotorua
I feel you. To help out somewhat, I've taken a good look at most of the Rotorua cruise ship tours and four companies stood out. That will save you some overloaded brain cells. And, you're welcome.
The tours have small numbers, are reasonably priced and, best of all? You will have professional driver/guides who know how to treat people well, are great at sharing their passion for our area and culture and, you get to see the best version of ourselves as New Zealanders.

What's more, for the free spirit, the lone wolf, the individualist - you don't miss out on cruise excursions either. A hop on, hop off bus service can accommodate you. And the driver gives an ad hoc commentary anyway so it's a kind of a tour. Let's begin with that.


---

Cruise Excursions to Rotorua via A Hop-on Hop-off Tour from Tauranga
When you want to do your own thing yet still want to visit Rotorua, hop-on hop-off is perfect, and it only costs NZ$99.00. Port pick up and drop off is included. Pick-up time is 9:30am and the duration of the tour is 7hrs depending on the timings of the cruise ships. Don't worry, your driver has plenty of experience with getting cruisers back in time. 
5 drop off points take in 12 of our main attractions and... you get discounted entries too. Your bus will circulate the points four times throughout the day.

The drop off and collection points are:
Te Puia thermal valley and the famous Pohutu Geyser (Whakarewarewa Living Thermal Village is within a 5 minute walk)

Rotorua Information Centre in the middle of town. It's handy to jump on other tours not covered by this one and, you can stroll through Eat Streat to the Lake Front

Polynesian Spa and pools located in the Government Gardens along with the Rotorua Museum of Art & History and the Blue Baths

The Lakefront where you can ride a jet boat or take a helicopter flight. A 10-15minute walk takes you to Ohinemutu with the Tamatekapua Marae and St Faiths Anglican Church. It's also close to Eat Streat with numerous cafes and dining options

Skyline Skyrides is for luging, ziplining, a sky swing and mountain biking. Next door is Rainbow Springs Kiwi & Wildlife Park. A 10 minute walk along the road takes you to OGO Zorbing
This isn't the half of it because you can be dropped off for white water rafting or zip lining with Canopy Tours too. Phew! What are you going to squeeze in? Decisions, decisions.

(If you take a look through my website you'll see pages about all these attractions. Drop me a note if you want to ask any questions.)
This option is not well suited to persons unable to use stairs - climbing on and off a bus.

More info and book your cruise excursion ≫


Elite Adventures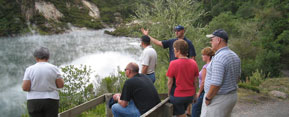 Elite Adventures cruise excursion - Trent's the one with his arm extended
You decide - We guide is the motto of Elite Adventures. The thing is, how do you decide when there are so many activities that should be on a 'must do' list for Rotorua.
No need to worry because these guys, Trent Neilson and team, are Rotorua locals. Taking into account your preferences, Trent will advise you accordingly. Think - customised.
Elite Adventures are experts when it comes to Rotorua and our geothermal parks if that is where your focus lies. Learn about the geology, flora and fauna, and much more besides.

Testimonials include:
Cruise excursions cover a full day tour by minivan with pick up and drop off at your ship. Costs are:
NZ$750 for 1-5 Adults or 2 Adults and 3 children. Can take up to 10 but a charge of NZ$50 applies to additional passengers.

Request a quote for larger groups

Entrance fees for the attractions is additional to your tour price.
Elite Adventures is Qualmark endorsed for Visitor Activity. As well, TripAdvisor has awarded this company with a Certificate of Excellence (for consistently earning great reviews).

Excited? What are you waiting for, contact Trent with any questons or make a booking at Elite Adventures. 


Archer Tours

Jim Archer heads up Archer Tours and his testimonials speak volumes about the type of service he provides and the type of person he is, eg.
…we had such a great time due in no small way to you, Jim.

… He has the ideal mix of friendliness, knowledge, history, and connections that will make any tour you take with him one to remember.

You have made our New Zealand experience such fun. Have you considered 'stand up comedy' as a third career?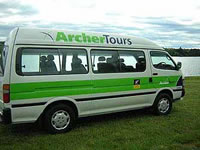 I don't know why it is but māori people seem to have a natural affinity with humour. And that's the way it is with Jim. Guess you're in for a fun time.

Jim offers 7hr cruise excursions to Rotorua at a cost of NZ$170 per person with pick up and drop off at your ship. Spacious, modern, air-conditioned vans are used with a maximum of 8 passengers.

You will be shown the best of māori culture along with our world famous geothermal activity - including the smell. By the way, the entrance fee into Te Puia is included in your price, (this is a premier NZ tourist attraction).

Archer Tours is a Tourism New Zealand member and Qualmark endorsed which is a great vote of confidence. See more at Archer Tours.


Xquizit Limousines

Rotorua locals Anne and Brian Norton own this business.  Since setting up in 2004, this couple have steadily built up a good reputation amongst both locals and travellers. Check out the testimonials:
From Kiwi 360, Rainbow Springs, Te Paui, surrounding Rotoura to the Blue & Green Lakes, our day trip off the Dawn Princess was absolutely wonderful

...we had a great day and were very impressed with your service and the concern you had for Karen and her bad knees


On behalf of Make-A-Wish NZ I would like to thank you sincerely for your assistance with Jayden's wish. The one huge highlight for Jayden was being picked up from home and the airport by one of your limos… The limo rides have also added to the wonderful memories the family have from Jayden's special trip.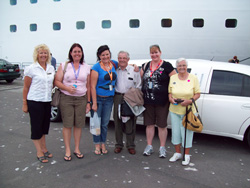 Xquizit Cruise Shore Excursions - That's Anne on the far left
Anne is a wonderful, caring lady, easy to get along with and the type of person who would help anyone. You're in safe hands with her.

For cruise ships, tour options range in price from NZ $100 - $190 per person (includes entry to some attractions). Vehicles used are mini-vans (max. 11 passengers).
You can also enquire about using the stretch limousines or a private tour in an Executive Sedan.

Just imagine swanning around in a Limousine, how cool is that? Unless that's your normal - said dryly with an eyebrow arched your way.
Exquizit Limousines is endorsed by Qualmark for Visitor Transport and Visitor Activity.
PS. You get complimentary bottled PURE NZ water and sunscreen.

See more about cruise shore excursions or enquire at Xquizit Limousines.


Tauranga Tasting Tours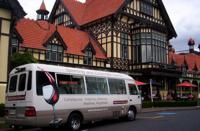 Tauranga Tasting Tours & Charters were finalists in the People's Choice Awards, 2010, which is determined by the number of positive reviews.
Owned by Tauranga locals Paul and Lyn Marston this is another small family operation. Paul is one of the drivers along with Sue, an ex Language School Principal. Lyn, who doesn't drive, speaks French and accompanies the tours if they require an interpreter. Handy huh? They also get in other trusted drivers when needed.
Check out their great testimonials:
"We got excellent service and enjoyed the tour of the volcanic geyser, boiling mud pools, Maori show, lunch by the lake in Rotorua, Kiwi 360 and saw Tauranga. Not bad for 6 hours !!!"

"…his knowledge and friendliness were fantastic and he took us to heaps of attractions and we could plan the day or go where Paul recommended which was what we did."

"We had pre-booked a tour with Tauranga Tasting Tours & Charters before our trip to New Zealand. I really appreciated how easy it was to communicate with them - they always responded promptly to e-mails."
The cruise excursions to Rotorua begin with travel along the gorgeous waterfront of Mt Maunganui before heading inland to Te Puke, the Kiwifruit capital. You get to taste Kiwifruit wine there, yum.
Okere Falls is the next stop with a short walk into the bush to get to the falls themselves. This is one of the major white water rafting falls in the Rotorua area.

Then it's off to our Museum in the Government Gardens followed by the māori cultural centre at Te Puia, then… lunchtime. Phew, you'll need it after all that.

Lunch is at a cafe in a lovely spot overlooking Lake Rotorua and Mokoia Island (My one gripe? Aside from the view, this place is over-rated and over-priced - if it was me, I'd be asking to be dropped at Eat Streat where a great selection of restaurants and cafes can be found. Buy something to take away even and stroll back to the Lakefront to eat it). I hope they don't kill me for saying that.

Once lunch is over it's about time to wend your way back to the ship.

Tauranga Tasting Tours may reverse the order of their cruise excursions because of booking times at Te Puia. Also, if you prefer to visit other venues it can be arranged with the driver.
Including pick up and drop off at the ship the cost is around:
NZ $100.00 per person (Children $75.00)

NZ $1,000 to hire the

19 seat passenger vehicle

(round up those passengers)

6-7 seater van at $500

A Mercedes for passengers who prefer privacy.
NB: Entry fees to Te Puia or the lunch cost is not included.

Tauranga Tasting Tours & Charters has Qualmark Endorsements for Visitor Activity, Visitor Transport & Visitor Service. Fantastic!
See more at Tauranga Tasting Tours & Charters ≫


---

You'll be hard pressed to go wrong with any of the cruise excursions mentioned here so, have an exciting time on your cruise to New Zealand (I bet you can hardly contain yourself) and I look forward to hearing about your wonderful visit to Rotorua. Make sure to pop back now. :)


Spots you might enjoy visiting
Return to Top