From the carpark, information panels are handily displayed at the entrance to the dual purpose walk/bike tracks. Learn about the history of the local tribe, the mountain itself (Māori name Maunga Kakaramea), the area, Te Ara Ahi national cycle trail, nearby attractions and also places to stay and camp.

Panels are displayed at various points of interest along the tracks too.

Rainbow Mountain carpark entrance to the thermal reserve. See the Te Ara Ahi bike trail marker to the left (blue)?
1. Crater Lakes Walk/Bike

500m one way - An easy half-hour sees you out and back on this short 500m (one-way) walk to view two crater lakes (that haven't even got names) set against ochre coloured cliffs. The main crater lake is stunningly emerald in colour - photos plastered all over the web - the other didn't have too much water in it at all.

Rainbow Mountain's emerald coloured crater lake.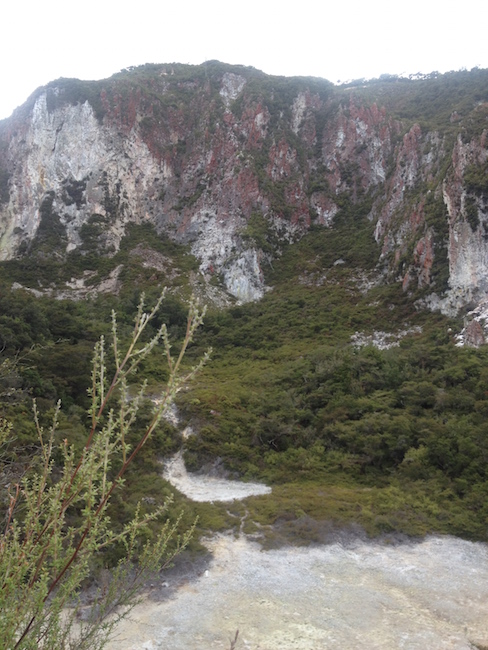 Ochre coloured cliffs off-set the emerald crater lake.
2. Crater Lakes to Te Ranga (Kerosene Creek)

3.5km - Continuing on from the previous walk, the trail takes you past numerous thermally active areas. Look for the steam and stunted growth of the flora. You'll come to a left turn that is the beginning of the Summit Track walk. Take that if you want to or continue on this walk.

Stunted flora
It's not too strenuous because it meanders along the lower slopes of Rainbow Mountain. And guess what? It takes you right through to Kerosene Creek. You can have a soak in the thermal waters before returning to your vehicle. Alternatively walk out and back then drive to Kerosene Creek. That's what we did.

3. Summit Track Walk/Bike (Te Tihi o Ruru)

3km | 1hr 30m one way - It's onwards and upwards for this walk or bike hike. One thing I like is how the terrain has steep parts to it that initially, are relatively short with nice recovery periods in between. Notice I said initially? Yep, it got a lot steeper toward the top. In saying that, you just have to do it at a pace that is comfortable for you. Stop to admire the scenery… or to have a drink of water - not that you're stalling of course.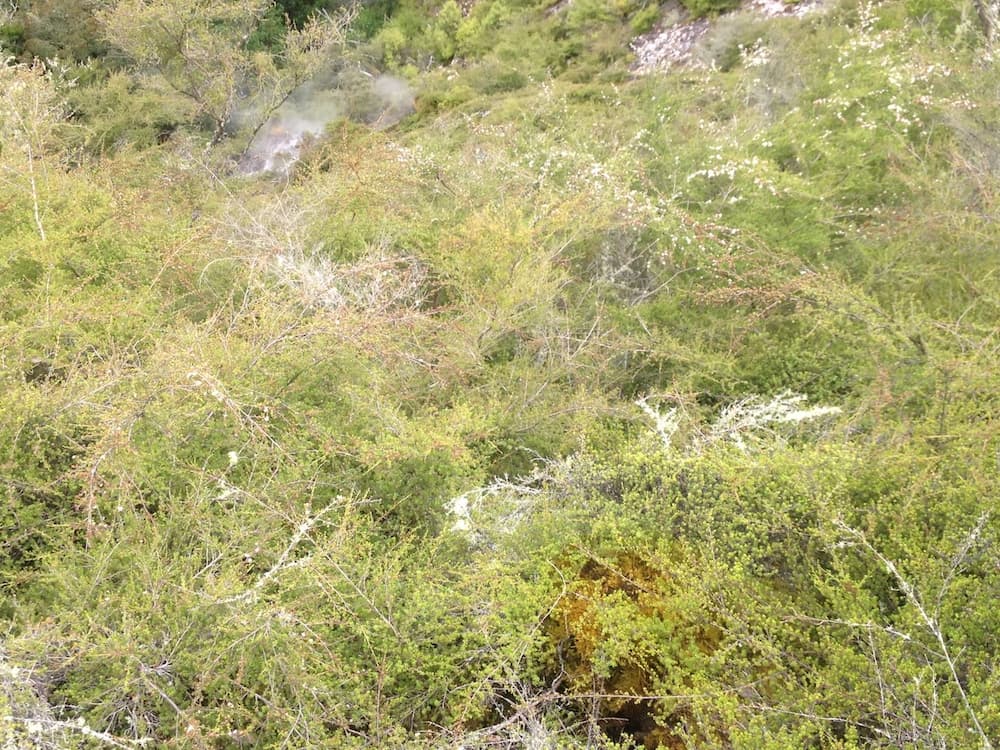 The stunted flora and steam rising out of the ground..
Because of Mt Tarawera erupting in 1886, this area took a major hammering. The bush is still recovering from it but one small area is believed to have escaped the wrath of mother nature. Steps take you down to view a crater that contains "a number of mature trees and species not present elsewhere on the mountain".
Not that there's a whole lot to see. Just trees. We were trying to see if we could see the bottom but no luck with that.
Until at least half-way up, the ochre flecked ground is rocky underfoot. Do I need to tell you to watch your step? I don't know how many times I tripped on the way up. (Lift your feet Karen).
Here too, the vegetation is scrubby looking (as I always seem to think of it). It's very interesting to learn from the info boards how the native plants have adapted to the geothermal conditions. They're tenacious little buggers.

From hereon out until nearing the summit, the terrain changes to more lush forest growth which is lovely, peaceful and cool on a hot summers day.

Regenerating forest towards the summit
Once you arrive at a gravel road you're just about at the top. It takes you most of the way up and then there's a short track to finish your ascent.
This is when it would be great to have a cloudless sunny day. If that's the case, you will see Mt Tarawera, Lakes Tarawera, Rotomahana, Okaro and Rerewhakaaitu to the north. Look south to see Lake Taupo and the fantastic volcano Mt Tongariro plus other landmarks you will learn about. As you can see by the pics I took, it was quite hazy.

View from Rainbow Mountain to a brooding Mount Tarawera, Lakes Tarawera, Rotomahana and Okaro (nearest).
Descent is by way of the same track you came up (unless you're on a bike - more on that further on). At least on the way back down I did better than my niece Kerry. She tripped but went all the way by fully face-planting. It was lucky we were in the softer underfoot forest section. My brother and I cracked up laughing because she was covered in leaves, twigs and dirt.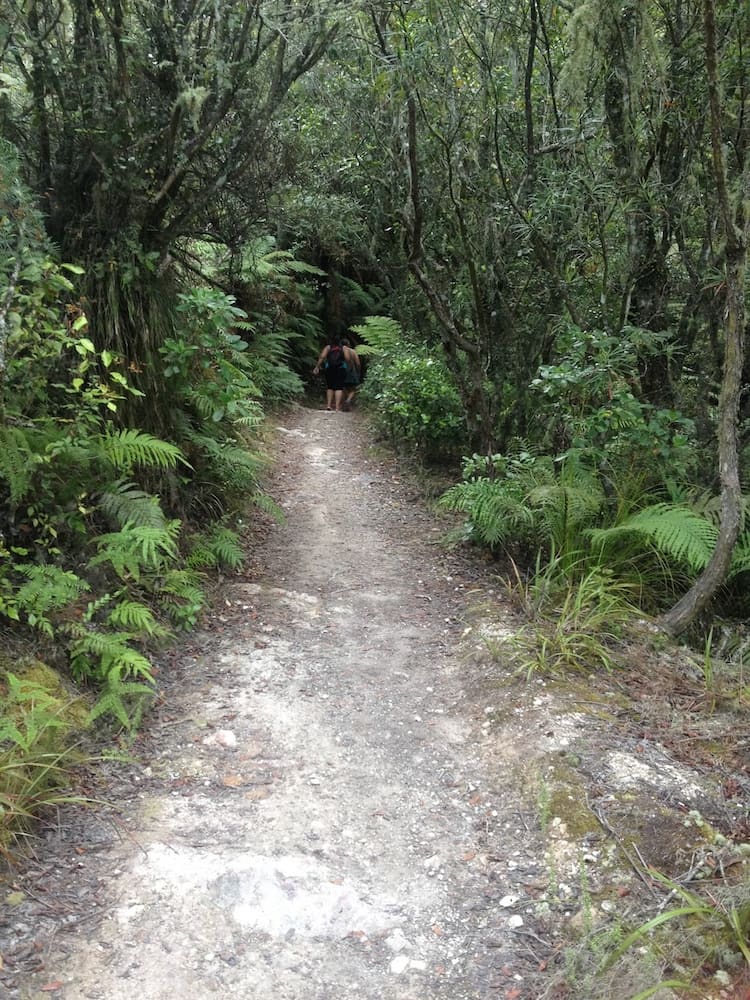 Regenerating forest towards the summit
Anyway, on the way down we met some young guys (17-18yrs) biking up. Were they doing it tough! The last few, looking extremely hot and bothered, were walking. (No hope for me then.) By chance, a couple were pupils at a local high school my brother taught at. He was quite impressed to see them out there. I don't know how people can bike up because it's so wickedly steep in places. You almost need to be a mountain goat.

Carrying on down; once you arrive back at the lower intersection, turn (l) to continue on to Te Ranga (Kerosene Creek) or (r) back to the carpark.

For bikers, there is a requirement to return downhill via the Te Ranga trail. You will see it sign-posted next door to the trail we all exited onto the gravel road on our way up.

This is a steep (advanced) track so newbies to the sport? Don't even think about it. You have been warned. The exit is at Kerosene Creek. Done!
Directions to Rainbow Mountain

26km (20mins) from Rotorua's i-Site Visitor Info Center - head south on Fenton St past Te Puia (about 2km). The road changes to become SH5 and this will take you all the way. The entrance is on the left just past the the turnoff to SH38 (Murupara). On the right side of the highway is the small scenic Lake Ngahewa.

Suitability

The bottom track to Te Ranga is an easy(ish) walk. Starting off it's up and down and underfoot is rough in places. It wouldn't be suitable for people with mobility problems I would think. Children would likely be okay with this walk.

The track to the summit on the other hand, would require a good level of fitness. Once again, it's rough in places. I don't think children would like it unless they're used to climbing... high.
Take with you the usual sturdy boots/shoes, layers of clothing, a hat/cap, sunscreen, first aid gear. And, let someone know where you are. Most important.

Food & Drink

Bring your own as there are no places to eat in the immediate vicinity. About 5min. further south on SH5 by the turnoff to Waiotapu, there is the Waiotapu Tavern on the right-hand side of the road, also a petrol station with a cafe that sells an assortment of food and drink... and Arataki Honey. Apart from that you can return to Rotorua.

Toilets
Eco-toilet
To finish off, the site has a roomy eco-toilet just inside the entry portal. No handbasin though. Take some handy towels and/or sanitiser.

References:
(DOC) Dept. of Conservation website and information panels.


---
More Activities to Enjoy in This Area