Kerosene Creek, Rotorua
Head off full of anticipation. Return feeling like a wrung out dishcloth, ready to topple into bed. Hmmm. That doesn't sound very appealing does it? I think I need to work on my descriptive writing skills a bit… ok, maybe a lot.

Anyway, Kerosene Creek is a well-known hot water stream located in a bush setting south of Rotorua city. After parking up on the side of the gravel road, a short walk through the bush alongside the hot water stream takes you to a wonderful little waterfall cascading into a naturally formed pool.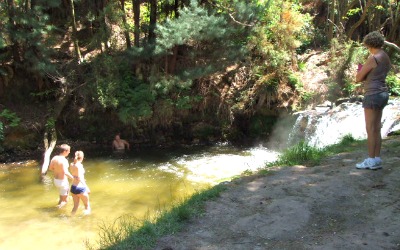 Visitors getting ready to have a swim at Kerosene Creek, Rotorua.
Did I say sublime? No? Well, anytime I get into thermal water it is sublime and being out in nature takes it into a whole other realm. I don't know why, but I think it must be a human condition to be drawn to natural settings, and this one takes some beating.
People love Rotorua pools that are thermal in nature and return time and again. The waters ease aches and pains. All you are left with is a wonderful sense of wellbeing that carries over to the next day.

A side view of the main swimming hole at Kerosene Creek, Rotorua
Temperatures range from tepid to hot depending on rainfall I presume. I find moving around in the water creates nice variations of heat. Anywhere in the stream either side of the waterfall pool that looks like a nice spot to sit is great as well.

It's ok to take along wine or beer to sip on as well as a picnic if you're there during the day, but make sure to take away your rubbish.
Apparently a number of people don't which spoils it for everyone. Who wants to bathe in amongst other people's rubbish, especially when it's broken glass in the water? They must be thick is all I can say.