During this period of uncertainty, some local attractions, tour operators, businesses and places to stay may be closed or have limited days and hours. Please check with the owner/operator when booking.—Karen

Kerosene Creek, Rotorua

This place is so not a secret anymore

Kerosene Creek, Rotorua - This is the best place to have a thermal swim out in nature, and BONUS… it's free. It's a bit of a mission to get there but it's well worth the 30min drive.
Head off full of anticipation. Return feeling like a wrung out dishcloth, ready to topple into bed. Hmmm. That doesn't sound very appealing does it? I think I need to work on my descriptive writing skills a bit… ok, maybe a lot.


Anyway, Kerosene Creek is a well-known hot water stream located in a bush setting south of Rotorua city. After parking up on the side of the gravel road, a short walk through the bush alongside the hot water stream takes you to a wonderful little waterfall cascading into a naturally formed pool.


Visitors getting ready to have a swim at Kerosene Creek, Rotorua.
Did I say sublime? No? Well, anytime I get into thermal water it is sublime and being out in nature takes it into a whole other realm. I don't know why, but I think it must be a human condition to be drawn to natural settings, and this one takes some beating.
People love Rotorua pools that are thermal in nature and return time and again. The waters ease aches and pains. All you are left with is a wonderful sense of wellbeing that carries over to the next day.

Temperatures range from tepid to hot depending on rainfall I presume. I find moving around in the water creates nice variations of heat. Anywhere in the stream either side of the waterfall pool that looks like a nice spot to sit is great as well.

It's ok to take along wine or beer to sip on as well as a picnic if you're there during the day, but make sure to take away your rubbish.
Apparently a number of people don't which spoils it for everyone. Who wants to bathe in amongst other people's rubbish, especially when it's broken glass in the water? They must be thick is all I can say.


Safety Considerations

There are a few things to be mindful of at Kerosene Creek, Rotorua. At the top would be the fact that this is an isolated area so maybe don't go there on your own.

When I was a teenager our whole family would go to Kerosene Creek for a swim. Mum and Dad would go further upstream as my mum was a bit shy with her fair european skin (mostly māori people used it then and as you probably know, we are brown so she stood out like a beacon).

One particular day my brothers and I were in the pool and a group of older guys turned up. I started getting bad vibes so went upstream to join my parents. Shortly after, these same guys appeared out of the bush. Once they saw my dad they got stupid grins on their faces, turned tail and went back to the main pool. Gross huh?


Another thing is to make sure no valuables are left in vehicles; especially wallets, passports, travel documents etc. Get a hold of a waterproof pouch of some kind that you can keep close. They are available as I have seen them around.

Periodically there will be a run of vehicles stolen or broken into at this location so better to be safe than sorry. I know I must come across as paranoid at times in my musings, it's probably the result of being in the police for so many years and seeing the impact these types of crimes have on people, not to mention the inconvenience.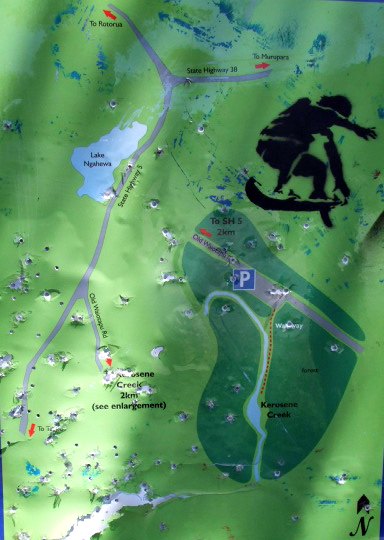 A pic of the shot up sign at the Kerosene Creek carpark
Also, if you are not open to people bathing naked, you may not want to swim here as a lot of them do. Once in the water everything is obscured so it's just on the entry and exit that people are exposed.

Last on the list would be to keep your head out of the water. Amoebic Meningitis which is caused by amoeba living in hot pools, although rare in New Zealand, has occurred in the past with death resulting.

The amoeba enter the body via the nose (more specifically, water that is forced up the nose) and travels to the brain where it creates havoc.


Commercial operations have to treat geothermal waters to meet safety standards (chlorination that kills the amoeba) unlike natural outdoor geothermal pools which is where the risk is posed.

It's quite safe if the small precaution of keeping the head above water is taken.

I do hope these safety considerations haven't put you off going to Kerosene Creek, Rotorua. Maybe that's how it was kept secret for so long huh? ;)


Getting There

Head south out of Rotorua city via Fenton St or Old Taupo Rd onto SH5 for about 27-28km.

Clicking to the larger view of the google map will take you to a new page with the travel directions. You will pass signs for Tamaki Māori Village on your right and also Tumunui Rd, on the left will be SH38 to Murupara and Kaingaroa. At this junction you can also see Rainbow Mountain on the left.

There is a nature walk on this mountain as well as an advanced uphill mountain biking track which I haven't done yet. You can find out more about this on the DOC website.

It's not far now so start looking out for a sign saying Old Waiotapu Rd on the left. The google map is wrong as it says Waikaremoana Rd.

Drive down this gravel road about 2.2km. In front of you the road should have a gate across it and on your right you will see a bare carpark area with three signs (they're maps) if they haven't been pulled down. Park here and look for a track into the bush. Follow it for maybe 3-4 minutes and the waterfall and pool should come into view and... enjoy.


View Kerosene Creek, Rotorua, New Zealand in a larger map
Parking & Toilets

Parking is on the side of the road as mentioned. An eco toilet is now located across the road from the parking area.


---

You may also like...

Return to Top
---