Rotorua Redwoods Treewalk Plus Plus

The Redwoods Treewalk is a fun family activity that is affordable, easily accessible, and kind to the trees. Located at Rotorua's Redwoods, what's normally an earth bound perspective of the world is upended with a walk on the high side, through the canopy of a time-worn, yet still majestic Redwood forest. Now there's the addition of the Redwoods Nightlights Treewalk, and for those who like life a little spicier, the Altitude Treewalk.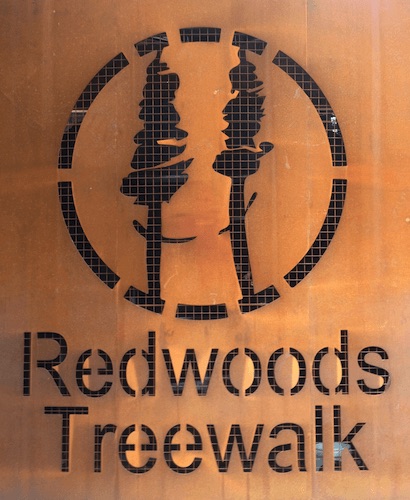 Initial Reservations

When I first saw the original Treewalk as it was being built, I admit to having had reservations about it.
Why would people want to pay to do that when Canopy Tours offers so much more - in my view - with native trees up to 500yrs old, bird life only found in New Zealand, ziplines, swingbridges, 22m high tree platforms, and conservation at it's best. Granted it's pricier but it's also a 3hr experience and part of the ticket price is set aside for the conservation efforts of this eco-friendly business.

Rotorua Redwoods Treewalk Entrance
And then there's the perfectly great Paradise Valley Springs Treetops Canopy Walk. Not only is it in a beautiful, native rainforest setting but it's a fascinating learning experience as well. It only costs $2 more than the Redwoods Treewalk yet there's so much more substance included. New Zealand wildlife, fish, the pride of lions, springs, and the setting is tranquil and away from the busyness of everything.
Add to this the fact that Redwoods aren't even native to New Zealand and I did wonder.
So why?

Ground view of Treewalk crossing over top of the carpark
The only conclusion I could come to is that it caters to a market that wants an affordable activity, quick to get to, a short time commitment (30min for the walk) and easy for families to do, i.e., there's no learning curve.
All you have to do is climb a set of stairs and you're ready to walk the circuit of 23 suspension bridges, measuring 553m in length, that gradually incline from 6m to 12m.
Okay, now that I get. (Patience grasshopper. I'm weighing up the pros and cons to myself as I write.) If this sounds like you, great. It's perfect.
And this is not to take anything away from the Redwoods Treewalk because it does have wonderful views of the forest, gorgeous in and of itself from whatever angle. If I was less than sold on the idea initially, once I read the back story of the creator, it did change my opinion.

Rules & Map of Redwoods Treewalk
Redwoods Treewalk Backstory

Long story short, Alex Schmid, a German tourist visiting Rotorua, fell in love with the Redwoods (and doesn't everyone). But he took it a few steps further. 
As a mechanical engineer, Alex had been involved with the building of treewalks in Germany and was inspired to do the same here, to share his passion for the Redwoods with others. Alex's feeling about the forest was so great that it prompted him to leave his homeland (after talking his wife into it - I wonder how that conversation went and how long it took) and to settle in Rotorua. 6yrs later, it's all history.
Don't you love a vision like that? A vision that compels you to do something so big you're prepared to do just about anything to make it come about. When I learned that he loved the forest just like we all do, that's what sold me.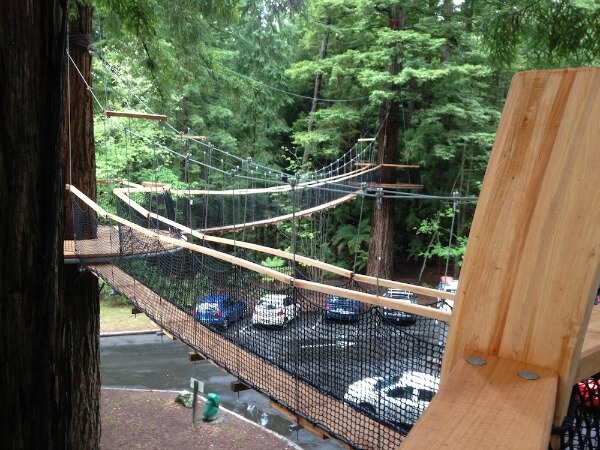 A bird's eye view from the upper platform
It is a novel experience to walk amongst the treetops no matter what type they are. And who am I to say that one treewalk is better over the other. Each is unique and what's neat is, there's one to suit everybody depending on time constraints, budget, etc.

Best Thing?

It's only a short 5 minute drive from the city centre.  All you have to do on arrival at the Redwoods is to park up, purchase your tickets in the on-site Redwoods Visitor Centre, take a few steps and you're soon high up in the canopy of the forest.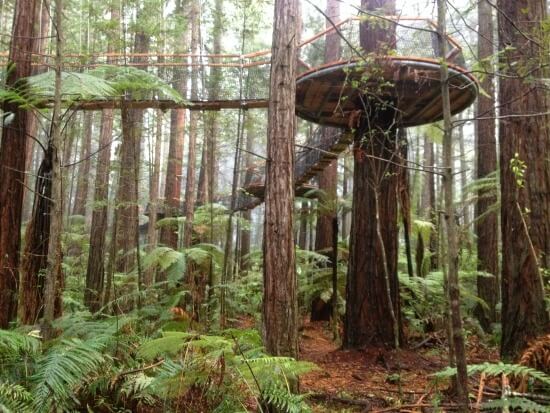 View from the walking track below.
Best Time to Visit?

When it's raining of course. Yes, really. That's when the forest puts on its prettiest party dress.
Tree leaves and ferns take on an intense emerald sheen, gossamer threads of spider's webs glisten with the finest of raindrops, and the scent of life dying and being reborn, layer upon layer, year upon year, compels a person to breathe in deeply, to capture that essence which makes one feel alive and oh so energised. It can be quite a mystical experience at times.

Cost & Hours

Purchase tickets at the Visitor Centre (right next to the Treewalk). This is where you will find toilets too.

Redwoods Treewalk or Redwoods Nightlights
Adults: $39, 5-15yrs: $24, U5yrs: Free
Family: 1 Adult & 1-3 Children: $79 and 2 Adults & 1-3 Children $109
Local prices available with id and proof of living in Rotorua

Hours
9am-11pm with last ticket and entry at 10:30pm
Special Rates
Groups, schools & private tours available on request

Directions to Redwoods Treewalk

The google map below shows you how to get to the Redwoods Treewalk - it's easy. Markers pinpoint places handy for eating and where to get off if you catch the local bus out (involves a 5-10min walk to the Redwoods).

To Rotorua Redwoods Treewalk
More you might like...

Return to Top