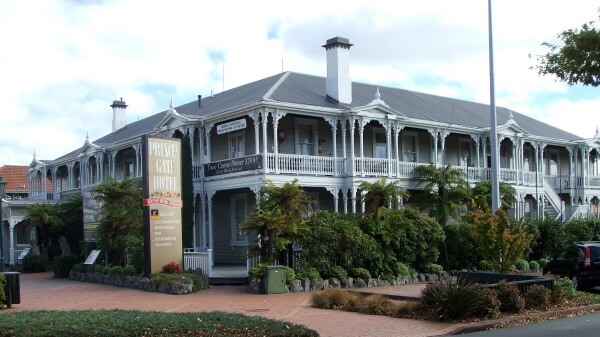 Princes Gate luxury accommodation in Rotorua
It makes sense then that Princes Gate has fireplaces. And that it's part and parcel of the whole, timeless atmosphere.

History

Originating out of the gold-mining township of Waihi in the late 1800s, it was brought to Rotorua in pieces in 1917.

In 1986, Rotorua locals Brett and Vlasta Marvelly sold up everything, including the car, in order to purchase it.
Going on for 30 odd years later and the Princes Gate Hotel is an award-winning Rotorua icon. The work the couple put into this place was phenomenal. But, like all good things, times change. The Marvelly's eventually moved on to other things. The new owners don't seem to have changed much so hopefully it maintains the reputation hard-built by the Marvelly's.

Area Located

Located in the central city, it fronts the main entrance to the Edwardian Government Gardens. Added to this is Rotorua's Elizabethan styled museum which is housed inside the gardens. They sure knew how to mix it up back then, didn't they? Combined, the area's sense of olde-world charm is magnified and the sense of times gone by lingers.
The character of these old building styles sure takes some beating. Compared to the starkness of modern buildings I don't think there's any comparison.

Current Offerings

The Princes Gate offers 50 accommodation options. Rooms, suites, adjoining suites, and apartments. No two are the same.
Lavishly appointed furnishings ooze decadent luxury rich in colour, texture and pattern. It's a stylish assault on the senses that makes one want to either run screaming or revel in it, bathe in it.

Not only is it tailor made for quiet, romantic getaways but families aren't left out either. It's suitable for anyone wanting a central location that is handy to restaurants, shopping, the Lakefront and Government Gardens, as mentioned above.


View from the Government Gardens
Princes Gate Hotel
Cabarets & Dinner Shows

Cabarets and Dinner Shows are a regular feature too. Many people return time and again for these fun events. What makes it even better are the packages that include a combination of dinner, entertainment and accommodation.
Just so you know, you never know who you will run into at this hotel. The who's who of Rotorua and New Zealand fine arts, show biz and business congregate at times. Party time?

Historical Places Trust Award, Rotorua Best Visitor Award, Rotorua Best Business Award and People's Choice Award. Kind of sums it up nicely.

The Monarch

It wouldn't be complete without telling you the rest of the story. As the business grew up, it spread out over the years.
Looking for an intimate wedding venue in Rotorua? Take a look at The Monarch (scroll down the page that opens), another property purchased by the Marvellys.
Situated around the corner from the hotel, this cute place is used as a conference and wedding function center, formally catering up to 130 people.
Parties can stay at the Princes Gate which means, hola! No worries about drinking and driving. Perfect!

Location

1050 Arawa St
4.5 star
50 rooms & suites

Compare prices and read what other travelers have to say about Princes Gate Hotel

Features
Free & paid wifi
Free parking
Sky TV
Tennis court
Plunge pools
Private thermal pool
Sauna
Restaurant
Bar/Lounge
Meeting facilities
Airport Transport
Laundry & Drycleaning services


Activities you might like in this area—

More Accommodation Options