To make it a breeze for you I've created an eBook series of inexpensive, self-drive tour guides that will help you and your family to explore like never before.

Each guide sees you visiting 5 secret locations (secret from you that is, you'll see why shortly) taking in rumbling thermal activity, swift flowing rivers, places where you can slip back in time, playgrounds for the kids, and more.

THE LOST IN ROTORUA EXPERIENCE?

The whole purpose then is to explore unforgettable places in Rotorua while experiencing an atmosphere of intrigue mixed with mystery, having fun, and leaving with lasting impressions of magic and mayhem that your family will laugh about for many years to come. You know, those nostalgic, "Remember when…" moments every family has. Sigh! Don't you love those?

That feeling? It can't be found in your average tour guide or itinerary. With the ideas and prompts provided, hopefully your family leaves with some extra special memories.

HOW DOES IT WORK?
I'm so glad you asked.

It all starts by leaving the watch behind and slipping into Rotorua time - yes, just like Fiji time - kicking back and letting the kids get to work.

You say, "Whatcha talkin' 'bout, Willis?" (As Gary Coleman of the old TV show Different Strokes fame often said.)

I say, "Seriously, let the kids get to work. They will become official Rotorua Travel Secrets Tour Guides for the day." (Depending on age and reading ability, you will most likely have to help younger members of your family - without helping if you get my meaning. The locations are supposed to be a surprise for you.)
Although I talk about the series being for Families, I've named the guides for kids in order to give them ownership.

CONFIDENCE BUILDING
Imagine the delight on those small faces and the sparkling eyes when you're wowed by their next surprise location - unknown to you of course, wink, wink.

They will feel so important, and so proud, and if they didn't already have plenty of confidence this would surely be a great way to instil some. There's nothing like a sense of responsibility for showing your family a good time to make you feel grown up.

TAKE A LOAD OFF
As for you? Well, like I said, you get to kick back (mostly, there is some preparation). There will be no need to wonder how to occupy young minds, no constant "are we there yet" comments from the back seat and best of all, you won't have to scour the web working out where to go, what to do and how to do it. It's all done for you.

And, if you avoid the temptation of reading through the material, you truly will be surprised, that's why there's no mention of the actual locations. Ergo, Lost in Rotorua. The secrecy, if at all possible, is all for you. The titles hint at where you will go but that's all. Now is that cool or what?

And if you're familiar with Rotorua and find you have been to some of the locations already, you can still play the game for your kiddy's sake. Most important.
TOUR DESCRIPTIONS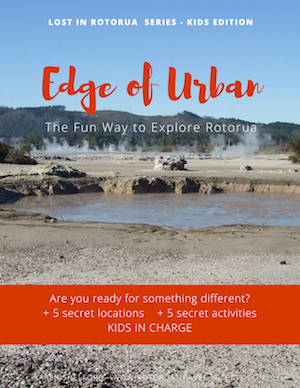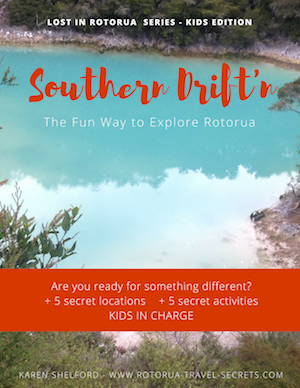 Edge of Urban
As the name suggests, the locations in this guide are within a 1km radius of the inner city and the shortest in terms of travel time. For all that, it still packs a punch in terms of the places visited. You'll get up close to plenty of thermal activity (feel it on your skin too), go to church, play dress-up with the kids to catapult back in time, wander an Edwardian garden, and then, while the kids play you can relax and take in lake views.


Loop the Lake
This guide explores popular spots on a scenic drive around Lake Rotorua. Walk amongst towering trees, along a bush-lined path to a thundering waterfall, pop in and say hello to little ticklers, get up high to the wackiest looking place with views to die for and finish off by getting into a zone of zen where you can forget everything.    
Southern Drift'n
Head south of Rotorua to have fun with a mini-olympics before or after a short walk beside a picturesque stream. Travel further south to visit three thermal attractions - a short walk to see spectacular colours at the first, have a relaxing soak at the next, and see weird and wonderful muddy shapes at the last. Finish off the day at a country store with a sweet twist.

HERE'S EXACTLY WHAT YOU GET

Lost in Rotorua tour guides is a series of downloadable PDF eBooks that can be printed off if you want hard copies, or accessed via your phone or other similar device. Each eBook (between 23-30pgs) contains:
Written directions: A step by step guide to easily move from one location to the next


Maps: Directional lines and word bubble location details


Landmarks: To get your bearings on your journey to find the five secret locations (all mentioned on my website by the way)


Fun family activities: Questions, games to run off excess energy - yes, yours too - and a photo competition


Tidbits: Information the kids will share with the family


Approximate Total Distance & Travelling Times
Edge of Urban: 3.3km+, 23min
Loop the Lake: 90.9km, 1h:43min
Southern Drift'n: 63.3km, 60min


Approximate Total Duration of Activities
Edge of Urban - 3h:45m - 4h:10m
Loop the Lake - 2h:20m - 3h:45m
Southern Drift'n - 2h:30min - 3h:15min

Approximations are itemised in the eBooks.

ARE YOU READY TO BUY?
Purchase any Kids Edition of Lost in Rotorua for Only $7 right now and you'll also receive another lasting record of your visit.
A Lost in Rotorua Travel & Activity Journal for the kids. I know, right? That came out of left-field for me too. It's a 14pg, tour specific, double-sided printable that folds into a booklet containing:
pages for journalling and freehand drawing
2 colouring in pages
a crossword
a word search
a maze

Now that should keep young ones occupied while out for dinner (if they're not falling head-in-plate asleep), or at your accommodation. And think of school reports. Done by default. You're welcome. :
AND YOU GET A FULL MONEY BACK GUARANTEE
There's nothing to lose. If you change your mind about your purchase within 30 days for any reason whatsoever, I will refund your money in full - you can always hunt me down by asking around if you have any problems. ;)
Decision time. Grab a copy now to begin creating more treasured family memories.
Buy Lost in Rotorua Tour Guides


Best value? Get all three for the price of two!

Clicking any of the Buy Now links will open a popup with the price of the product displayed. Add your first name, email address and click the button.

On the secure screen that opens you can choose to use either Paypal or, if you look further down, a Debit or Credit Card.

After payment expect to receive two emails. One is the order email outlining the product/s you have purchased and contains the download link. Right click to save to your PC or phone. Check your junk folder if you don't see this email within a few minutes.

The second email will be your purchase receipt.
Let me know if you have any questions about the guides before purchasing. Ordering problems? Don't worry, I'm only an email away.

Got a brilliant idea for creating more value for visitors to Rotorua? I'd love to hear about that as well.

Lost in Rotorua FAQ

Where are the secret locations?
Nice try.
Do I get any instructions?
Yes you do. It will be available as a separate downloadable PDF document.
There are not many photos in my eBook. Why not?
Paper!!!
Is there a way to do these tours without a vehicle?
You could always walk the Edge of Urban tour but I don't know that children would cope, it would make the day too long. You could always pick and choose what to do out of the tour though. With the other two tours, it's a no, sorry. No buses travel these routes, let alone stop at the locations.