Yet it's exactly what happened when I popped out to Treetops with my brother Wayne and his wife Jo. However, let me leave that there for a moment to fill you in a bit more about this property first.

About Treetops Lodge & Estate
Treetops Lodge & Estate is a hidden treasure located about 20mins south-west of the city. It has a wonderful story behind it.
Once upon a time, (you've got to start these stories right, right?) John Sax, a businessman who has interests in a number of companies both in New Zealand and overseas, had a dream.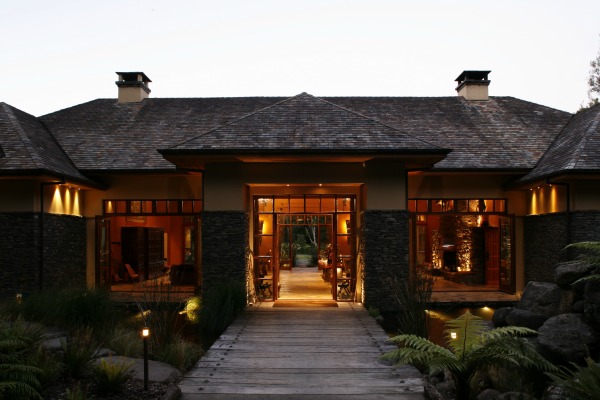 © Image courtesy of Treetops Lodge Rotorua
As a passionate trout fisherman from a young age, his dream was to one day, just maybe, have his own stream or to build a pond on his own property.
"You're mad." They said, shaking their what-do-you-know heads in unison. He went ahead and did it anyway. John never gave up and now Treetops Lodge & Estate is a testament to his vision.
John has created a paradise that is uniquely New Zealand. Native birds and trees, bubbling streams, ponds, lakes, lush bush walks and bike tracks (over 70km) abound in this spectacular 2500 acre property.

I bet it far surpasses what he dreamed of as a youngster.

Offerings Overview

This luxury accommodation in Rotorua is comprised of:
The Owners Retreat - four rooms opening into a shared living space

Pheasant Cottage  - good for families/groups wanting self-catering - or not (sleeps 8 max.)

Lodge Room - Four rooms opening into a shared living space (sleep 2)
Lodge Apartment (sleeps 3)

Villas - four standalone, four inter-connectable (sleep 2).
Meals are mostly provided with the reservations.

© Treetops Lodge Rotorua Luxury Accommodation
Numerous packages can be included with your stay. Like Wild Food & Wine, Wild Food Cooking, Fly Fishing & Fun, 5-star Children's packages (these look so good) and Wedding & Honeymoon packages.
Hunters and fishermen are not forgotten either with packages catering to their specific needs. The lodge was initially set up for these avid sportsmen - is that what they're called?
And like you can't tell with the life-stuffed-out-of-them spooky dead animals and fish plastered everywhere. Makes me think of America for some reason. Maybe it's all those guns they tote around as a matter of course, much like women do with their handbags.

Treetops underwent a complete refurbishment in 2015 to bring it more into line with modern markets. 
The life-stuffed-out-of-them spooky dead animals and fish? Somehow, I thought they would be gone. Or at least not so obvious.

Some Mothers Do 'Ave 'Em

Now back to my family. I swear, I don't know about my brother at times. Here we are, rocking up to a high-end property and he's dressed in an old singlet, rugby shorts and jandals. "I didn't know it was this fancy." He protested. After we'd told him before leaving home. Men!

He did the same on my wedding day except it was a casual shirt and trousers when everyone else wore suits. Like I said, some mothers do 'ave 'em.

Anyway, he and Jo had won a day stay at Treetops and wanted to see what the prize consisted of before booking in. Luke, the manager, Australian by the way but we won't hold that against him, was very helpful. And wouldn't you know it, he and Wayne got on like a house on fire. Rugby!!!
To cut a long story short, Wayne and Jo went, ended up staying the night, and loved the whole experience.
They loved walking Treetops lush bush tracks, the fine dining (chatting with the chef in the kitchen while he cooked their fresh food), and the tasty breakfast (where he-who-will-not-be-named movie star rolled in looking like he'd been dragged through the scrub), as well as a host of other things.

For Wayne and Jo, it was an experience that bears repeating - sans jandals. Let's see if you agree.

Location & Pricing

351 Kearoa Rd, Horohoro
5 star
Rooms 12
Price range $512 - 1,728

Features
Spa & Hot Tub
Free wifi
Free breakfast
Restaurant, Bar/Lounge
Banquet Room
Business centre & meeting rooms
Child friendly/Babysitting
Wheelchair accesss
Non-smoking rooms
Room service

Find the best deal for Treetops Lodge, Rotorua on Booking.com
Walks outside of Treetops Lodge Rotorua


More accommodation options—