Motion Entertainment building - road frontage view
As the largest undercover centre of it's type in New Zealand it's worth a visit just to say you've been there.
Walking in for the first time can be a bit overwhelming. Arcade machines ring and ding, bowling balls thunder down the alley, music plays, and that's only the first dozen steps in. As for the visuals, it's hard to take it all in at first glance. It pays to walk around to acclimate yourself before deciding on any one thing.
The Games People Play at Motion Entertainment

XD Darkride

The XD Darkride theatre doesn't give you the slightest hint of what's to come as the curtains close and the lights go out. Strapped into a hard Star Trek type chair with no chance of escape, laser gun in hand, you wait.

When the action begins and alien beings, zombies and other unrecognisable things hurl themselves at you, you can't help but react. It's sometimes hard to tell the good guys from the bad so you just shoot 'em anyway. Next minute, oh, hello, you're flying down the side of a skyscraper with the ground fast approaching. Whoosh, you're off somewhere else trying to take down the biggest, baddest alien you ever did see.
Laugh? From the youngest to the oldest, people leave the theatre laughing. You can't help it, it's that fun.

Escape Masters

This is where problem solving and observational skills are put to the test as the clock counts down.
How it works is you find clues and solve puzzles in different rooms each with their own themed story. Finally you crack the code and get out of the room. Differing levels of difficulty are available. It didn't help my friends and I in our even easier than the easiest version. We still had to be let out. :( 
As I figure it, you've either got the mind for escape rooms or you haven't. Many people, like my nephew and his friends, love it and would play time and again. Point of fact, they play in other cities and towns as well. We just found it frustrating.
Bookings are advisable.

Escape if you can!
Lumberjax Mini Golf

So many people love mini golf and this 18-hole course tucked inside Motion Entertainment won't disappoint.
An 1850's logging town is the backdrop (Rotorua = Logging) as players make their way through an old abandoned gold mine, over the stoney bridge, through a Blacksmith's shed and any number of other obstacles.

Lumberjax mini golf course
Megazone Laser Tag

Strap on a backpack, pick up a laser gun and you're locked and loaded to take on everybody doing their best to pick you off. Score a direct hit and points get loaded on a board outside - because you want to win, right?

It all happens in the dark with walls to hide behind, mist descending periodically and lights changing colour. My brother and I had a lot of fun playing this. It brings back childhood memories of playing these kind of games as kids up on Mount Ngongotaha.
Each game is 15mins but allow 25mins in total to include a briefing and getting your gear organised.

Myself & brother Dean playing Megazone Laser Tag
Hologate

Hologate is the next level of virtual reality games. You and 3 others put on a headset, stand beneath a steel frame, and fight zombytes, dragons and robots - depending on which game is chosen.
4 players can play, so it's perfect for friends and families. For those watching you can see on a screen exactly what the players are facing and how it's working out for them.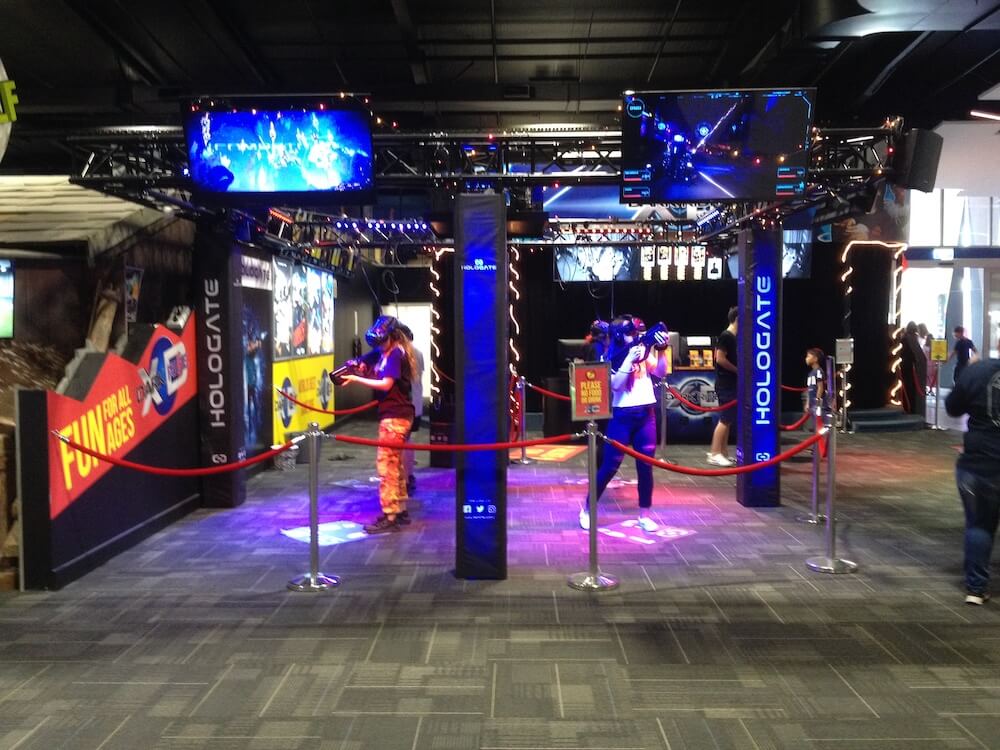 Hologate Virtual Reality Gaming
Strike Zone

A perennial family and friends favourite, ten pin bowling is hard to beat. Strike Zone is a state of the art bowling site. Low light and laser lighting add to the fun of playing. Music videos screen so you can boogie as you play, and you can eat and drink between shots, at your lane.
Bumpers are available at every lane for little ones, or those unable to manage without assistance.
Everything is provided including the bowling balls, shoes with special soles, and automatic scoring,

Strikezone Ten Pin Bowling Centre
Xtreme Air

Over 20 trampolines will have you working out like never before, or should that be having fun like never before. This indoor trampoline park also has a basketball hoop, dodge ball court and a place for the parents to hang out.
The area is fully self-contained so no need to worry about the little ones doing a runner.

An Xtreme Air Mini Cars section keeps the under 5's entertained. If the child isn't so confident mum or dad can navigate the indoor track by remote control.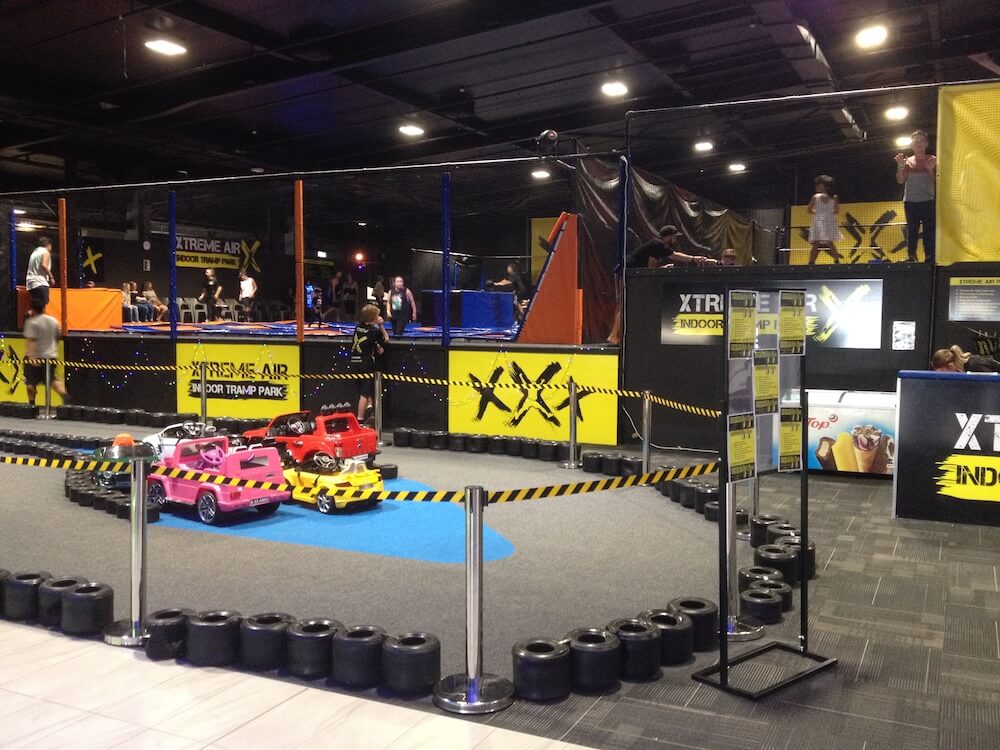 Xtreme Air trampolines & mini carss
Chipmunks Playland & Cafe

If you're wanting a modern playground for your child, up to the age of 11yrs, this is your place. Let the child go and you can relax at the on-site cafe, while still being able to monitor what's happening.
The playground is broken into zones with age appropriate activities so no worries about your child getting out of their depth.
You can make use of baby change facilities, and wheelchair access is available too if needed.

Chipmunks Playland for kiddies & Cafe for parents
Timezone

Motion Entertainments Timezone has stacks of family arcade games to play and win. Interactive video games such as driving fast, pinball and soccer type game machines, basketball hoops, speed pizza and so much more.
A Power Card is used which you load up with credit. It helps you keep track of what you spend and the credits you gain. Save the credits for promotions, or deals that come up periodically or cash in to exchange for prizes.
On the first Sunday of each month and every public holiday spend $6 and get Double Dollars on your Power Card.

Timezone family arcade games
General Guide to Prices at Motion Entertainment

The following starting prices are checked yearly which means they can change in the meantime. Last checked Apr 2023.
Yes, it can be an expensive place. If it's a one time only visit decide what you want to do, tote up the bill and put the money aside beforehand. If an adult tries every activity apart from Chipmunks or Time Zone it would cost $118+ by my reckoning. That's without any deals, or discounts for playing multiple games.
When you come to Rotorua regularly you can spread out the activities, or go all out at once.
If you have the luxury of living in Rotorua take advantage of the Locals Deals posted periodically.
XD Dark Ride
Adult & U15yrs
One ride $25
Family $80
Lumberjax Mini Golf
Adult $16
5-15yrs $13
Under 5yrs $5
Chipmunks Playland & Cafe
General admission
1-2yrs $11.90
3-11yrs $14.90
Xtreme Air Indoor Tramp Park
90mins Adult $22, Under 5yrs $15
Family $80
Spectators Free
Plus Xtreme Air Grip Socks have to be worn $3
Megazone Laser Tag
1 Game Adults $15
1 Game 5-15yrs $13
1 Game Family $49

Hologate
5yrs up $15 per game
Family $49
Strike Zone
1 Game Adults $15
1 Game U16yrs $13
2 Games Adults $25
2 Games Child U16yrs $20

Escape Masters
Phone venue for pricing and to book
Mini Car
1 10min Ride $7.50
1 10min Deluxe Ride $15
Food - Refuel Cafe & Bar
The fully licensed Refuel Cafe & Bar delivers the goods to keep your energy up. Available are snacks, pizza, sweets, and main meals once you've worked up an almighty appetite. Look out for daily cabinet specials and gluten/dairy free options.
On the menu you can find hotdogs, fries, toasted sandwiches, buffalo wings, house waffles and ice cream sundaes, southern style chicken salad, pork belly crispy noodle salad, beef & bacon burgers, nachos, eggs benedict, etc. Need I go on? Bon Appétit.
If you don't fancy any of that a number of alternative food places are located outside the building.

Getting to Motion Entertainment

Address
Motion Entertainment
Lynmore Junction
346 Te Ngae Road

Driving Directions

4.2km (6 min drive) Although the map is set to travel from the iSite information centre, whichever direction you happen to arrive from, make your way to Te Ngae Rd (SH30A/SH30).
Making your way from the city Motion Entertainment will be located on your left. From Tauranga/Mount Maunganui/Whakatane it will be on your right.
Turn into Lynmore Junction at the set of traffic lights. Ample parking is available.

Bus Directions

Catch the Route 3 Owhata via Lynmore bus at any central city stop. Get off the bus on Illes Rd, walk about 12min down the hill to Te Ngae Road. You will be looking at Motion Entertainment across the road slightly to the right. Cross at the traffic lights.

For the return journey you can return the same way or catch the Route 10 Airport bus which is a 1-3min walk. Look across Te Ngae Rd and you will see the bus stop located outside the address of No 12.