Mokoia Island Tours

During this period of uncertainty, some local attractions, businesses, hotels and motels may be closed or have limited hours. Please check with the operator when booking. For those of you who cannot visit New Zealand due to border closures, enjoy a virtual visit to Rotorua. Hopefully we get to see you in person real soon. Stay healthy and take care! —Karen

Katoa Lake Rotorua -Jet Boat Ride & Mokoia Island Visit

Mokoia Island tours come with a built-in twist. Not only informative, the hair-raising return journey on a Katoa Lake Rotorua V8 jet boat is super fun. Prepare to be wowed, wind-tossed and quite likely, wet.


Your Mokoia Island Tours Host - Katoa Lake Rotorua

Located at Rotorua's lakefront, Katoa Lake Rotorua, in what can be seen as quite a coup, have been granted the rights to take visitors onto Mokoia Island. (Nobody else can land on the island without permission from DOC and the landowners.)

From the lakefront, the jet boat takes you on a hair-whipping journey across the lake to Mokoia Island and from there on a guided walk before the hair-whipping return. I won't go into details of the jet boat ride because it's already been addressed on my Katoa Lake Rotorua (aka Kawarau Jet) page. Suffice to say, the jet boat ride alone is a 'hell yeah' ride and highly recommended.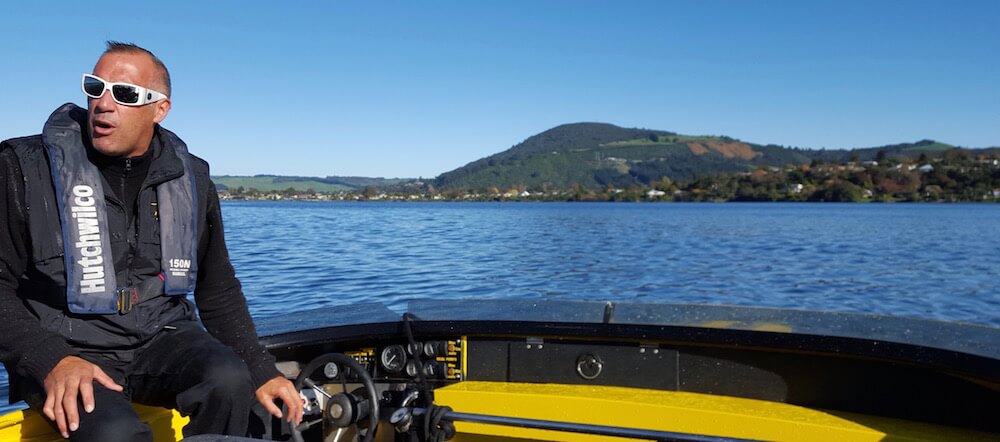 Jet boat tour guide, Tony - Mt Ngongotaha in the background
If you happen to get Tony (above) as your Mokoia Island tour guide, ask questions because he's very knowledgeable, as all the guides are, about the historical events, the birds, wildlife, and geography of the island. Expect jokes to pepper the storytelling.


Background
In recent history, Mokoia Island became a Wildlife Refuge, home to endangered breeds such as the kiwi, weka, kōkao and saddlebacks, amongst many others.


Watch a short video about Mokoia Island

Owned by local tribes and managed jointly with the New Zealand Department of Conservation, all parties work hard to ensure the island stays predator free (rats, mice, possums) - including human predators.
Check your pockets for any stowaways (little rat critters) before embarking on your tour.

NB: I wrote that last line as a joke then found out it does happen. These animals can stowaway in clothing, backpacks and tents so do please check.
DOC are vigilant at trapping and hunting down rats because they have been known to swim to the island as well.


Touching on Mokoia Island History

If land could talk, what a story it would have to tell (you'll have to settle for a tour guide). From its inception thousands of years ago to its current form as a rhyolite dome, Mokoia Island has had a chequered history.

Once called home by many Te Arawa people, it has been a hard fought battle to keep it that way. Lusted after for its location or attacked in retaliation for wrongdoings, many battles have taken place on the island with much blood shed over the years.

In fact, one of the large rock formations bears testament to this with scarring from bullets used to execute people.


Bullet scarred rock formation
Moving on through time, Mokoia Island's history took another turn with the unfolding of New Zealand's most famous love story. The story of Hinemoa & Tutanekai.
One thing's for sure, that girl was hell-bent on being with her man. (I won't spoil the story.) When you're young, and it's all about now, and the hormones are raging, who knows what feats a person is capable of - all in the name of love.

Listen carefully and you might hear whispers of those bygone times in the rustling of the leaves.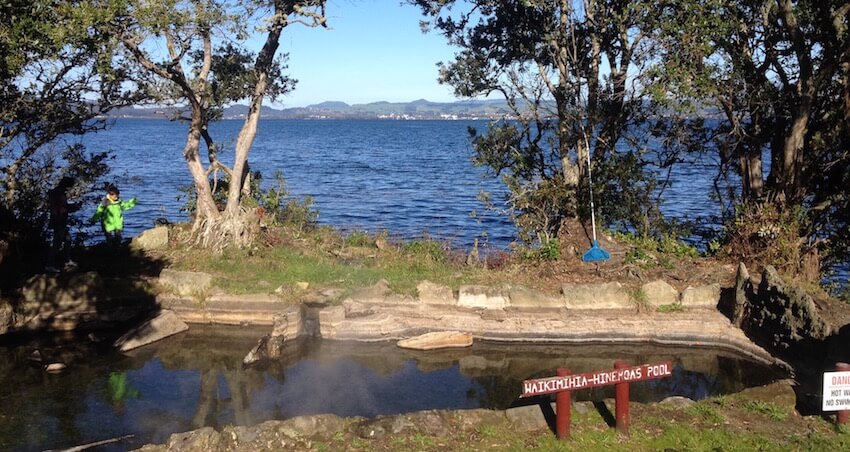 View from Hinemoa's Pool on Mokoia Island across Lake Rotorua to the city.
For all that, one thing has remained constant. Thermal pools have a way of sneaking into every aspect of life in Rotorua and Mokoia Island is no exception. Hinemoa's Pool is the most famous but there are others on the island. Geothermal spring water spills into or rises up through the lake bed - wonderful for swimming in or for rolling trousers up and having a foot soak.

Mokoia Island Tours Take to the Bush

Mokoia Island tours include a walk through lush bush
No-one lives on the island now (population was around 2000 at one point), but during the time of settlement, the land on Mokoia was cleared of native plant life and planted extensively with kumara (sweet potato) and other crops to sell in the earlier parts of last century, only stopping in 1950.
Coastal plantings such as Pohutukawa trees were introduced, as were animals, ie. horses, goats, pigs, a pheasant farm and little critters like rats and mice.

Once people left the island the vegetation was left to regenerate and the eradication of harmful pests began.
Then came the introduction of endangered bird and wildlife species, and threatened native plants. Thriving now, it's been a long road to get the island to where it is today but well worth the time and effort put in.
During the 20mins on island, you head from the cleared strip of land into the lush, canopied bush on a narrow trail, different as night is to day. It's like entering a church. And in this church a choir is singing, except this choir consists of birds. Many, many birds, and so many different types of bird song. I've never heard anything quite like it and don't have the words to even begin to describe it.
Apart from bird song, often the beating of wings is heard before the birds are seen and when a moment is taken to stop and keep quiet, birds will fly down to sit on lower branches and keenly observe the manuhiri (visitors, that's you and I). 
It's something else to visit this island and I quite understand Tony saying that bird enthusiasts go mental over this place. I wouldn't class myself as an enthusiast but even I, together with the others in our tour party, were bowled over by it.
With its volcanic beginnings, cultural and conservation history, it's not hard to put Mokoia Island at the top of the list of things to see in Rotorua.


Locate Mokoia Island Tours Katoa Lake Rotorua

Address: Memorial Dr, Lakefront
Phone: +64 7 343 7600
Freephone: 0800 538 7746
Website: www.nzjetboat.co.nz
Hours: 9am-5pm daily (except for Christmas Day)
Duration: 50mins
Bookings: For Mokoia Island tours, contact Katoa Lake Rotorua because minimum numbers apply and there are different packages if you have a group of 10 or more.


Additional Info

This tour would be of particular interest to geographers, bird enthusiasts, conservationist - heck, this is something that everyone can enjoy and that includes children.
Walking shoes or sneakers are a good idea.
Don't forget your camera.

If it's slightly cool, take warm clothing. It can get quite chilly on the jet boat and the conditions on Lake Rotorua can change in a minute.
A composting toilet is located on the island if you need to go.
For food, a cafe is located at the lakefront. There's nothing remotely like a shop on the island.

Take swimming gear if you want to have a swim.

—Enjoy


---
Other Tours That May Interest You

Return to Top