Rotorua Luge
Skyline Skyrides
Rotorua Luge are FUN… that's it… end of story.
From toddlers right through to the golden years, everybody loves luging.
But wait, there's more. (Sounds like a bad commercial doesn't it?). Besides the luging there are the gondola to get up to and back from Skyline Rotorua.
Once you have finished your luge ride, chairlifts will deliver you back to the top. I have always found these to be a pleasant experience. It can be quite silent and restful after the hustle and bustle at the top.
There is also a Sky Swing, HeliPro scenic flights, short walks, a restaurant and cafe, whew, you are definitely going to be busy.


Rotorua Luge And Luging
If you have never been on one before, luges are a bit like a go-kart (plastic tray to sit in) with bicycle handlebars to steer and three wheels. The handlebars are pulled towards you to stop and brake and pushed forward to go.
Tip Don't let the handlebars go because the luge will stop instantly… no matter how fast you're going.



There are three tracks to choose from - scenic, intermediate and advanced)
Scenic - This 2km (1.24mi) track winds leisurely down the hill. It is always recommended by the staff at Skyline to use this one first if you have never tried luging before.
If you think you are a wuss, don't NOT have a luge ride. On the scenic route you can go as sloooowww as you like. The great thing about that is you get even more value for money because you're out there longer.
On this track, photos can be taken at various lay-bys(there are great views to be had of Rotorua).
If your children are under 110cm and/or under 6yrs old they will have to ride with an adult in the same cart on this track. The more timid children love it when they are with a parent anyway - until they get their confidence up.
This is one of two tracks that are lit up at night for twilight luging at certain times of the year.
Once you have made your way down hill and through the Redwood trees to the end, I bet you will want to move onto the next stage. You don't have to though. A lot of people are happy to just stay on this track.
Intermediate - The pace is picked up a bit on this 1.7km (1.05mi) long track.
Chicanes (shifts in the course) and a tunnel feature - along with the views of course. A bit scarier.
This is the second track that is open in the evening at certain times of the year.
Advanced - Are you ready to fly? No time for taking photos here.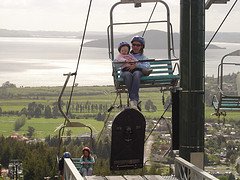 The advanced track is 1km (0.06mi) of twisting bends and flying dips that will have you holding onto your luge for dear life if you're going fast enough.
Sometimes the term 'flying' is literal if you're not careful. Friends and I have tipped over and gone flying off the track a few times by misjudging our speed on the bends. It can get a bit sore but, it's worth it for the thrill.
Image courtesy of © Aidan-Sally
Rotorua Luge - The Chairlift
Sorry little ones, children have to be over 135cm and 10yrs and older for this course.


Sky Swing
The Sky Swing is exactly what the name implies. A giant swing that sends you flying out over Rotorua.
From the carpark down below you will see the tall towers that hold the swing. Have a look at the image 'view from carpark' higher up the page.
Not my kind of scene, it may be yours though because people seem to love it.


HeliPro Helicopters
It's so cool to take a helicopter flight as everything looks so different from up in the air.
If you do, make sure you look north-west because you will be able to see the ocean.
Cast your eyes around and you will see numerous lakes and Mt Tarawera, there's lots to see from the air.
The helicopters are 6 seaters so a group of you can take a trip.


Prices
Some people say the Rotorua luge is expensive and others say it's good value for money.
When you consider that around NZ$46 will get you the gondola up and down, 5 luge rides and 5 returns on the chairlift, I think that is excellent value.
Food & Drink
Not only have Skyline Skyrides got a cafe, they also have a restaurant.
You can get all sorts of cafe style food and drinks at the Terraces Cafe. They even serve alcohol and all day breakfasts.
I tell you what, on a nice day it is really lovely to lie on the hillside grass round the corner, in front of the restaurant and kick-back with a coffee, wine or whatever you like.
Talk about relaxing. This is a place where it's either all go or, you can find a spot and be totally alone.
There is also a low rock wall outside the cafe where you can watch the luge riders leaving and the chairlifts coming back up.
The Cableway Restaurant and Bar is open for Lunch and Night dining. Nighttime is good because Rotorua is so pretty from up there.
They have yummy food served buffet style. The menu features a lot of seafood. Check out the Rotorua luge menu here. As you can see, New Zealand venison is on the menu as well.
If you want intimate, bookings can be made to dine in one of the Gondola's as it makes its way up and down. That's different.
You can contact Skyline Skyrides here if you would like to make a booking
Getting There

Skyline Skyrides is on Fairy Springs Road. Check out my google map directions but don't bother going into the picture view as it has all changed. The entrance has been moved further up the road and traffic lights are now at the entrance.



View Skyline Rotorua - Home of Rotorua Luge in a larger map

If you are arriving from the direction of Auckland you will actually drive past Skyline Skyride on your way into Rotorua. You can't miss it, it will be on your right.
Another way to get there is by bus. Either CityRide Rotorua, the local bus service or Rotorua CitySights, the hop on, hop off visitor bus will do the job.


Parking & Toilets
All parking is down the hill from the luging, at the entry building carpark just off Fairy Springs Rd.
A word of caution, don't leave ANY valuables in your vehicle. Thieves are always attracted to the tourist spots and you don't want things such as your passport and tickets out of the country taken (take it from me, this happens a lot but not just from here).
Toilet facilities are good both at the bottom and at the top of Skyline Rotorua.
Apart from that, have a great time up there.


---
Travel Planning Links

Return to Top
Home

›

Top Ten Places To Visit

› Rotorua Luge