---
Check Out Things to Do in Rotorua, June 2016

---
Look out for things to do in Rotorua in June 2016. It begins and ends with Matariki (Māori New Year) celebrations. Matariki is a star cluster, more commonly known as Pleiades, which reappears in Southern skies in winter.

It's also Queens Birthday weekend with a public holiday on Mon 6th Jun. Rotorua will be busy.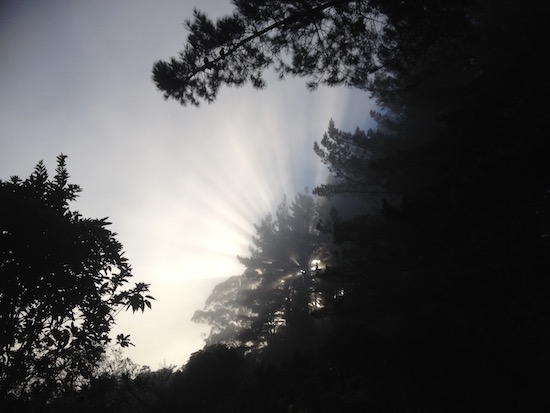 A wintry dawn in Rotorua, NZ. Taken during a walk on the Pohaturoa track (Trigg side) at the Whakarewarewa Forest.
Rotorua Markets: The Night Market takes place every Thursday evening at 5pm (a good place to have dinner), the Flea Market every Saturday morning (this time it's breakfast) and the Lakefront Craft Market takes place on the 3rd, 17th and 24th of this month (lunch?). Look for the Arts Village Matariki Market on June 12th together with a Matariki Exhibition and other planned activities.


---

Things to Do in Rotorua this June

The Stars Are Out Tonight - Sculpture & Art Exhibition

Date: Continues to Wed 29 Jun
At: Galleria, Civic Centre, 1061 Haupapa St
Time: Office hours
Cost: Free
Currently enrolled in Creative Art courses, Waiariki Bay of Plenty Polytechnic students have submitted works inspired by Matariki. Pop along and take a look.
Contact: Marc Spijkerbosch
Email: marc.spijkerbosch@rotorualc.nz


Evening Acoustic - Stella Maris

Date: Every Wed to 29 Jun
At: Ponsonby Rd Lounge Bar, 1109 Tutanekai St (Eat Streat)
Time: 8pm
Cost: Free admission
Popular Stella Maris, a well-known local singer and songwriter, amongst other things, performs regularly at Ponsonby Rd Lounge Bar. Stella will also be appearing later in the month at the Okere Falls Strong Beerfest.


Ponsonby Rd Jazz Club - Ben Wilcock (Piano/Vocals)

Date: Thu 2 Jun
At: Ponsonby Rd Lounge Bar, 1109 Tutanekai St (Eat Streat)
Time: 8pm
Cost: Free admission
He's performed in UK jazz clubs and hotels as a resident pianist, played with Latin and Blues bands and now teaches at the NZ School of Music. That small spiel doesn't cover the half of it. Pop along if you're into jazz.


Surf Street Skate Clothing & Shoes Pop Up Sale

Date: Thu 2 - Sun 5 Jun
At: Arawa Park Racecourse, Fenton St
Time: Thu & Fri 10-6pm, Sat 9-5pm, Sun 9-4pm
Cost: Free entry

Who can resist a bargain? Last Season is hitting Rotorua with new stock. Save up to 90% on shoes, tees, jeans, pants and the list goes on. Top brands like Nike, Element, Adidas, LRG and many more feature.


Whaikōrero with Dr Rangi Mātāmua - The astronomy of Matariki

Date: Thu 2 Jun
At: Sir Howard Morrison Centre
Time: 6.30pm
Cost: Free admission
A korero (talk) about Matariki. Learn about the cluster of stars known as Matariki, whose appearance in winter signals the beginning of the Māori New Year. For the talk to begin right away, doors open at 6pm. Contact Kathy Nicholls at 07 351 8456 or email kathy.nicholls@rotorualc.nz for further info.


The Okere Falls Strong Beerfest

Date: Fri 3 - Sun 5 Jun
At: Okere Falls Store, 759 SH 33, Okere Falls
Time: Fri 5-8.30pm, Sat 5-9.30pm, Sun 5-9.30pm
Cost: Entry prices range from $10-$20.
Ages: Child, R16 and R18 on differing evenings

It's that time of the year again. Time for beer-tasting, stroganoff, strudel, and fantastic live music. A guest brewer begins the night with a beer-tasting session at 5pm followed by the live music at 6pm.
Artists include Jesse Morris, Sal & the Babyshakes, The Waiheke Soul Orchestra, Andre Manella from Sonic Delusion, Stella Maris and more.

Bookings at Eventfinder: Okere Falls Strong Beerfest


Thermatech 3D Multisport Festival

Date: Sun 5 Jun
Venues At: Lake Tikitapu or The Redwoods
Time: Various
Cost:Various
Pristine waters, stunning scenery; say no more. Join in any of 11 events that include mountain biking, off road running, kayaking, or one of the many paddling disciplines. From 50km at the most, right down to 2km, there's something for absolutely everyone to enjoy. And a heap of prizes too.
Find out more: Thermatech 3D Multisport Festival

Stage Challenge

Date: Thu 9 and Fri 10 Jun
At: Rotorua Civic Theatre, Sir Howard Morrison Performing Arts Centre, 1170 Fenton St
Time: Thu 6.30pm and Fri 7pm
Cost: Adults from $27-$33
Part of the nationwide youth performing arts events. See a fantastic dance, drama and design show performed by high school students who go above and beyond in their presentation.
Ticket info: Stage Challenge


Matariki 2016 @ Helium Gallery

Date: Thu 9 Jun to Wed 31 Aug
At: 1283 Tutanekai St
Time: Mon-Fri 10am-5pm, Sat 10am-2pm
Cost: Nil unless you buy a piece
A large group of local and regional artists have been invited to create a piece around a Matariki themed template, in the shape of a kite.  Kites were seen as the connectors between the heavens and earth. The artists can do whatever they like within the template which will make it interesting.
Website: Helium Gallery


Double Rainbow Trail Run/Walk

Date: Sat 11 Jun
At: Lake Okaro, Okaro Rd
Start Times: 8am, 10am and 10.30
Cost:$20 - $90

A 46, 25 or 17km trail run or walk in the Rainbow Mountain area. Cripes, if you're in the 46km run that means 4 times up Rainbow Mountain. I would cry. Seriously. The 25km climbs twice and the 17km once. Fantastic views up the top though. The lure is the possibility of seeing a double rainbow.

Find out more and enter: Double Rainbow Trail Run


Nature Crafts Workshop

Date: Sun 12 Jun
At: Children's Art House (Green Cottage), Queens Dr, Government Gardens
Time: 10am-2pm
Cost: Gold coin
Take the kids along to make some nature crafts and a bird feeder. Fatten them (the birds) up for winter.


Callum Gentleman EP Tour

Date: Sun 12 Jun
At: Rogue Lounge, 1150 Pukuatua St
Time: 6.30-9pm
Cost: $10 door sales only
Check out Callum Gentleman, appearing at the Rogue Lounge as part of a national tour that introduces his new EP. With blues shouts, songs, possibly poetry and plenty of banter, this should be fun.


Community Charity Relay

Date: Sun 19 Jun
At: Agrodome, Western Rd
Time: 10.20am
Cost: Free entry but $20 to register relay teams ($30 on the day entry)
Age: 10yrs+

In support of the NZ Secondary Schools Relay Championship, this relay helps raise funds to support local youth. Teams of 4 race 4km (1km each) using their own baton. Over $3000 worth of spot prizes plus prizes for the best dressed team and most creative baton.
See more: Community Charity Relay


OBOP Rogaine Series - 1st of 3

Date: Sun 19 Jun
At: Whakarewarewa Forest, Long Mile Rd
Time: 10.30am
Cost: From $0 - $30
Grab a friend, your family, anyone in fact, and take part in this fun, challenging event. Rogaine is cross country navigation on foot where you visit as many checkpoints as possible within a given time limit. Experienced orienteers will be available to help with coaching before and after. It's not a race situation.
Find out more at Eventfinder: OBOP Rogaine



Rotorua Museum of Art & History Things to Do in June
At: Oruawhata Dr, Govt Gardens
Opening Hours:
     Dec - Feb 9am - 6pm
     Mar - Nov 9am - 5pm
Admission Cost: Adults $20, Seniors $18, Children $8. Locals free with id.

As well as exhibitions, the Rotorua Museum always has something of interest happening for everyone. Activities and fun learning is the common order of the day for children so you know what to do, keep an eye out.
Special Events

Matariki Whānau Night Sat 18 Jun
Times: 2-7pm and 7-9pm
Cost: Adults $5, Children $3, U5yrs free
Interactive storytelling, kapahaka, face painting, treasure hunt and Matariki themed crafts. It will be all on this evening. Advanced bookings essential so contact the museum asap.
The History Behind Karetao Pūoro - with James Webster: Sun 19 Jun
Time: 1.30pm
Cost: Free
A talk about Māori musical instruments and puppets. Despite limited knowledge about this ancient art form, it is enjoying a revival today because of people like James. He will pass on the known history and explain his involvement in creating and playing these instruments.

Rotorua Ukebox: Sunday 19 Jun
Times: 3-4.15pm
Rotorua's Thermaleles open the show with a short ukelele performance. After that, everyone can jump in to sing, play along or use the open mike. Included with museum admission.
Exhibitions:
Sunlight - Ihi Kōmaru: An interactive exhibition that answers intriguing questions you might have had. Like, what does the sun sound like? Do you know? Fun for all ages.
Dates: On to Sun 14 Aug
Top Art 2016: Annual exhibition featuring the top Visual Art portfolios from secondary school students. It's hard to believe that this art comes from such young people.
Dates: Tue 7 - Fri 17 Jun

Visit website to see more: Rotorua Museum of Art & History - What's on >>


Kōkako Dawn Chorus & Bait Line Maintenances

Date: Sun 26 Jun
At: Meet at the DOC office before carpooling to Mokaihaha Ecological Area, 99 Sala St
Time: Pre-dawn (to be confirmed post registration)
Cost: Free
Looking for something different? Accompany DOC (Dept. of Conservation) Rangers to clear bait lines and have the chance to hear the North Island kōkako, one of NZ's threatened species of birdlife.
Email to register (essential): rotorua@doc.govt.nz


Rhapsody Rotorua

Dates: Thu 30 Jun & Fri 1 Jul
At: Sir Howard Morrison Performing Arts Centre, 1170 Fenton St
Time: 7.30pm-10pm
Cost: Free admission
Showcasing hundreds of Australian and New Zealand students who, building on personal musical talents, join together to put on a fabulous show. The concerts feature choirs, string orchestras, and concert bands playing all genres.

Princes Gate Cabaret Dinner & Show

Date: Saturdays
At: 1057 Arawa St (by entrance to Government Gardens)
Time: 7pm-10pm
Price: Dinner, Show & Accommodation is $350 for 2 people. Dinner & Show is $178 for 2.

The place to go in Rotorua for live cabaret entertainment. Can feature Broadway, Opera, Las Vegas and more, designed to appeal to a broad range of tastes. The food's undeniably tasty too. Look for the Dinner, Show & Accommodation specials.
Bookings: Princes Gate Cabaret Dinner & Show


---

Coming Up in July

Matariki celebrations continue as does the OBOP Rogaine Series with events Nō's 2 and 3 taking place. If it's mountain biking you're looking for, the highly anticipated 2016 Winter MTB Series kicks off. Something else to look forward to is the opening of Evita, a hugely popular Broadway show, presented by Rotorua Musical Theatre.


---

More fun things to see and do in Rotorua

Return to Top
Home

›

Rotorua Events

› Things to Do in Rotorua June