---
Outline of Things to Do in Rotorua, December 2017

---
Looking for Christmassy things to do in Rotorua this December? We've got 'em. Twinkling lights, outdoor movies, suffering (do you really want to know), mystery and intrigue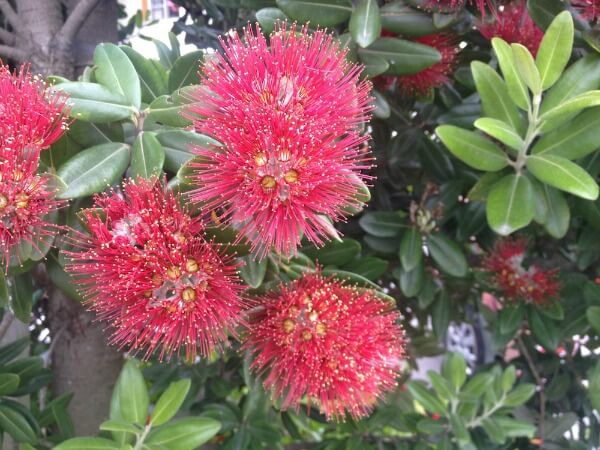 New Zealand's Christmas tree - Pohutukawa
We've got our very first Mudtopia Festival at the start of the month, and die-hard sports fans can still find a few events such as the Rotorua ½ and ¼ Ironman (where the suffering comes in, apparently), and the Giant 2W Gravity Enduro mountain biking races.

Don't forget to pop along to the Rotorua Markets. The Lakefront craft market will be winding up now and taking place every weekend in the lead up to Christmas. The Arts Village have a Christmas Market on the 6th, and the Night Market takes place each Thurs. The new Farmers Market is held each Sunday.


---

Things to Do in Rotorua this December Include...

Mudtopia Festival

Date: Fri 1 - Sun 3 Dec
At: Arawa Park Racecourse, Fenton St (by Rydges Hotel)
Times: Fri 3-8pm, Sat 10am-10:30pm, Sun 10am-4pm
Cost: Various

It's 3 days of Rotorua mud by the bucket load, and an awesome lineup of music and entertainment including Hollie Smith, Anika Moa, Troy Kingi, Jupiter Project plus more, and for the Saturday R18 concert look for Shapeshifter, Peking Duck, and Chores - so far.
Get it on in the Mud Arena, Mud Games Zone and Mud Run, then relax with the wellness and spa experiences, finish up with great street food, a drink or two in the licensed areas, and the music. It's going to be turbo-charged fun.
Learn more: Mudtopia


World Passport to Party

Date: Fri 1 & Sat 2 Dec
At: The Blue Baths, Queens Dr, Govt Gardens
Time: 7pm sharp
Cost: $75

Groups choose a country, dress up in theme, and get to go globetrotting. Be greeted with a drink on arrival at the Kiwi gardens, depart through the Blue Baths international airport into a Cultural Extravaganza finishing up with a DJ until midnight. These popular parties always sell out fast.

Book at The Blue Baths


Blue Lake Canoe Sprint Regatta No.2

Date: Sat 2 Dec
At: Blue Lake (Tikitapu), Tarawera Rd
Time: 8am
Cost: Spectators free
This is the second round of the national canoe sprint regattas. This popular sport includes all age groups from novices to Masters. The sprints will cover distances of 100m, 200m, 500m and 1000m right up to a 5000m race. A fun day out for the family.
Read more: Blue Lake Canoe Sprint Regatta


Giant 2W Gravity Enduro - Race 2 of 4

Date: Sat 9 Dec
At:  Waipa Mountain Bike Park, Waipa Mill Rd
Time: 7:30am-6pm
Race Entry Prices: From $74 - $140
Spectators: Free

Now includes Southstar Youth Enduro Champs.
The Whakarewarewa Forest sees downhill racing at it's best with this event for individuals, teams, serious racers and social ones too. Spectator or competitor, it doesn't matter, you'll have fun with the carnival atmosphere, delicious food and foaming beer available at the start/finish.

For the uninitiated, Enduro mountain bike racing has the competitors completing 4-6 stages, in any order, of downhill racing. In 4-6 hours!!! The riders can be shuttled back to the top for the next stage or bike back up. Apparently, it's all about strategising. They have to complete the stages and get back to the race HQ before the time runs out or risk incurring penalties.
Some huge prizes and spot prizes are up for grabs so it's every man, or woman, for themselves.

Learn more: Giant 2W Gravity Enduro

Operatunity's Presents: Have Yourself a Merry Little Christmas

Date: Tue 12 Dec
At: Rotorua Baptist Church, 100 Malfroy Rd
Time: 11am-1pm
Cost: $34 or cheaper with groups of 10+ and 30+
You can look forward to taking a break from the Christmas madness and enjoy lunch accompanied by all the Christmas songs you can think of.

Buy Tickets: Toll free 0508 266 237 or online: Operatunity


Saint Faith's Trivia & Auction Fundraiser

Date: Fri 15 Dec
At: Ohinemutu Village, Tunohopu St
Time: 6pm-12am
Cost: Table Seating (6-10 people) $500
Restrictions: All ages
Features Howie Morrison as MC, Reverend Tom Poata as Quiz Master, Charles Sturt as Auctioneer, and special guests Shane Cameron, John Tamihere, and Temuera Morrison, plus live music. It's set to be a hilarious night by all accounts.
To get in the mood, go along dressed up as your favourite bible character.
There will be platters and a cash bar available.
Email show.time.nz1(at)gmail.com or Ph 027 527 5080 for more info.


2016 Rotorua ½ Ironman & ¼ Ironman

Date: Sat 16 Dec
At: Blue Lake, Tarawera Rd
Time: 6.25am
Cost: Varies depending on team/individual and packs
'Suffer' is the catchword for this event and suffer the competitors will. The body shivers just thinking about it.
A 2km swim, 90km bike, 21km run, and then there's the Quarter Ironman. If you're
fool
hardy enough to enter this event, good luck to you. I'll be on the sidelines cheering you on.
Learn more: Rotorua ½ Ironman & ¼ Ironman

Rotorua Ukebox - Ukulele Open Mic Sessions

Date: Sun 17 Dec
At: Te Runanga Tea House, Queens Dr, Government Gardens
Time: 3-5pm
Ages: All
Cost: Gold coin donation

Pop along to enjoy ukulele music, whether you play or not. Local group Thermaleles get things going with a short session before everyone joins in with singing or playing. There's also an open mic session for anyone who would like to perform.

See more: Rotorua UkeBox

Mega Fun Carnival

Dates: TBC
At: Lakefront Village Green, Memorial Dr
Times: 1-5pm and 7.30pm till late (weather dependent)
Cost: Various

Rides, food and fun. The place for families or friends to come together and enjoy some light-hearted fun on the Dodgems, Train, Explorer etc. and for the first time, the Flying Dragons. Make sure your wallet is full.


52nd Annual Rerewhakaaitu Rodeo

Date: Tue 26 Dec
At: Rerewhakaaitu Domain, 91 Ash Pit Rd
Time: 9am-3pm
Cost: Door sales only. Adults $10, Children 5-15yrs $5, U5yrs Free
Competitors from all round the country, ranging in age from 5 to 70yrs, follow the rodeo circuit building up enough points to take part in the National finals. The spectators get into it as much as the contestants, and the animals trying to unseat them. Food and drink will be available. Hopefully the weather turns it on too.


Rotorua Christmas at the Races

Date: Wed 27 Dec
At: Arawa Park Racecourse, Fenton St
Time: 11am
Cost: Adults $10, U18 $0

Take a picnic and relax with live on-course music, lots of activities for the kids, oh, and racing of course.
Find out more as it may change: Racing Rotorua


Princes Gate Dinner & Cabaret Show

Date: Every Sat
At: 1057 Arawa St (by entrance to Government Gardens)
Time: 7pm-10pm
Price: Adults $89.00 & Children under 12yrs $44.50
The place to go in Rotorua for live cabaret entertainment. Can feature Broadway, Opera, Las Vegas and more, designed to appeal to a broad range of tastes. The food's undeniably tasty too. Look for the Dinner, Show & Accommodation specials.
Bookings: Princes Gate Dinner & Show


Rotorua Glo Festival

3 Days - 3 Locations - 3 Fun Events
Save the Date - 29, 30 & 31 Dec
Stay up to date: www.facebook.com/rotoruaglofestival/

---

The holiday season is in full swing in January so you can look forward to lots happening. Here's a teaser. Think seafood!

If you need a place to stay for any of these events or activities, here's where you can check out your accommodation options.

Happy Holidays!


More fun things to see and do in Rotorua

Return to Top
Home

›

Rotorua Events

› Things to Do in Rotorua November