Outline of Things to Do in Rotorua, December 2018

---

Looking for Christmassy things to do in Rotorua this December? We've got 'em. Twinkling lights, outdoor movies, suffering (do you really want to know), and fun parties.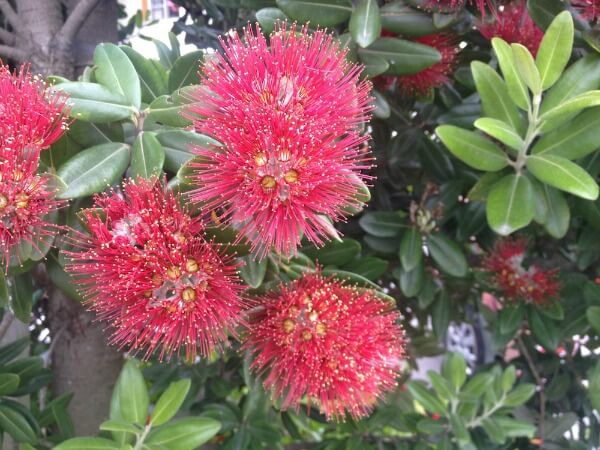 New Zealand's Christmas tree - Pohutukawa
Die-hard sports fans can still find a few events such as the Rotorua ½ and ¼ Ironman (where the suffering comes in), and the Giant 2W Gravity Enduro mountain biking race.

Don't forget to pop along to the Rotorua Markets. The Lakefront craft market will be winding up now and taking place every weekend in the lead up to Christmas, 2, 9, 16, 22, 23, 29, 30. There's also a Flea Market every Saturday morning, Night Market Thursday evenings, and a Farmers Market on Sunday mornings.


---

Things to Do in Rotorua this December Include...

Brave Hearts - The New Zealand Cardiac Story
Dates: Mon 5 Nov - Mon 31 Dec,
Times: Mon-Fri 3-6pm unless it's school holiday time when times will switch to Sat & Sun hours of 9am-6pm. Closed public holidays
At: Rotorua Community House, 1115 Haupapa St
Cost: Gold coin donation from adults

New Zealand has been a pioneer in the field of heart surgery. This interactive exhibition celebrates both the clinicians and the brave patients. Learn what's normal, what's not, what can be done to correct things, and real-life stories.  Not to be missed.
See more on Eventfinda: Brave Hearts

Christmas Parade & Festival

Date: Sat 1 Dec
Timetable: Parade 4-5pm, Prizegiving from 5:15pm, Festival on the Village Green 4-8pm
Cost: Spectators free
Severe weather has been forecast to hit Rotorua so the parade and festival are postponed. It will possibly go ahead next weekend. :(
The parade route begins outside Rotorua Primary School on Arawa St and travels along Amohia, Pukuatua, and Fenton St finishing at the Village Green. That's followed by prizegiving. The festival is ongoing the whole time.
See updates on Facebook: www.facebook.com/rotoruachristmas/


Blue Lake Canoe Sprint Regatta No.2

Date: Sat 1 Dec
At: Blue Lake (Tikitapu), Tarawera Rd
Time: 8am
Cost: Spectators free
This is the second round of the national canoe sprint regattas. This popular sport includes all age groups from novices to Masters. The sprints will cover distances of 100m, 200m, 500m and 1000m right up to a 5000m race. A fun day out for the family.
Read more: Blue Lake Canoe Sprint Regatta


Nanogirl Live! | Out of This World

Date: Sat 1 Dec
At: Rotorua Girls High School, Miro St

Time: 3-4pm & 7-8pm

Cost: A Reserve $40, B Reserve $25, Accessible Pricing Seats $15
Restrictions: All ages

Nanogirl, Boris (her trusty lab assistant), and CLAIR (Constantly Learning Artificial Intelligence Repository), present science and engineering in a way that's fun, educational, and interactive for some. Expect to see real deal tornado, rockets and lots of explosions. Nanogirl has had sell-out tours throughout NZ and overseas so it should be a great show.
See more & book: Nanogirl Out of This World


Princes Gate Christmas Dine & Dance Party
Dates: Nov 16, 17, 23, 30 and Dec 1, 7, 8, 14, 15, 21
At: 1057 Arawa St (by entrance to Government Gardens)
Time: 7pm-11pm
Price: $59pp
It's time to begin amping up as we move towards Christmas. What better way than joining in the party. Live music, cash bar and a festive buffet dinner. Look out for accommodation specials too.

Bookings: Princes Gate Dinner & Show

Ghost Who Walks Debut Ep Tour

Date: Sat 1 Dec
At: Pig & Whistle Historic Pub, 1182 Tutanekai St
Time: 9pm-1am
Cost: Free admission
Restrictions: R18
"I make music to move the body and touch the soul." —Sam Fowles
Ghost Who Walks is a project started by Sam Fowles, backed by his band, arising out of Wellington's jam scene. Their music combines elements of blues, funk, rock and reggae with psychedelic overtones. It might pay to get their early.


Brown Sugar | The Rolling Stones Experience

Date: Sat 1 Dec
At: Ambrosia Restaurant, 1096 Tutanekai St
Time: 8pm-1am
Cost: Free admission
Restrictions: All ages
This will be a fun night for die-hard Stone's fans. It may generate some new ones too. Brown Sugar is NZ's best Rolling Stones Tribute band. You can look forward to hearing the familiar hits you may have grooved to way back then - or not. Either way it should be good.


Sanitarium Weet-Bix Kids TRYathlon

Date: Sun 2 Dec
At: Rotorua Aquatic Centre, 18 Tarewa Rd
Time: 8am
Cost: Spectators free, participants $40-$55

Designed to keep Kiwi kids aged 7-15yrs active and healthy, this nationwide programme culminates in a TRYathlon (swim, cycle, run) the whole family can be a part of. The kids can choose the solo route or in a team of 2.
Learn more & enter: TRYathlon


History of Children's Day Exhibition

Dates: Weekdays  3-21 Dec and again in Jan 2019
At: Rotorua Lakes Council, 1061 Haupapa St
Time: 8am-5pm
Cost: Free
Restrictions: All ages
A special exhibition showcasing photos that celebrate the evolution of Redwood's Children's Day. From small beginnings with the Travelling Tuatara's to what it has become is quite amazing really. Now you're lucky to get a carpark. :(
Learn more on Eventfinda: History of Children's Day

Operatunity Presents: Cinderella | A Christmas Pantomine

Date: Tue 4 Dec
At: Rotorua Baptist Church, 100 Malfroy Rd
Time: 11am-1pm
Cost: $35 or cheaper with groups of 5+ 10+ and 30+
You can look forward to taking a break from the Christmas madness and enjoy lunch accompanied by the naughtiness and nastiness of the ugly sisters played by Bonaventure Allan-Moetaua and Karl Perigo. Do they foil Cinderella living happily ever after?

Buy Tickets: Toll free 0508 266 237 or online: Operatunity


Great NZ Santa Run: Rotorua
Date: Thu 6 Dec

At: Village Green, Lakefront

Time: Registration opens 5pm, the event is 6.30pm and prizegiving at 7.15pm

Cost: From $5 - $75 

Distance: 3km fun run/walk

Just think, thousands of Santas running or walking at 18 locations around the country, mostly at the same time. This event raises money for young people to transition through the sequenced programmes of the charity partner The Graeme Dingle Foundations. Wonderful.
Along with your adult entry fee comes a Santa Suit, aww; for children under 13yrs it's a Santa hat, eww (they want suits too).
Read more: Great KidsCan Santa Run


The Arts Village Summer Festival & Artisan Fair

Date: Sat 8 Dec
At: The Arts Village, 1240 Hinemaru St
Time: 10am-4pm
Cost: Spectators free (all ages)
Look for live performances, kids art activities, all ages art-making, artist/artisan stalls, and food. Try the coffee inside.


Giant 2W Gravity Enduro - Race 2 of 3

Dates: Sat 27 Oct, Sat 8 Dec 2018 and Sat 9 Feb 2019
Race 2 starts at Holiday Inn, 10 Tryon St,  Racing begins 10am to around 4pm, with prizegiving to follow.
Spectators: Free

The Whakarewarewa Forest sees downhill racing at it's best with this event for individuals, teams, serious racers and social ones too. Spectator or competitor, it doesn't matter, you'll have fun with the carnival atmosphere, delicious food and foaming beer available at the start/finish.
For the uninitiated, Enduro mountain bike racing has the competitors completing 4 or 6 stages of downhill racing, in any order within a set time. The riders can be shuttled back to the top for the next stage or bike back up. Apparently, it's all about strategising. They have to complete the stages and get back to the race HQ before the time runs out or risk incurring penalties.
Some huge prizes and spot prizes are up for grabs so it's every man, or woman, for themselves
Learn more: Giant 2W Gravity Enduro

House of Travel Superstocks & Stockcars Series

Date: Sat 8 Dec
At: Paradise Valley Raceway, 105 Paradise Valley Rd
Time: 7-10pm
Cost: Adults $23, Child $10.25, Family $54.25
Restrictions: All ages
It's going to be a big night up at the Rotorua Speedway as the Superstocks and Stockcars fight it out. Families love it.
Buy Tickets at Eventfinda: Superstocks & Stockcars


Rotorua Locals Day at OGO

Date: Sun 9 Dec
At: OGO Rotorua 525 Ngongotaha Rd
Time: 9am-6pm
Cost: Free
Head on out to OGO with family or friends, a swimsuit and towel, and celebrate their 8th birthday with free rides. It's going to be epic! Check out my Zorbing in Rotorua page that tells you all about OGO. No need to book.

You will need cans of food in exchange for rides and proof of residency ie power or phone bill, library card. The cans will be donated to the Salvation Army.
2 cans = 1 Straight Track ride pp
5 cans = 1 Sidewinder or 1 Big Air Track ride pp

Blue Baths Christmas Party | Greased Lightnin'

Date: Sat 1 (Sold out) & Fri 14 Dec
At: The Blue Baths, Queens Dr, Govt Gardens
Time: 7pm sharp
Cost: $75

Dress up is, of course, a 50's theme to celebrate one of the most iconic musicals, ever! "Give in to the Summer Nights with hits, hotrods, cool cats, and charming comedy". These popular parties always sell out fast.

Book on Eventbrite: Greased Lightnin'


Jazz Wednesdays with Ben Wilcock

Dates: Wed 14, 21, 28 Nov & Wed 5, 12, 19 Dec
At: Ponsonby Road Lounge Bar, 1109 Tutanekai St
Time: 7:30pm
Cost: Free admission
Restrictions: All ages
All you have to do is grab yourself a cocktail, take a sip, lean back, and unwind to the smooth jazz piano sounds of Ben.


Ed Pool North Island Tour

Date: Fri 14
At: Brew Craft Beer Pub, 1103 Tutanekai St
Time: 9pm-12am
Cost: Free admission
Restrictions: All ages
Ed Pool is a Swiss-born duo now living in NZ. Andre 'Sonic Delusion' Manella is on beats, synth, guitar and loops, and Urs Signer is on space-clarinet and keys. They'll bring live electronica to the dance floor - techno jazz.


2018 Rotorua ½ & ¼ Ironman

Date: Sat 15 Dec
At: Blue Lake, Tarawera Rd
Time: 6.25am
Cost: Varies depending on team/individual and packs
'Suffer' is the catchword for this event and suffer the competitors will. The body shivers just thinking about it.
A 2km swim, 90km bike, 21km run, and then there's the Quarter Ironman.  If you're
fool hardy enough to enter this event, good luck to you. I'll be on the sidelines cheering you on.
Learn more: Rotorua ½ Ironman & ¼ Ironman

Aquatic Centre Family Fun Day - Christmas Pool Party

Date: Sun 16 Dec
At: 18 Tarewa Road
Time: 11am-3.30pm
Cost: $7

Are you on Santa's naughty or nice list? Head along to find out. Santa will be on location between 12-3pm. The $7 includes spas, inflatables, bouncy castle, xmas hunt, games, giveaways, and festive music.
Stay updated at Facebook: Aquatic Centre

Rotorua Ukebox - Ukulele Open Mic Sessions

Date: Sun 16 Dec
At: Te Runanga Tea House, Queens Dr, Government Gardens
Time: 3-5pm
Ages: All
Cost: Gold coin donation

Pop along to enjoy ukulele music, whether you play or not. Local group Thermaleles get things going with a short session before everyone joins in with singing or playing. There's also an open mic session for anyone who would like to perform.

See more: Rotorua UkeBox

7 Days Live Show

Dates: Sun 16 Dec
At: Energy Events Centre, Queens Drive
Times: 7:30pm
Cost: Various
Restrictions: R15

If you're a fan of 7 Days Live then this will be a must see. Dai Henwood, Jeremy Corbett, Paul Ego, Ben Hurley, Josh Thomson, Jeremy Elwood and Justine Smith will be in the flesh performing stand-up comedy then a 7 Days show that you won't forget apparently.
Buy Tickets: 7 Days Live Show


Mega Fun Carnival (TBC)

Dates: Open daily from Boxing Day, 26 Dec
At: Lakefront Village Green, Memorial Dr
Times: 1-5pm and 7-10pm (weather dependent)
Costs: Various + $39 for unlimited rides at the evening sessions

Fairground rides, food and fun. The place for families or friends to come together and enjoy some light-hearted fun. Make sure your wallet is full.
Keep up to date on Facebook: Rotorua Mega Fun Carnival


Annual Rerewhakaaitu Rodeo

Date: Wed 26 Dec
At: Lake Rerewhakaaitu Domain, 91 Ash Pit Rd
Time: 9am-3pm
Cost: Gate sales only. Adults $10, Children 5-15yrs $5, U5yrs Free
Competitors from all round the country, ranging in age from 5 to 70yrs, follow the rodeo circuit building up enough points to take part in the National finals. The spectators get into it as much as the contestants, and the animals trying to unseat them. Food and drink will be available. Hopefully the weather turns it on too.


Interislander Summer Festival Rotorua Races

Date: Thu 27 Dec
At: Arawa Park Racecourse, Fenton St
Time: 1oam
Cost: Adults $10, U18 $0

Take a picnic and relax with live on-course music, lots of free activities for the kids, oh, and racing of course.
Find out more: Racing Rotorua


Independent Security NZ Streetstock Championship

Date: Fri 28 & Sat 29 Dec
At: Paradise Valley Raceway, 105 Paradise Valley Rd
Time: 7-10pm
Cost: Adult $22.50, Child/Senior $10, Family $53 OR Adult $28, Child/Senior $10, Family $63
Restrictions: All ages
Yet another big night up at the Rotorua Speedway. This time it's cars resembling road cars (with safety additions) ready to knock the opposition to kingdom come. Families will love it.
Buy Tickets at Eventfinda: NZ Streetstock Championship

Landslide - Fleetwood Mac & Stevie Nicks Tribute Show

Date: Mon 31 Dec
At: Barcode, 1232 Arawa St
Time: 9pm-12:30am
Cost: $28.62 incl booking fees
Restrictions: R18
You know it's should be good when you see the words Fleetwood Mac and Stevie Nicks. Features the classics like Sara, Dreams, Rhiannon etc., performed by Landslide, a live 5 piece band from Auckland who have been presenting this show around the North Island for the past 6 years.
Buy Tickets at Eventfinda: Landslide


Rotorua Glo Festival

Date: Mon 31 Dec
At: Village Green, Memorial Drive
Time: 4:30-9:45pm
Cost: Free
Celebrate the end of one year, the start of another. What better way than with family and friends at the annual New Year's Eve event. Take a picnic along and enjoy the entertainment, movie, fireworks and everything else on offer.

Stay up to date: www.facebook.com/rotoruaglofestival/ Psst. there's also a kids Disco.


New Year's At Princes Gate

Dates: Mon 31 Dec
At: 1057 Arawa St (by entrance to Government Gardens)
Time: 7pm-12:30am
Price: $99pp
Begin the celebration to see out the old year and in the new with a complimentary drink handed to you on arrival. You get to choose between 2 festive feasts, a 7-course degustation or 7-course vegan/vegetarian menu. Then, work it all off by dancing the night away to live music.
Bookings: Princes Gate Dinner & Dancing


---

The holiday season is in full swing in January so you can look forward to lots happening. Here's a teaser. Think crime writing, chopping and a musical adventure to name some.

If you need a place to stay for any of these events or activities, here's where you can check out your accommodation options.

Happy Holidays!


Check out upcoming events & activities


More fun things to see and do in Rotorua

Return to Top
Home

›

Rotorua Events

› Things to Do in Rotorua November