Nakedbus - NZ

Nakedbus is another NZ long distance bus company with about a 35% market share. Not liking how expensive it was to travel in New Zealand, founder Hamish Nuttall decided to shake things up a bit when he saw how low cost airlines in Europe revolutionised that industry.   Voila, Nakedbus was born to revolutionse New Zealand's bus travel.

Nakedbus promises - low cost, safety, comfort, reliability and friendly service. They have perfected the art of 'stripping the cost of travel'.



Nakedbus was, to my knowledge, one of the first bus companies in NZ to introduce the $1 fares on long distance bus travel. Other providers had to respond in kind which is good for us, the travellers.

They pass through 320 towns and cities once or twice a day throughout New Zealand. The only day they don't run is Christmas Day. I can't blame them. Who wants to travel on Christmas Day anyway?

First in gets the cheapest deal with Nakedbus as the cheap seats are sold first. Their system always offers the best fare available at the time so if you look now and go back 5mins later to find the price has gone up, well, sorry, somebody beat you to it.

Click here to book or check the timetable at Nakedbus. Fill in the booking form (you don't have to book) to see what the options are.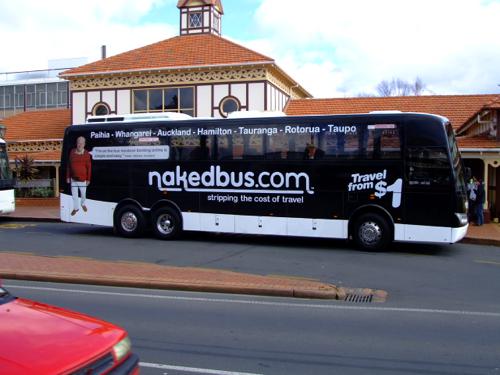 Pic of a Nakedbus NZ outside the iSite at Rotorua


Nakedbus also offers a travel pass called Nakedpassport for all the travellers or backpackers.
Nakedpassport - These are on a per trip basis with multiples of 5 trips. They are valid for 12mths from the date of activation.

Prices begin, for example at $99 for 3 trips or 5 trips for $157 etc., right up to $597 for unlimited trips in one year. The Wellington to Picton Ferry is not included as a trip so you will have to book this section of your travel on Nakedbus.com separately.The Coromandel Ferry can be used as a trip though if you are in that area.

The Nakedpassport also doesn't include activities or tours. They are purchased as add-ons when you buy your Nakedpassport.

This will give you a discount on your Nakedpassport which will vary depending upon what activity or tour you are going to do.

To get the discount you have to buy the add-ons at the time you buy the Nakedpassport. That makes it a bit harder doesn't it?

NB. A Nakedpassport is non-refundable and if you book a trip and fail to turn up you forfeit that trip.

You can book between any two points in both directions once only.

Nakedbus also provides access to cheap accommodation in some main centers via Nakedsleep.com. Prices start from $15 for a dorm bed plus a booking fee of $1. I see that you can get a $5 bed at hostels if you're fast.

As with the Nakedpassport, the Nakedsleep bookings are non-refundable.
---

Use the Contact Me page if you have any questions about this page.

Thanks for visiting.
Return to Top of Nakedbus - NZ
Home

›

Travel To Rotorua

›



Bus Company No.1 InterCity® Buses

›

Bus Company No.2 Nakedbus - NZ